Kenwood Lee House
by Cousins & Cousins
Client New Wave London
Awards RIBA London Award 2019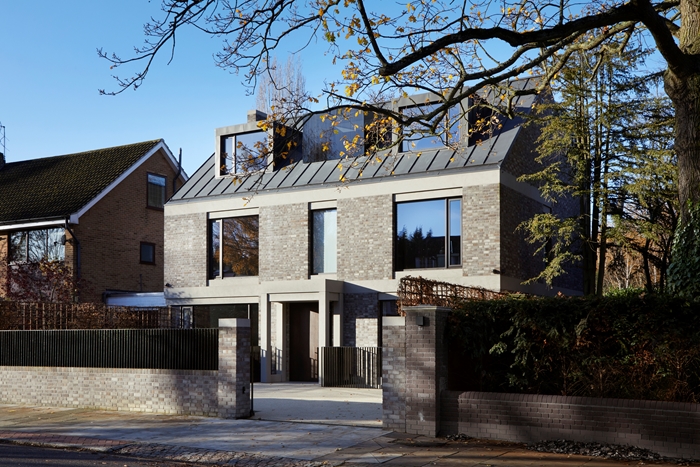 Sitting curiously in the territory between a home for either a Bond hero or a Bond villain, outwardly this house carefully deconstructs and then re-assembles the trope of the grand suburban villa, with its eaves, ridges and gables. Dog walkers will either walk straight on by or, if of an architectural bent, be stopped in their tracks as they amble down this exclusive Highgate street self proclaimedly in the 'lee' of Kenwood House. The rear façade, on the other hand, is an exercise in modernism, with a severe curtainwall of glazing interrupted only by a decorative frill of brise soleil.
The thought-provoking architectural investigation found here is almost upstaged by the skill and enthusiasm with which exotic and expensive materials have been deployed. The contractor/client has achieved a high level of craftsmanship and painstakingly sourced and adapted every element; from the bronze ironmongery which is generous to the touch and very easy on the eye, to the gargantuan sliding/folding window/door assemblies which separate and connect living areas from the formal garden which steps up to accommodate further subterranean rooms. Generous pavilions housing a cocktail bar and BBQ area are discreetly tucked into a terrace at the end of the garden.
Board marked concrete, brick and timber give a sense of solidity in the circulation space and smaller, more intimate spaces, while to the rear of the property, steel and glass reflect the surroundings or allow the outside in and in spite of the scale of the dwelling, the combined effect is to imbue a sense of calm.
Appropriately enough for this filmic house, a sophisticated building management system is used to manage its plethora of features; the aforementioned doors, basement saunas and swimming pools, A/V room and last but not least, the car lift which, Thunderbirds style, transports the car down from the front drive into its basement launchpad.
This beautifully executed house with its outward show of considered restraint, gently dissolves into gloriously, unashamedly cushioned luxury within.
Internal Area 600 m²
Contractor New Wave London
Structural Engineer Form
Environmental / M&E Engineer Mendick Waring
Landscape Architect LaDellWood
Planning Consultant Montagu Evans
Concrete Consultant David Bennett Associates
Facade Engineering Consultant Patrick Ryan Associates