Mapleton Crescent
by Metropolitan Workshop
Client Pocket Living
Awards RIBA London Award 2019 and RIBA National Award 2019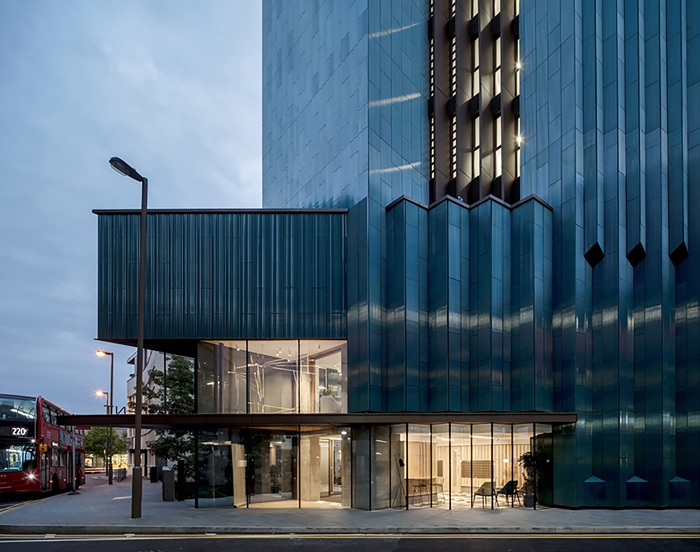 This residential tower occupies a leftover site from the building of the 1970s Southside Shopping Centre. The constrained triangular site is bounded by the River Wandle on one side and a sub-station and road to the others. The client, Pocket Living, saw an opportunity in these constraints and acquired the site.
The 27 storey tower used a volumetric off site construction methodology leading to programme benefits, easing the logistics on the tight site and achieving a high quality of finished product. The building has a slender profile and shifting rhythms of the two wings of accommodation around the stair and lift core. The aqua-green terracotta facade introduces varying vertical grain and texture which holds and reflects light when seen dynamically. The material choice provides a quality and durability that is commended. The building, entrance, residents' lounge and cycle storage have a considered relationship to the River Wandle, whilst the plant and refuse storage have been handled well within the constrained floor space available, occupying less advantageous boundaries.
Pocket Living's product delivers affordable micro-units alongside a smaller proportion of market flats. The quality and level of finishes achieved within the common areas and the flats was a delight to see. The rooftop also provides a generous landscaped communal terrace affording long distance views around London - one can imagine it will be well used and enjoyed by residents in pleasant weather.
It was clear that the client and local council had worked closely together to deliver much needed residential accommodation addressing aspects of the wider housing needs in the borough. This project has set a high benchmark standard for affordable accommodation.
Contract Value £23.41m
Internal Area 8,418 m²
Contractor Donban Contracting
Structural Engineer Clancy Consulting
Environmental / M&E Engineer Mendick Waring
Quantity Surveyor / Cost Consultant WT Partnership
Landscape Architect ACD
Planning Consultant Rolfe Judd
Acoustic Engineer WSP
Sub Contractor Vision Modular