Max Fordham House
by bere:architects
Client Max Fordham
Awards RIBA London Award 2019 and RIBA London Sustainability Award 2019 - sponsored by Michelmersh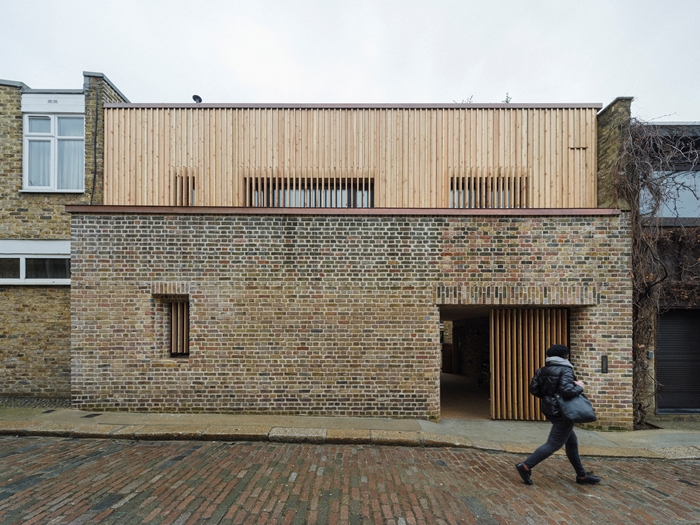 An important test bed project for a lifelong environmental innovator, this outwardly modest house has at its heart the consideration of how urban populations can provide themselves with warmth and shelter by harvesting freely available natural resources rather than exploiting them in an ultimately self-destructive way.
The house is politely inserted into a modest mews, paying due regard to the need for privacy, for both homeowner and neighbours, setting back at the upper level to enjoy a west facing terrace which looks over a picturesque Camden roofscape. The rockery at the foot of a retained mature tree provides the main view out of the living space and evokes the qualities of a small Japanese garden.
All the windows feature novel automated insulated shutters that have been developed to reduce radiant heat losses and to achieve an energy balance between gains and losses on a cold winters night. Windows typically allow solar radiation to warm the house during the day but enable 10 times the heat loss of a wall at night . This experiment aims to alter the behaviour of the windows so they are net contributors to the building's heat balance on freezing overcast days by providing tight insulating shutters. It is hoped that this technical concept, when proven, can be replicated in low-cost housing projects as retrofit items. Other environmental factors, such as Passive House standards of insulation and heat pumps, are taken as read. A rooftop copse of hazel plants on the first floor level terrace at the rear contributes to biodiversity.
These are not the only sustainability challenges addressed by its engaging brief. The sensory and mobility challenges that come with aging have been thoughtfully addressed with a fully accessible ground floor, quietly incorporating a plethora of adaptations for wheelchair users and featuring many other Lifetime Homes features.
The mutual respect between the client, architect and builder team is evident at every innovative turn, with a fearless approach to finding solutions to the numerous complexities generated by this inquisitive approach to positing a thesis on how we might live more symbiotically with our planet.
Contract Value £1.3m
Internal Area 163 m²
Contractor Bow Tie Construction
Structural Engineer Price & Myers
Environmental / M&E Engineer Max Fordham LLP
Quantity Surveyor / Cost Consultant E-Griffin