Merano
by Rogers Stirk Harbour + Partners with EPR Architects
Client St. James
Awards RIBA London Award 2019 and RIBA National Award 2019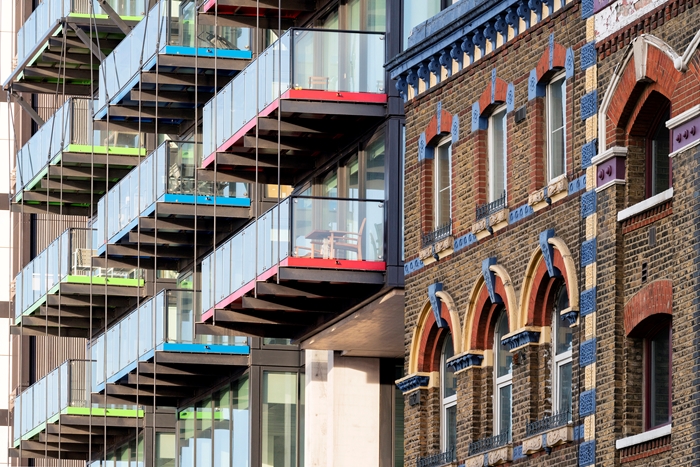 The project delivers the client's vision of a mixed-use development of the highest architectural quality. With its rigorous attention to detail and honest approach to the structure and materials, it is a fantastic representation of the culmination of the practice's work and has a distinct visual presence along Albert Embankment.
The building is a significant asset to the emerging context of Albert Embankment, and successfully deals with the transition in scale from the Victorian pub and warehouse adjacent to the contemporary development to the north. It makes a positive contribution to the streetscape by following the rhythm of the historic buildings. The module has been developed at an urban scale to make a positive contribution to the river frontage and views from Spring Gardens.
It successfully responds to a number of constraints, including the railway to the east, by creating dual-aspect apartments that are orientated east–west. These feature generous balconies on both sides that maximise view and natural light and mitigate noise from the railway with the inclusion of a winter garden to the east balcony.
The structure and horizontal/vertical circulation are elegantly expressed on the exterior of the building. Exposed concrete columns are restrained by steel bracing, which expresses members in compression and tension. Glazed stairs and lifts to the east of the building maximise the stunning views across South London.
A particularly positive aspect of the scheme is its contribution to the public realm. A new public space at the base of the southern tower echoes the scale of the Rose pub and marks an entrance to Spring Gardens. It will make a major contribution to the emerging public realm, a linear park that is set to run along the railway and provide access to the repurposed arches below it.
The use of off-site fabrication for several components, including the pre-cast columns and balconies, is commended. The building shows rigorous attention to detail and sets the benchmark very high for future development in this area.
Internal Area 7,100 m²
Contractor St. James
Structural Engineer Ramboll
Environmental / M&E Engineer Hoare Lea
Project Management St. James
Interior Design Goddard Littlefair
Landscape Architect Gillespies LLP
Acoustic Engineer Hann Tucker
Quantity Surveyor / Cost Consultant St. James
Access Consultant David Bonnett Associates