Moray Mews
by Peter Barber Architects
Client Roberto Caravona
Awards RIBA London Award 2019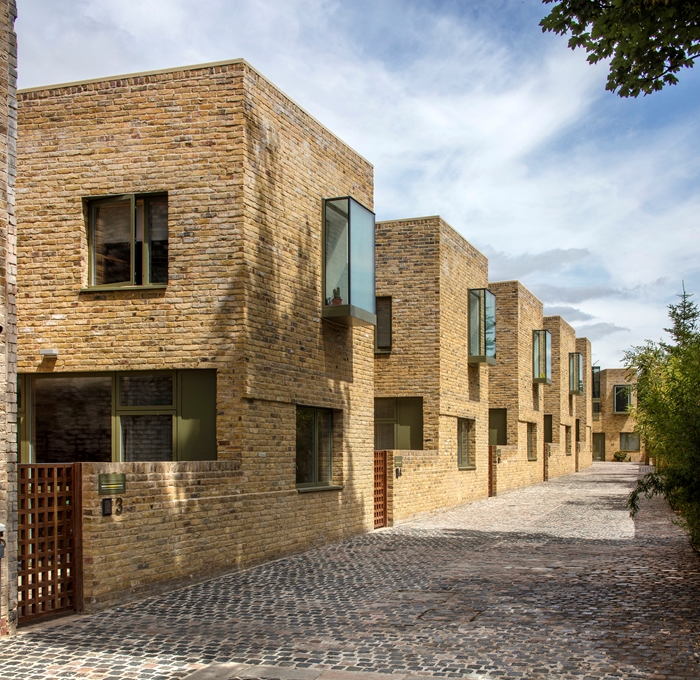 Old London has its fair share of eccentric tucked away backland plots of dilapidated garages and old sheds. The client/builder on this project was expecting to continue to build on his portfolio of unprepossessing flat conversions and new-build houses when he acquired this site just next to the notorious housing estate that used to be home to Johnny Rotten of the Sex Pistols.
Several failed planning applications later, he realised that the site which backed onto or fronted umpteen gardens of the now gentrified neighbourhood, would need an architect of exceptional skill to unlock its value. Client and architect have collaborated on the design and construction of these complex courtyard houses to excellent effect. The result is a terrace of eight courtyard houses laid out along a new intermittently cobbled mews street, which somehow manages to look like it might have been there forever.
Each house is entered through a wooden gate, leading to a slightly sunken private courtyard. The front doors to the houses themselves have been given some useful defensible space off the street. They open onto compact open plan living areas. Bedrooms are generally on the first floor level and lead onto roof terraces. All inaccessible roofs are green roofs that add ecological value and improve the roofscape for neighbours.
The terrace of houses alternate between one and two storeys which minimises the impact of the volume of building, with a 'notched' typology used to erode the massing and create dual aspect homes which do not overlook the adjoining neighbours' gardens. This carefully crafted castellated design solution, with its subtle changes of floor levels gives the newly created mews variety and interest.
A rustic brick has been used throughout, combined with filigree timber screens and feature frameless oriel windows overhanging the mews. The windows afford occupants useful glancing views down the mews and are translucent to prevent overlooking on the main face. Differences of values and priorities between architect and builder/client are occasionally to be seen in the execution of the detailing. The robustness of the main sculptural elements engender forgiveness of some awkward details where flashings don't quite follow the curves in walls. High quality architecture like this creates plenty of room to embrace and sometimes even celebrate the contractor/client's picaresque interpretation of the architect's drawings.
Constructed very economically with impressive benefits for the client/contractor this is an example of relaxed, yet artful architecture.
Internal Area 850 m²
Contractor Roberto Caravona
Structural Engineer BCS Consulting
Environmental / M&E Engineer Energy Calculations