Pitzhanger Manor and Gallery
by Jestico + Whiles with Julian Harrap Architects
Client Ealing Council and Pitzhanger Manor and Gallery Trust
Awards RIBA London Award 2019 and RIBA National Award 2019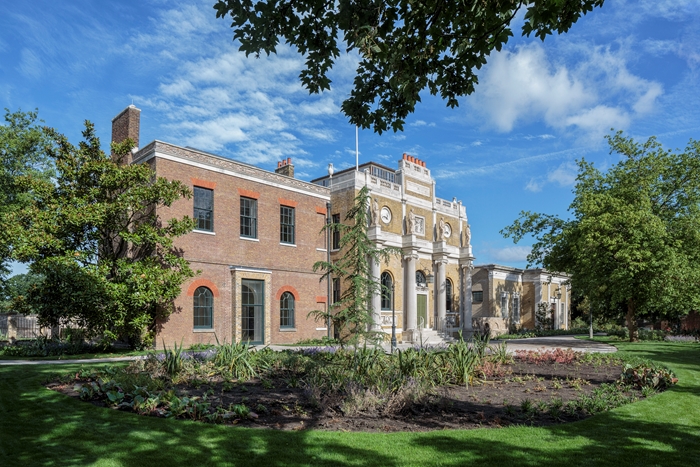 After a three-year restoration, Pitzhanger Manor has been restored to its Soane-era splendour by Jestico + Whiles, together with heritage specialists Julian Harrap Architects.
Built in 1 804 as a country retreat for his family, Pitzhanger Manor was essentially John Soane's portfolio and architectural laboratory, detailing his talents to potential clients while housing his impressive collection of art and antiquities.
Sadly, over the next two hundred years the house has undergone various adaptions and extensions with much of the 'Soanian'details of the Grade I-listed building being concealed by lesser Victorian and Edwardian additions.
Working with the Pitzhanger Manor and Gallery Trust the design team have carefully researched Soane's architectural plans and drawings in various archives, as well as studying the fabric of the building itself. This culminated in the reinstatement of three key aspects of Soane's design; a conservatory overlooking Walpole Park, a striking rooflight over the centre of the building and a colonnade that would have linked the manor to a kitchen block. This required the bold step of removing a Victorian infill building and extensions deemed to detracted from the setting and prominence of the mansion. The 1939 library built over the kitchen has been retained and transformed into a contemporary gallery space.
Within the Manor itself, all the dramatic decorative schemes had been painted over by the Victorians, including paint effects simulating marbled and wooden finishes. Through painstaking enquiry, the design team have pieced together Soane's original designs to recreate the splendour of these spaces. In particular, the upper drawing room is outstanding, with its breath-taking pastel-coloured ceiling and walls redecorated with Chinese wallpaper based on the tiny fragments that remained underneath existing panelling.
The restoration extends to the grounds, including the entrance sequence incorporating the sinuously curving carriage drive, a new cafe/ restaurant - a particularly successfully intervention- that nestles into a corner of the walled kitchen garden, and the preservation and enhancement of Walpole Park.
In summary, the scheme shows what can be achieved with an enlightened client and a talented design team to create a delightful design that offers an important insight into the quirky and wondrous world of Soane for generations to come.
Contract Value £9.3m
Internal Area 1,640 m²
Contractor Quinn London
Structural Engineer Ellis & Moore
Environmental / M&E Engineer King Shaw Associates
Quantity Surveyor / Cost Consultant Artelia / DR Nolans & Co
Project Management Ealing Council / Huntley Cartwright / Focus
Acoustic Engineer Adnitt Acoustic Services Limited
Access Consultant David Bonnett Associates
Landscape Architect J & L Gibbons
Interior Design Jestico + Whiles and Julian Harrap Architects
Lighting Design Sutton Vane Associates
Client Advisor David Clarke Associates
Exhibition Designer Ralph Appelbaum Associates
Historic Landscape Consultant Sarah Couch Historic Landscapes
Fire Engineer The Fire Surgery
Catering Consultant Kendrick Hobbs
Archaeological Consultant MOLA
Visualisers Forbes Massie
Historic Paint Specialist Hare & Humphreys
Condition Survey and Heritage Impact Statement Donald Insall Associates
Transport Consultant Paul Mew Associates