Royal Opera House Open Up
by Stanton Williams
Client Royal Opera House
Awards RIBA London Award 2019 and RIBA National Award 2019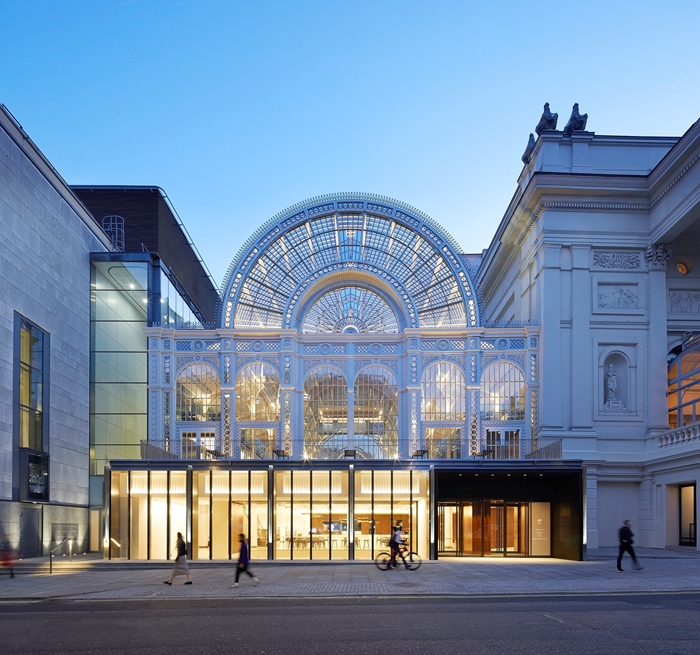 Stanton Williams' Open Up project for the Royal Opera House does just that: it opens up what had previously been a constrained set of spaces to the world outside. In doing so, it forms a new public face for this great institution, becoming a significant part of the Royal Opera House's aim to make opera and ballet available to everyone.
After three years of construction, the Royal Opera House building is more welcoming, transparent and permeable than ever. The removal and decentralisation of the ground floor washrooms and cloakrooms has enabled a 50% larger, extended and enhanced multi-level public foyer that links new transparent entrances on Covent Garden Piazza and Bow Street, drawing the public and new audiences in. These new and interlinked public spaces have become a vibrant daytime venue; a place to meet with a café, a new shop and areas for informal events and performances.
An elegantly proportioned and welcoming entrance on Bow Street connects, for the first time, public foyer and street. Above this, an external terrace naturally extends from the much-loved Floral Hall and its reworked bar to make another outside connection with Covent Garden. The cleverly planned lobby en route to the Linbury Theatre creates a combined staircase and double height performance space that gives new life to the reception with visual links to Bow Street whilst creating a new union with the main opera house.
At the upper level, a newly worked public restaurant and bar frames stunning views over Covent Garden. The Amphitheatre terrace has been partially enclosed with sliding glazing and rooflights to form a new conservatory. Now, for the first time, there is the sense of a grand terrace overlooking Covent Garden piazza.
The 400 seat Linbury Theatre replaces the old studio theatre and becomes an important second venue for opera and ballet. Here Stanton Williams has created one of the most technologically advanced performance spaces in London, incorporating a high degree of flexibility with the latest technology, including variable electronic acoustic tuning. Taking its cues from the other works, lined in American Black Walnut, Stanton Williams have created a rich, warm and enveloping space that gives a level of intimacy not seen before on this site. Together with the refurbishment of the Clore Studio, the venue is already making an important contribution to the artistic work of the Royal Opera House, The Royal Ballet and a wide range of leading UK opera and ballet touring companies.
The Open Up project is a marrying of architecture and client ambition that enhances significantly the experience of coming to the Royal Opera House for the public, whilst giving artists and guest companies new opportunities to inspire its audiences. Just as art need to refresh to retain its potency and remain relevant, Stanton Williams have brought about similar changes for its client enabling it to remain as one of the world's preeminent opera houses.
Contractor Rise
Structural Engineer Arup and Robert Bird Group
Environmental / M&E Engineer Arup
Quantity Surveyor / Cost Consultant Gardiner & Theobald
Project Management Equals Consulting
Acoustic Engineer Arup Acoustics
Access Consultant All Clear Designs
Lighting Design Studio Fractal
Restaurant Interior Design Studio Linse
Retail Interior Design Drinkall Dean
Theatre Consultant Charcoalblue