Southbank Centre
by Feilden Clegg Bradley Studios
Client Southbank Centre
Awards RIBA London Award 2019 and RIBA National Award 2019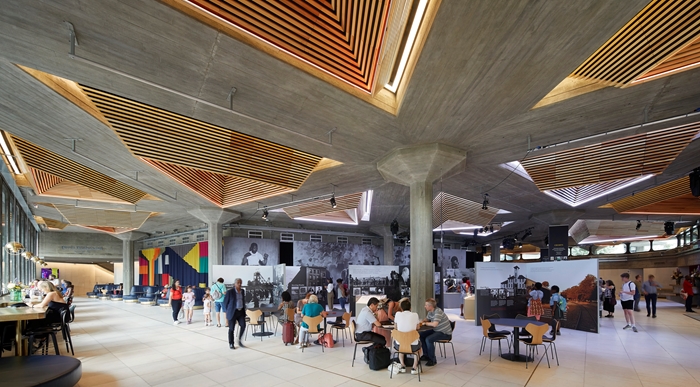 The impressive conservation and restoration of the Queen Elizabeth Hall, Purcell Room and Hayward Gallery gives these democratic buildings a new lease of life for the 21st Century.
The new roof and ceiling to the Hayward Gallery allow it to maintain its unique place in the London arts scene. The pyramid rooflights bring controlled daylight into the upper galleries, without damaging the artworks displayed there. The new ceiling installed at a higher level enhances the unique character of the gallery spaces. This has resulted in toplit gallery spaces that can now be used as they were originally intended and have the flexibility to be blacked out.
Interventions have transformed the performers' experience by providing much-needed changing rooms, social areas and rehearsal rooms. These spaces have been imaginatively created from underutilised courtyard spaces and have not altered the external appearance of the building.
Architects have given the foyer has been given a new lease of life by relocating the bar and replacing the solid wall with full-height glazing, opening the corner. This creates a new visual connection to and from the terrace overlooking The Queen's Walk, making the building more open and visually accessible to the South Bank. The refurbishment of the foyer has produced a truly flexible and democratic space that caters for a diverse group of people and uses, from studying to clubbing. The replacement light features are a great success, offering a modern interpretation while maintaining the characteristics of the lost original features.
The brave decision to reverse the ventilation path in the Queen Elizabeth Hall deserves special mention. Fresh air is now supplied below the seats, and stale air is exhausted at ceiling level all at a very low velocity, so as not to impact on the spaces renowned acoustic qualities. The design team, and in particular Max Fordham, is to be commended for implementing this by carefully weaving it through the building without compromising the historic building fabric. This diligence means audiences can continue to enjoy world-class exhibitions and performances.
The refurbished buildings celebrate the uniqueness of the Southbank Centre, and truly enhance the visitor and performer experience. The commitment of the client and architect to preserve and restore these buildings and their original features is to be applauded.
Contract Value £35m
Internal Area 13,750 m²
Additional Architect Archer Humphryes Architects (Interior Architecture for Foyer Hospitality)
Contractor BAM
Structural Engineer Arup
Environmental / M&E Engineer Max Fordham LLP
Quantity Surveyor / Cost Consultant Gardiner & Theobald
Project Management Arup
Acoustic Engineer Ramboll UK
Lighting Design Max Fordham LLP
Interior Consultant Hayward Gallery Café Softroom
CDMC and Principal Designer Gardiner & Theobald
Sustainability Max Fordham LLP
Lighting Designer Max Fordham LLP
Fire Engineering The Fire Surgery
Theatre Consultant Charcoal Blue, Southbank Centre and Theatre Plan
Planning Consultant Gerald Eve
Catering Consultant Keith Winton Design
Commissioning Engineer Banyards
Asbestos Consultant Adams Environmental
Building Control Approved Inspector Services