Television Centre
by Allford Hall Monaghan Morris
Client Stanhope, Mitsui Fudosan, AIMCo and BBC Studioworks
Awards RIBA London Award 2019 and RIBA National Award 2019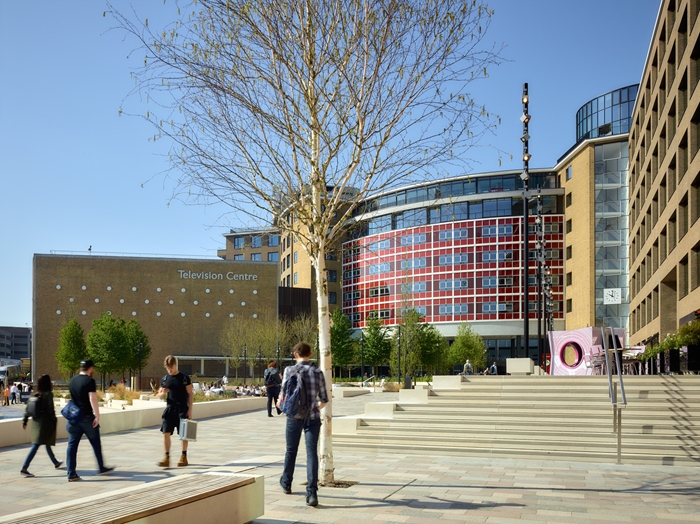 The Television Centre project at White City is an ambitious reinvention of this London landmark into a working, living, thriving community. Architect Graham Dawbarn's original 1949 design for the world's first purpose built TV studio was originally described as a factory for television and is now an iconic source of national pride.
With design vision on a grand scale the client and architects have majestically celebrated this listed historic piece of modern architecture which now gives generously to the public realm. The celebrated forecourt is retained but transformed from a private place into an inviting publicly accessible landscape with relaxed deck chair seating and connection to the TV studios, cafés, apartments and commercial spaces.
Focal to the vision of the project is the preservation and celebration of the listed features in particular the recreated red gridded pattern of the central facade, and Studio 1's 'atomic dots' and cantilevered porch. Most notably these features also include the circular mosaic lined Helios courtyard, complete with raised water feature and set on a tall column, TB Huxley-Jones's refurbished 3m high gilded bronze statue of Helios the sun god of Greek mythology. The statue was said to symbolises the radiation of television light around the world.
The original stage door, now principle entrance to the residential apartments has been painstakingly remodelled around a conserved and sensitively refurbished 1960 John Piper mural. The seamless mix of historic and new buildings now provides around one thousand new homes delivered by a variety of highly talented architectural teams and includes a remarkable 'Architects' series of beautifully curated bespoke apartments.
New workspaces for creative industries have been added and artfully stitched into the spiral 'question mark' plan form of the original masterplan design. The heart of these vibrant commercial spaces which have public access during the day has been detailed with a series of overlapping internal bridges, and insitu-cast concrete walls exquisitely displaying the grain of timber formwork.
Externally the envelope of the new buildings are detailed with a range of brick and tile finishes inspired by the original buildings. Anodised aluminium vertical baguette louvres are employed with success throughout as side ventilation panels to the fenestration.
With ambitious design vision these vibrant public, residential and commercial spaces are knitted together with mature landscaping which has been developed to improve and reinforce connections with the local area including links to the adjacent Hammersmith Park.
This project provides an enhanced and significant contribution to its immediate environment and delivers a new radiating energy that will ensure the future of Television Centre as a fine work of iconic architecture.
Additional Architects Macreanor Lavington, Morris+Company, dRMM, Piercy+Co, Haptic, Archer Humphryes Architects and Coffey Architects
Internal Area 113,304 m²
Contractor MACE
Multidisciplinary Engineer Arup
Planning Consultant Gerald Eve
Quantity Surveyor / Cost Consultant Deloitte
Landscape Architect Gillespies
Lighting Design Pritchard Themis