The Bower
by Allford Hall Monaghan Morris
Client Helical
Awards RIBA London Award 2019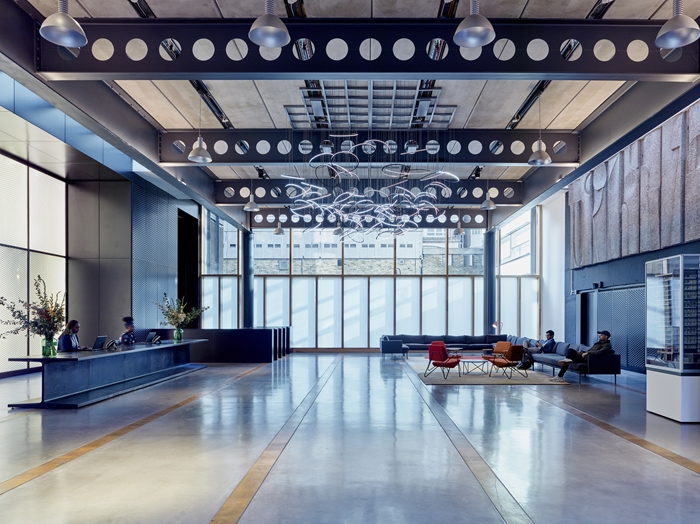 Large office developments are often created by aggregating smaller plots, destroying historic street patterns and offering little to the passer by, so it is pleasing to see the opposite happen with this architectural practice's intelligent approach to place-making. A new street and courtyard fronted with shops and restaurants opens up vistas to the surrounding streets. It has been inserted into a previously impenetrable collection of buildings built for British Telecom in the 1960s and links the Old Street boulevard and station with the more delicate backstreets of Moorefield's and contributes to the connectivity of a wider network of buildings, routes, yards and places being created in this neighbourhood.
Three distinct buildings form the bulk of this large development; one a small new build and the other two sizable refurbishments, one of which also has sideways and upward extensions. The warehouse building to the rear of the site has been renovated very adeptly, concrete soffits and exposed services a pragmatic response to low floor to ceiling heights. Enjoyable touches internally include the muscular concrete lift shaft walls and the pattern left on the concrete soffit by the epoxy glue used on the ceiling tiles, pragmatically and intelligently left in place to allude to a previous incarnation of the building. Externally, the original sculptural pre-cast concrete panels on the 'gable ends' have been carefully restored, provided street level interest at one end of the building and a 'ready made' frieze for the new shared entrance lobby. The high-end fashion company tenant has fitted the shell out in a way that exudes a luxurious and simultaneously edgy vibe. The staff have access to generous roof terraces and plenty of refueling and relaxing stations strategically located around the office floorplate.
The refurbishment of the tower at the front of the complex is a surprise. A very inventive solution to low floor-to-floor heights has been found by creating enjoyable double height spaces by extending sideways outwith the existing floorplates, thereby creating additional area as well as very generous spaces. The 'duplex office floors' thus created are spatially enjoyable. By contrast the 'normal height' office floorplates on the new upper storeys are much more ordinary, albeit with spectacular views of the city.
To achieve BREEAM outstanding on such a complex mix of refurbishment and new build is noteworthy.
All in all, an excellent example of clever and inventive architecture adding both commercial and social value.
Contract Value £115m
Internal Area 43,445 m²
Contractor SISK / Skanska
Structural Engineer Waterman Group
Environmental / M&E Engineer Sweco
Facade Engineer Arup
Quantity Surveyor / Cost Consultant Arcadis
Accessibility & Equality Consultant David Bonnet Associates
Lighting Design Lighting Design International
Landscape Architect Townshend
Acoustic Engineer Sandy Brown
Project Management GVA Second London Wall
CDM Coordinator Orsa
Approved Building Inspector HCD Group
Planning Consultant DP9