Torriano Primary School STEM Lab
by Hayhurst and Co
Client London Borough of Camden
Awards RIBA London Award 2019 and RIBA London Small Project of the Year Award 2019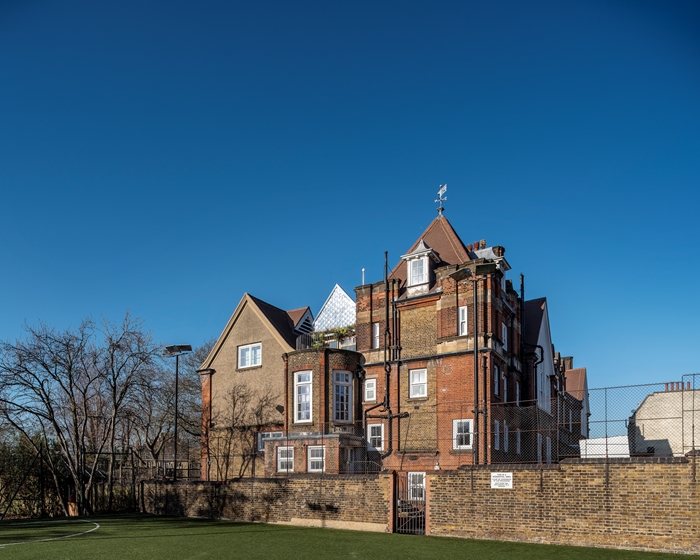 This project for a Science, Technology, Engineering and Maths (STEM) 'Activity Lab' for this school in Kentish Town, north London. comprised remodelling an existing two-storey 'turret' at the top of their Queen Anne style locally listed building and creating a small roof-top extension with an external learning terrace.
The 'turret' previously housed IT rooms with mezzanine floors but has been opened up to the full extent of its internal space. Windows have been refurbished and fitted with remote shading and opening devices to control light and afford natural ventilation.
This area forms the main activity zone and it features irregular, CNC-cut, laminated ply ribs which splay and arch across the space to define a secondary layer within it. These 'portals' include openings, fixings, crossbars and pulleys which facilitate activities to enhance practical teaching such as enabling objects to be hung or fabric suspended. Star constellations are also CNC milled into the faces of the timber.
A plywood box constructed offset staircase gives access to a small mezzanine which enables students to gain additional height when undertaking practical experiments.
Clever uses of minimal space abound such as fold-down demonstration desks at two different heights for different age students and shelving nooks exploited at every opportunity.
A bright yellow/green marmoleum flooring gives a brevity to the space and links seamlessly through to the new built part of the scheme, a simple pitched roof construction extending over what was a flat roof. Here more light floods in via a large skylight and timber framed single and double doors give access to an external, south-facing semi-circular terrace above a curved stair core below. This allows views back to the gable end of the new extension which is clad in polished stainless steel shingles, which glimmer in the sun and reflect the sky. The terrace also houses plants in bespoke metal growing troughs while simple vertical wrought iron railings provide safety.
The architects worked with the schools' pupils and Artist in Residence to test, draw and model the future uses of the space and pupils were also invited to populate a number of large-scale models to explore their ideas. The result is a highly efficient and joyful space with a multitude of practical uses, ready to accommodate and inspire young minds through the nature of the spaces themselves and through the activities supported so effectively within it. In addition, the space has been so appreciated by the teachers, they have commandeered it after school to enjoy their staff drinks there.
Internal Area 103 m²
Contractor Bolt & Heeks
Structural Engineer Ian Wright Associates
Environmental / M&E Engineer Edward Pearce
CDM Advisor Goddard Consulting
Quantity Surveyor / Cost Consultant Hayhurst and Co
Contract Administrator Hayhurst and Co