Westminster Abbey Triforium Project
by Ptolemy Dean Architects
Client Westminster Abbey
Awards RIBA London Award 2019 and RIBA National Award 2019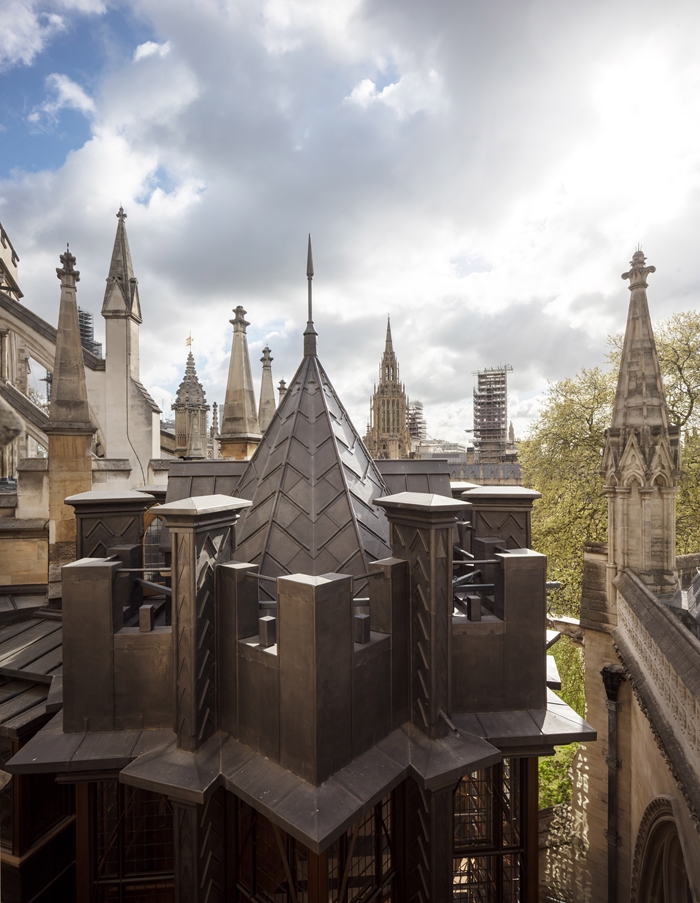 Tucked away in a south-eastern corner of Westminster Abbey lies Weston Tower, a new glass, metal and stone structure that nestles neatly between the 13th Century Chapterhouse and 16th Century Lady Chapel of the Abbey, providing public access into the high level Eastern Triforium- a timber deck seven storeys above the nave - for the first time.
Forming the most significant addition to the building since Nicholas Hawksmoor's west towers were completed in 1745, the design is a playful insertion that draws upon the Abbey's rich history of adaptations and remodelling. An intersecting rotated square motif, found in the Henry Vll Chapel, provides the basis for the star-shaped plan of the tower that cleverly makes the most of the restricted space available while reinforcing the sense of verticality on the facades.
The building is packed with ideas that spin-off the magnificence of the surrounding architecture, with every challenge bringing opportunity to re-imagine an aspect of the commission. The leaded glazing patterns reference Christopher Wren's late 17th Century additions while meeting strict bomb test criteria. The arrow detail of the leading and elaborate crown rooftop, both inspired by Ely Cathedral, successfully respond to the gothic artistry of the surrounding roofscape while masking the rather more rudimentary lift overrun.
During excavation works a stepped corner of the abbey's ancient raft foundation was revealed. Built from 11th Century blocks of stone from Caen in France, this discovery was the architect's signal to take visitors on a geological tour wrapping the new lift shaft with 16 different kinds of stone sampled from the abbey's history, laid in alternating bands.
Climbing the new oak stairs, the judges were continually drawn to the quality of the detailing in the new building, which resonates with the existing structures outside and the crafted interiors that weave their way towards the gallery spaces above. Once at the top, the triforium galleries are entered through a bridge to a new opening to reveal the atmospheric attic space of oak beams and daylight which has been completely reimagined through a process of meticulous conservation and ingenuity to create a gallery that puts the abbey left, right and centre.
New interventions, both large and small, are sympathetic yet identifiable. These build upon and respond positively to the patchwork of extensions and remodelling that the abbey has undergone over the years to create a positive addition, delivered with confidence and understanding.
Internal Area 1,215 m²
Contractor Daedalus Conservation
Structural Engineer (Weston Tower) Price and Myers
Structural Engineer (Galleries & Historic Building elements) The Morton Partnership
Environmental / M&E Engineer Max Fordham
Quantity Surveyor / Cost Consultant Sawyer & Fisher
Project Management Gardiner & Theobald
Access Consultant Access=Design
Lighting Design (Galleries and Exhibition) DHA Designs
Consultant Arcaheologist Professor Warwick Rodwell
Exhibition Designer MUMA
Principal Designer CDM Moran Architects