Bobby Moore Academy
By Penoyre & Prasad
Client David Ross Education Trust
Awards RIBA London Award 2021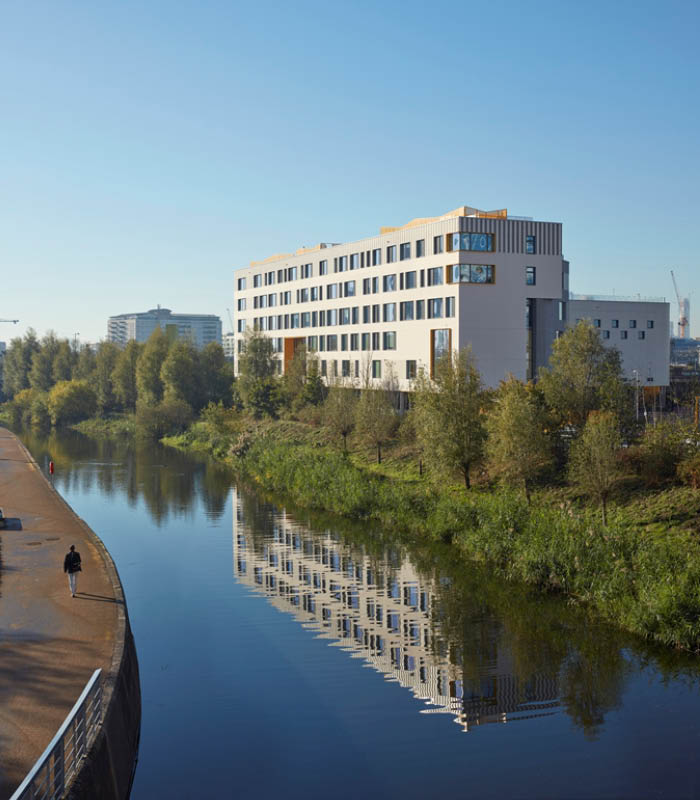 The Bobby Moore Academy is a new six form entry secondary school of 9250 m2, shoe-horned into a tiny site in London's Olympic Park. The building is positioned tight to the northern boundary to maximise the south-facing playground, and to take advantage of shared sports facilities next door. Indeed, the building and its location are part of the school identity and its strong architectural presence matches those of the existing iconic structures in the Olympic Park.
A robust exterior façade belies the light-filled spaces within. Nonetheless, the building works hard on its modest Department for Education budget, with a crisply detailed palette of two-tone brick slips in a woven pattern of glazed and matt finishes, deep aluminium window reveals, and bright yellow accents. A series of roof terraces supplement the outdoor offering.
Inside, the main large spaces – assembly hall and sports hall – have been lifted to first floor level to create covered social space at ground level. A triple-height street forms the backbone of the school and is the heart and focus. A clever use of rooflights and floor voids fills the internal circulation spaces with natural light. Signage and wayfinding are all integrated into the interior design and all classrooms make the most of the views to the city and Olympic Park through large picture windows.
The project goes back to basics when considering what the correct environment should be for a good learning experience. It uses a mixed-mode ventilation system that provides fresh air and good levels of daylight to all of the major spaces. The exposed concrete frame provides thermal mass, which is an integral part of the system of natural ventilation, and was evidently working well on the visit. Overall, the low-energy design strategies create a comfortable internal environment that carefully considers the needs of the users.
This building raises the standard for attention to design detailing for state schools in the UK. Packed tardis-like into its shell is a school of generous proportions with a wide variety of well-organized spaces. One senses that the children attending this school are off to an exceptional start in education.
Contract Value £ 27,000,000
Internal area 9,250.00 m²
Contractor Balfour Beatty
Structural Engineers Terrell
Environmental / M&E Engineers: MZA
Project Management MACE
Acoustic Engineers HRS
Landscape Architects Fabrik
Interior Design Penoyre & Prasad