Centre Building at LSE
By Rogers Stirk Harbour & Partners
Client London School of Economics and Political Science
Awards RIBA London Award 2021 and RIBA National Award 2021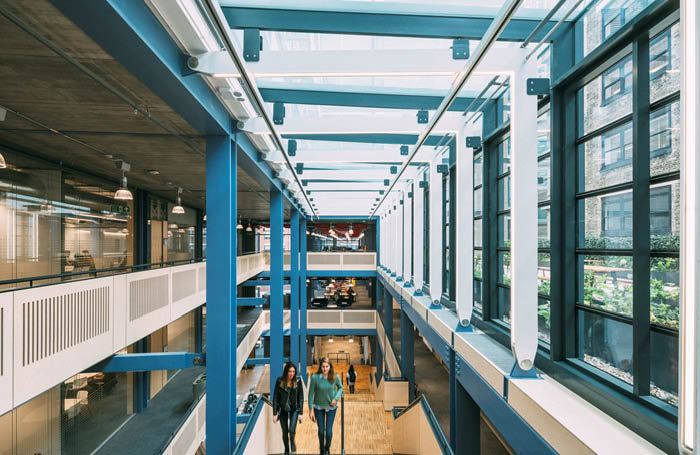 The Centre Building is conceived as two asymmetrical slab blocks with a shared podium at the heart of the LSE's campus, one of the last pieces in the university's redevelopment jigsaw puzzle. Giving the impression of always having been there, it is strongly integrated into its tight urban context.
The front entrance addresses the British Library of Political and Economic Science across a much-needed new campus square, while the whole building is in comfortable dialogue with the surrounding streetscape, including the pedestrianized Houghton Street and, through a passage, Grange Court.
The tectonic frame and brise-soleil language of the larger twelve-storey slab feels human, inviting and, indeed, provocative – no mean feat on such a tricky site. The course of its meandering internal stair is visible from the outside, a genuinely inventive urban gesture that speaks to the building's scale and responsibility to create a positive presence.
The smaller, lower slab along Houghton Street is very successful, creating a nice foil to its larger twin. The jointing in the stone inset panels and the razor-thin horizontal metal trim resonate with the historic façade detailing of the neighbouring Old Building to the west.
Terraces at many levels reinforce and celebrate urban connectivity with well-planted settings and terrific views for staff and students.
Inside, the buzz of the main space at ground level is exactly right for a student experience: easily accessed and with loads of informal, IT-rich gathering places.
The space flows laterally to draw you into the grand 'academic' stair both up and down, an exhilarating architectural moment that immediately hints at the range of activities beyond. Over many levels, the stair affords views in all directions, giving a joyful sense of space.
As it rises, the meandering stair penetrates the upper floors inventively, injecting a sense of lightness and informality into otherwise dense spaces. The large floors plates are flexible and progress logically to help with way-finding.
With free-standing office chairs and minimal tiering, an innovative debating chamber allows large numbers to gather without compromising on flexibility. Called the 'LSE lecture theatre', it comprises two large volumes that face each other, which allows for good sightlines.
The building is well-considered from a passive design approach. The key moves are simple massing, good orientation, and a floor plate width that facilitates natural ventilation. An impressive 70% of the building is naturally ventilated, resulting in significant reductions in operational energy. The client has published their POE findings, essential for the industry to move to next-generation sustainable outcomes.
The embodied carbon figures account for end-of-life emissions and so are high. Generally, the detailing is expressive yet rational, with an eye to demountability, timber materiality (balustrade, panelling, bamboo flooring), and leanness (exposed ceilings) for an overall sustainable approach.
Contract value £78,000,000
Internal area 15,507 m²
Contractor Mace
Structural Engineers AKT II Consulting Structural and Civil Engineers
Environmental / M&E Engineers Chapmanbdsp
Quantity Surveyor / Cost Consultant Deloitte
Project Management LSE Capital Development
CDM Coordinator MSafe
Approved building inspector Meridian Consult LTD
BREEAM Assessor Max Fordham
Landscape Architects Gillespies
Fire Strategy Hoare Lea
Project partner RHSP