Centre for Creative Learning, Francis Holland School
By BDP
Client Francis Holland School
Awards RIBA London Award 2021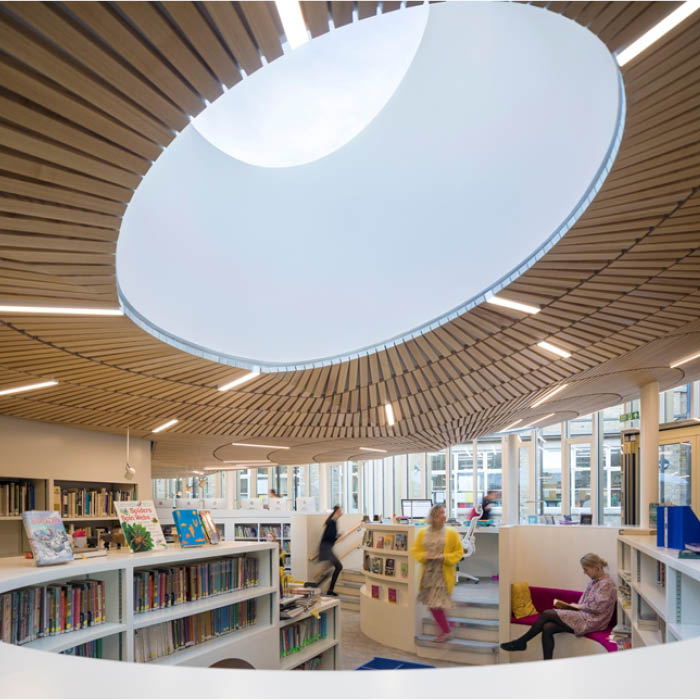 Nestled in a tight urban site and bounded by back gardens and the underground, this building replaces a barren courtyard with a lush roof garden sitting on top of a modest library. It knits together various parts of the school as a transient space while creating a destination in itself, much loved by staff and students.
Driven by the school's ambition to provide first-rate wellbeing and creative facilities and by the need to unlock other parts of this tight site, the project is part of a wider masterplan to best utilise every space in this 140-year-old school. The resulting building is a poetic response to the very real challenges of resolving the many demands of both circulation and size.
The architect describes the library space as 'magical' and invokes an image of children learning under the canopy of a great toadstool plucked from the pages of Alice in Wonderland. Every detail of the roof and its meeting with the perimeter is elegantly worked to marry the demand for daylight in a such a tight space with a strong poetic ambition. Sculptural rooflights punctuate the various reading zones within, flooding each space with daylight and connecting the library to the outside world. Elsewhere, the detailing is restrained and well executed, allowing the roof structure room for expression.
Up above, the urban garden too is charming and delightful, creating a safe central place for students to meet and interact across all year groups. Now well-established with lush green and flowers, neighbours, students and staff can enjoy this reinvented external space.
This is a complex brief on a challenging site, executed with love and care to create something enduring and special. The result is both unpretentious and rich. A careful palette of materials is brought together in sumptuous detail to realise a clear poetic concept with admirable success.
Internal area 125.00 m²
Contractor Kind & Company
Structural Engineers BDP
Environmental / M&E Engineers BDP
Landscape Architects BDP
Acoustic Engineers BDP
Lighting Design BDP
Quantity Surveyor / Cost Consultant Jackson Coles
Project Management Bidwells
Fire Consultant Cook Brown