Corner House
by 31/44 Architects
Client CASA London
Awards RIBA London Award 2021
This project was shortlisted for RIBA House of the Year 2021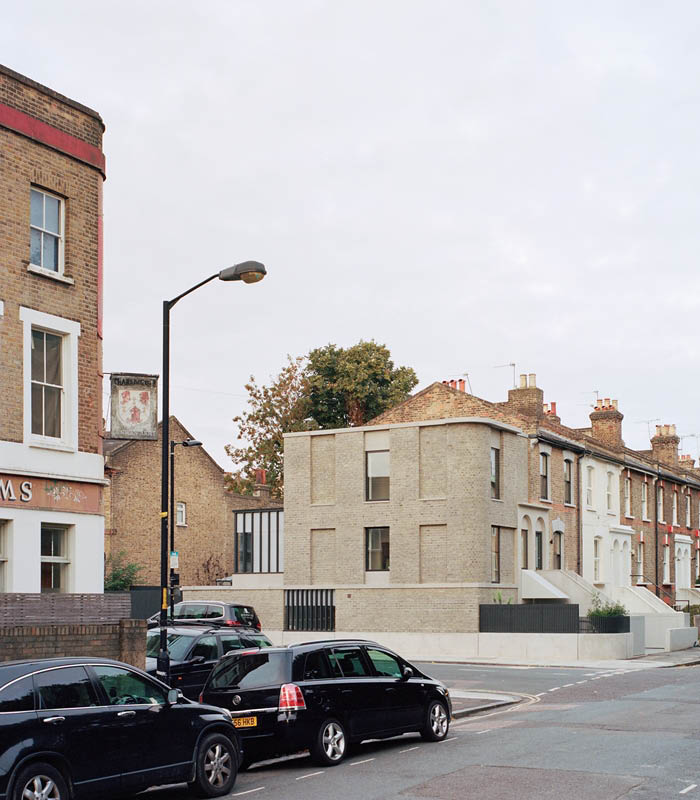 This new end-of-terrace house, which adheres to the existing line of the street, is the result of a deep and careful study of its local context. It picks out and redeploys elements of the Victorian language of the neighbouring houses in a way that is both thoughtful and playful. It is welcoming and deceptively spacious for such a constrained site.
Entry is at lower-ground floor level through a paved brick front garden with a canopy that mirrors the geometry of the adjacent property's stairs. Directly above this, an arched window on the upper-ground floor mimics the neighbour's front door.
The entrance leads to the living quarters and, straight ahead, stairs that rise to the bedrooms above. Appropriately for a comparatively small house, the plan is very efficient, with almost no circulation space.
The detailing and materials are robust but subtle. There are many references and reinterpretation of Victorian elements from the neighbouring houses, including blind windows, cornices, and what from the outside looks like a rear conservatory but is, in fact, a bedroom - and feels right as such.
It is the playful subtlety of the design that wins one over. The pale and elegant brick is light and welcoming, even in gloomy weather: no wonder, then, that a retired architect should have purchased the house.
Internal Area 105 m²
Contractor Martins Builders & Decorators Ltd
Structural Engineers David Salter Associates
Building Control Quadrant