Eccleston Yards
By Buckley Gray Yeoman
Client Grosvenor Britain & Ireland
Awards RIBA London Award 2021 and RIBA London Sustainability Award 2021 (sponsored by Michelmersh)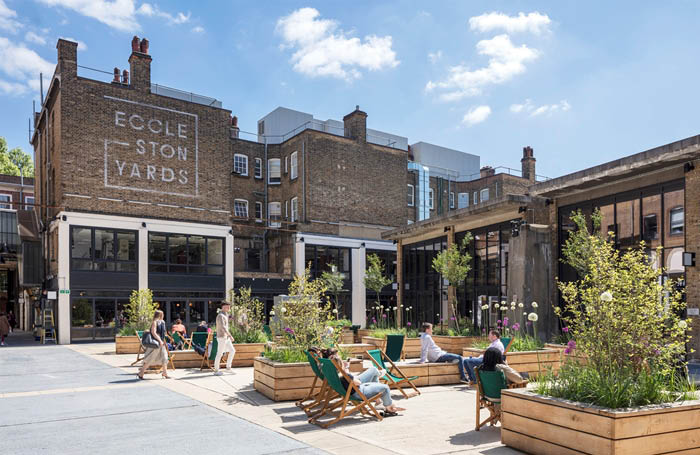 Taking an entirely disused, gritty, land-locked site, the client saw an opportunity to regenerate a piece of urban space by threading a pedestrian connection between two prominent streets. They tasked the architects with creating a series of rapid, cost-effective interventions to form a vibrant, inhabited courtyard.
In many ways, this project challenges the idea of what architecture should be in our time and sets the bar for doing more with less. It asks a question often overlooked in architectural circles: "What is the least we can do here?" not as result of cost-cutting or weariness, but with the ambition to transform through surgical intervention.
The scheme is simple. It is the filtering of buildings and spaces to recognise the good from the bad, the valuable from the expendable. In doing so, we have to ask if merely re-presenting a series of attractive urban buildings as new and desirable spaces through restoration or repair is enough. But it is in this auditing process that the scheme is most successful. In recognising the embodied value in discarded buildings and making a series of restrained and measured interventions, this project appears to create something from nothing, apparently with minimum effort.
As ever, closer inspection reveals that in fact a great deal of effort is required to deliver, as this scheme does, spaces that feel honest and considered, with enough contemporary quality to elevate otherwise bland, functional buildings to crisp, modern working and recreational spaces.
This project is part of a wider masterplan and forms part of the client's ambition to achieve net zero carbon by 2030. Tenants are required to meet the same targets as the client across a varied range of uses and this should be applauded. But the real sustainability success of this scheme is about finding value where it had been previously overlooked, and in showing the right amount of finely gauged restraint.
The result is a delightful, rigorous design from first principles through to details. The scheme is generous in creating a public garden amidst a sea of private garden squares. It innovates by asking uncomfortable questions of an industry all too eager to just keep on building. Instead, it strikes a balance between everything the architects did and all the things they decided not to do, and the outcome is more successful for all its perfect imperfections.
Internal Area 7,433 m²
Contractor Grangewood
Structural Engineers Hurst Peirce + Malcom
Environmental / M&E Engineers Edward Pearce
Quantity Surveyor / Cost Consultant Thompson Cole
Project Management Grosvenor Britain & Ireland
Sustainability Sturgis