Energy Hub
By Morris+Company
Client Lendlease
Awards RIBA London Award 2021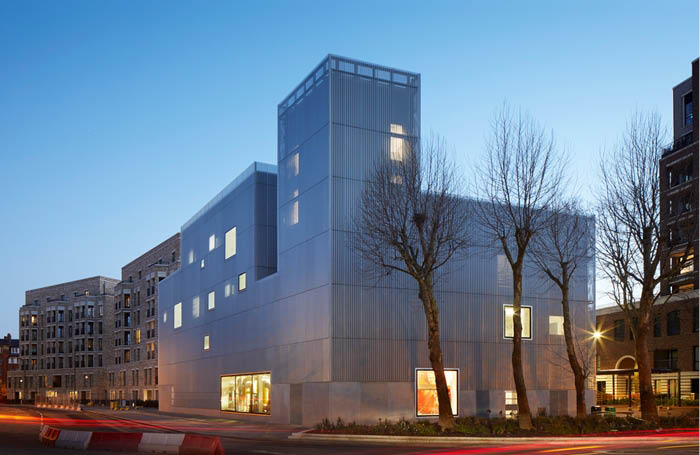 The Energy Hub is a completely unique four-storey building with an unlikely group of co-located uses: a nursery, a café, a community centre, and, most unusually, a bio-methane energy generating plant supplying heat and power to 3000+ new local homes (reducing CO2 emissions by 25 %). It also features a public pocket park outside the entrance, which is tucked around the back of the building away from the busy road in Elephant and Castle.
The architects responded to this unusual programme with a distinctive architectural language expressed most obviously in the external envelope of the building. The varied and beautifully composed openings signal not only that there must be a range of different activities within but that there is something uncommon about them.
Its sculptural form stands proud and separate from its neighbours as befits its pivotal community role while it manages not to overpower. This is an incredible achievement.
The perforated, corrugated aluminium skin, which sits on a concrete plinth, is light and appears to breathe as though alive. This is particularly evident at night when a complement of additional windows behind the screen suddenly becomes visible, glowing where previously there had been a blank façade.
The concrete plinth with subtle red aggregate holding the building above inhabits a subtle recess at the rear of the building away from the busy road to form the entrance to the nursery. The café and community centre are here too, and also open up to the pocket park.
Fronting the road, a large window hints the presence of the energy hub, displaying educational notes that make it plain.
Overall, the Energy Hub is a confident and, because it is so enigmatic, engaging building, proud and comfortable in its urban context, and a valuable contribution to the surrounding area.
Internal area 4360 m²
Contractor Lendlease
Structural Engineers Robert Bird Group
Environmental / M&E Engineers TUV-SUD
Quantity Surveyor / Cost Consultant Bruce Shaw
Project Management Lendlease
Acoustic Engineers Sandy Brown
Landscape Consultant: Gillespies
Specialist Energy Design Eon Energy
BREEAM and Sustainability RSK Environmental Consultants