Epping Forest House
By Studio McLeod
Client Private client
Awards RIBA London Award 2021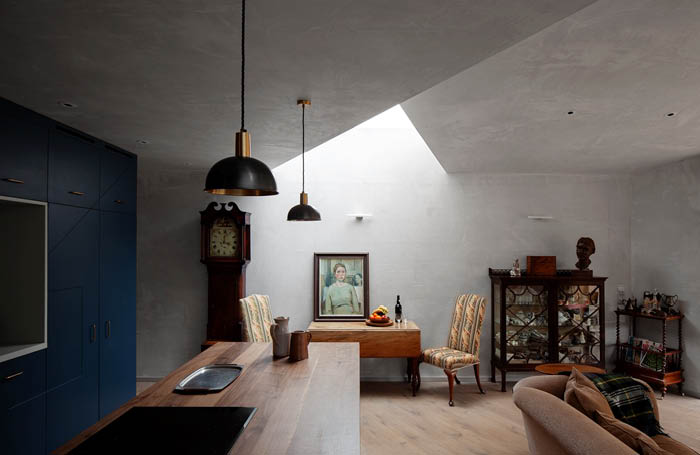 Not many septuagenarians embark on a construction project, and fewer still do it with such flair. The client's ambition was to build a contemporary and sustainable 'home-for-life' on the site of her existing house's garage, allowing her to remain in her community. The result was a close collaboration between architect and client, producing a unique and boldly sculptural building that nonetheless respects its context of traditional, gable-fronted houses.
A geometric shift between ground and first floor reduces the building's perceived mass and creates an entrance canopy. Clad in larch boarding, the external finish references the client's love of Epping Forest, which begins at the end of the street.
Internally, the interior finishes of raw plaster, oak and confident colours are bathed in natural daylight, which penetrates deep into the plan through both the stairwell and a triple-height lightwell. The staircase is supported by a sculpted oak centrepiece, binding the house together. Careful detailing using standard rooflights and full-height door blanks creates airy spaces. Materials have been chosen for their characteristic of ageing gracefully with minimal maintenance, and to have a low environmental impact.
The project deploys low carbon strategies for energy-efficiency and airtightness as its primary design drivers, along with the need to build in flexibility to meet the owner's future needs.
For example, the lightwell has the potential to accommodate a lift if needed, and standard SIPs panels are used to great effect, achieving a high level of fabric efficiency and reducing the house's embodied carbon.
Although completed on a modest budget, the project condenses a lot of design thinking into a small space, and is testament to the strength of the relationship between client, contractor and architect.
Internal Area 183.8 m²
Contractor McCracken Consult and Construct
Timber Supplier Vincent Timber Ltd
Lighting Design Twisted Light
SAP Assessor Award Energy
Supplier DG Glass Designs Ltd
Glazing specialist MasterGlazing
Structural Engineers CTS Design Consulting Engineers
Environmental / M&E Engineers Totnes Energy