Holmes Road Studios
by Peter Barber Architects
Client London Borough of Camden
Awards RIBA London Award 2021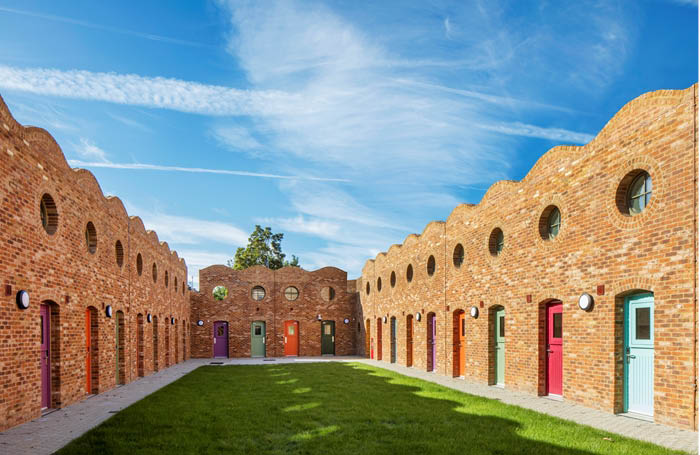 Holmes Road Studios provide homes for the homeless in Kentish Town. Arranged around a communal landscaped courtyard, it successfully updates the antiquated typology of the hostel.
From the street, the newly built portion of the project is mostly hidden behind the retained existing building. A large, simply detailed, glazed entrance allows a glimpse through to the courtyard beyond. It is an important moment, creating a light-filled connection from street to community, marking the transition from public realm to increasing levels of security.
As one progresses through the building, the semi-public courtyard organises the space and sets the scene for community interaction, a humanising update on the double-loaded corridors typical of older hostels.
The project comprises several different styles of accommodation for residents, including small to large clusters and, arranged around the courtyard, tiny individual studios.
The studios are well loved, and for good reason: although small, they are cleverly designed. The colourful front door gives straight onto a narrow, double height kitchen area, a table and chair, and a toilet.
The real joy is in the vertical volume, which allows for the inclusion of a mezzanine bedroom up a narrow stair above the toilet. Enveloped beneath the cycloid ceiling, the bed fills the room to create a snug, homely feel.
The short sequence from public and semi-public realms to the security of this safe haven feels appropriate for the residents, whose experiences of being homeless might have left them vulnerable.
Communal amenities are located at the short ends of the courtyard, while the cluster homes fill the rest of the site behind the studios. They are well day-lit and have access to green space too.
The architectural expression is playful and predominantly of brick, with robust detailing. Facing the courtyard, the studio doors are brightly coloured to bring individuality to the community. Above them, circular windows mirror the wavy-edged roofline. The courtyard itself is dimensioned to feel intimate but maintain enough ground plane for a successful landscape to flourish.
From its carefully considered entrance sequence to its intricate plan that incorporates different ways to live, the scheme fulfils its community agenda. The architect's success is in their thorough understanding of the residents' and staff's complex needs and requirements, and ability to transform them into a place that feels like home.
Internal area 1575 m²
Contractor Willmott Dixon Homes
Structural Engineers Clancy Consulting
Environmental / M&E Engineers Eng Design
Quantity Surveyor / Cost Consultant Arcadis
Acoustic Engineers Cole Jarman
Fire Consultants BWC Fire