Kingston School of Art
by Haworth Tompkins
Client Kingston University
Awards RIBA London Award 2021 and RIBA London Client of the Year 2021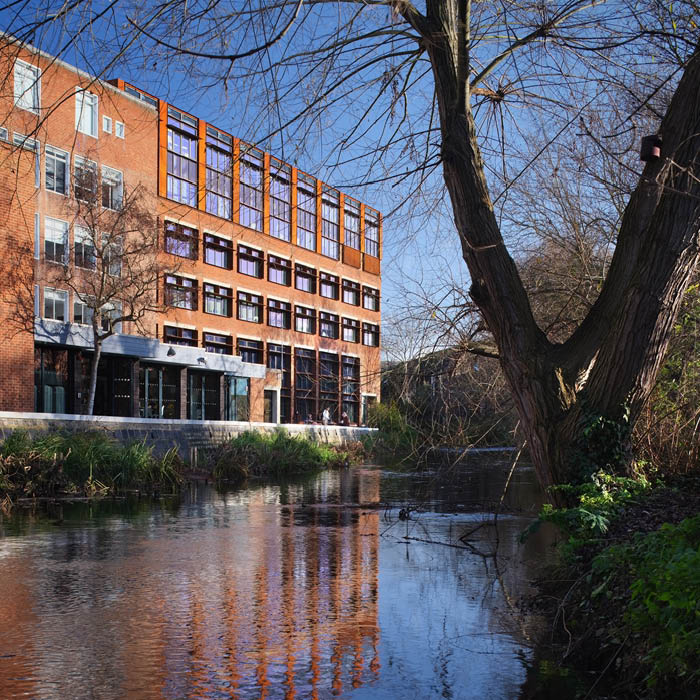 One of two ambitious projects from the same client to make the shortlist, the School of Art is a joyful reinvention of a conventionally "ugly" 20th century building as a vibrant and imaginative exemplar of conservation in its truest sense. The scheme takes a confused and poorly performing building and, with careful interventions, creates a handsome, contemporary and flexible home for the school.
The project shows great ambition in retaining and working with the existing where many would have resorted to demolition to overcome its aesthetic challenges. If a building is to endure, it must connect with the community it serves, which is all too often seen as the objective of beauty. But here the architects, through necessity and vision in equal measure, worked with the building to redefine its functional qualities as beautiful and thus were able to salvage the existing.
The frame, floors, stairs and brick skin are all retained. The frame and floor were adapted with minimal changes to form a new flexible floor plate. The stairs were simply extended as required in a style that enhances rather than matches the existing. The windows and brickwork are treated with an expertly detailed lining of rusty steel, which does as much to define the crisp, contemporary aesthetic as it does to perform its primary function as solar shading. The extension, too, is modest and measured, clad in more rusted steel, seemingly adding only what was essential, and nothing more.
At first glance, the internal spaces appear chaotic, but further inspection reveals a level of control and precision in every detail. Its sole purpose is to provide flexible, adaptable space for the students to inhabit as they wish, creating ad hoc divisions, extensions, partitions and storage to house the many varied artefacts that embody the school's ethos of Thinking through Making. The result is an energetic canvas of interconnected studios, workshops and galleries.
By putting aside the arbitrary aesthetic ambitions of the architect and instead challenging the industry to look for beauty in the functional and value in the existing, this project should set a new standard in architecture today. The real success here is in the intelligent insertion of beautifully crafted details to radically transform performance, operation and aesthetic. This is a call to arms to love our existing buildings in all their shapes and sizes, and make them beautiful and functional once again.
Contract Value £20,000,000
Internal Area 9,850 m²
Contractor Overbury
Structural Engineers MLM
Environmental / M&E Engineers CBG
Acoustic Engineers Max Fordham
Quantity Surveyor / Cost Consultant Rider Levett Bucknall
Project Management Turner & Townshend
BIM Coordinator Haworth Tompkins & Majenta