Kingston University London - Town House
by Grafton Architects
Client Kingston University
Awards RIBA London Award 2021, RIBA London Client of the Year 2021 and RIBA National Award 2021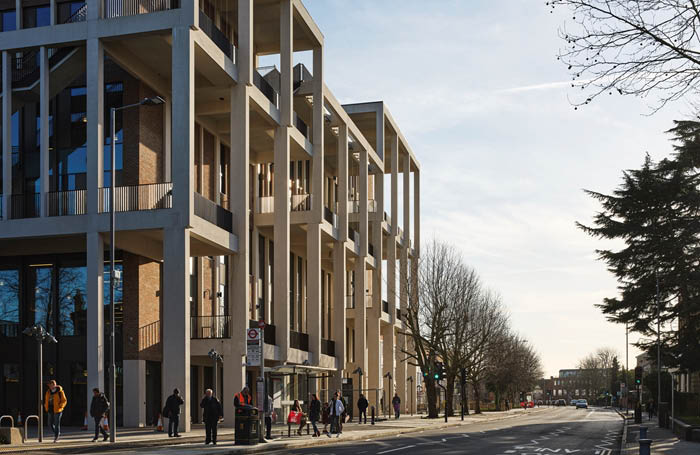 Of the two ambitious projects from the same client to make the shortlist, the Town House is the more conventional architectural project. It is very accomplished. The challenging brief framed a bold aspiration to design the beating heart for Kingston University within a building worthy of the international stage. Combining two dynamically opposed uses – dance studio and library - the result is both technically and spatially excellent, generating a warm, dynamic energy that truly captures the spirit of learning.
Conceptually, the building exploits two key devices: the colonnade and the courtyard. Wrapping the building in a tall colonnade gives it presence on the street, successfully balancing the need to make a landmark statement with the wider need to respond respectfully in size and scale to its context. This objective is further aided by the exquisite detailing of the exposed concrete frame, its language running inside and out, replicated and rotated at each junction but never repeated.
The collision and separation of opposing uses, like a dance itself, creates endless connections through voids, views, stairs and windows. When occupied by people, the dynamic interplay will prevent the building from feeling sterile or institutional. The acoustics, too, are expertly controlled, with quiet and noisy uses set symbiotically side by side. Spaces flow freely around the inner courtyard where students meet, surrounded by creativity on all sides.
The building performs well environmentally, achieving BREEAM Excellent in design. Its embodied carbon has been reduced through structural efficiency, the use of better concrete mixes, and designing out the need for a carbon intensive basement. As well as performing architectural and aesthetic functions, the concrete frame's thermal mass helps to regulate indoor temperatures, reducing the overall energy load.
This building is about high quality at every scale, from the choice of materials to the more abstract characteristics of warmth and flow. The muted colour palette and detailing too is controlled and expertly executed: nothing is out of place, everything is considered, and the result is a rich, beautiful canvas against which to set young creative minds free.
Contract Value £42,460,000
Internal Area 9,056 m²
Contractor Willmott Dixon Construction
Structural Engineers AKT II
Environmental / M&E Engineers ChapmanBDSP
Acoustic Engineers Applied Acoustic Design
Landscape Architects Dermot Foley Landscape Architects
Project Management Turner & Townsend
Quantity Surveyor / Cost Consultant: Turner & Townsend
Lighting Design ChapmanBDSP
Fire Safety ChapmanBDSP
Access MSA
Transport Signage Wayfinding Steer
Planning Lichfields
Facade Billings Design Associates
Security MFD
Archaeology MOLA
BIM Coordinator BIM Technologies
Theatre Consultants Sound Space Vision
Catering Keith Winton Design
AV Consultants PTS
Branding Bond & Coyne
CDM Turner & Townsend