Kingston University London - Town House
by Grafton Architects
Client Kingston University
Awards RIBA London Award 2021, RIBA London Client of the Year 2021 and RIBA Stirling Prize 2021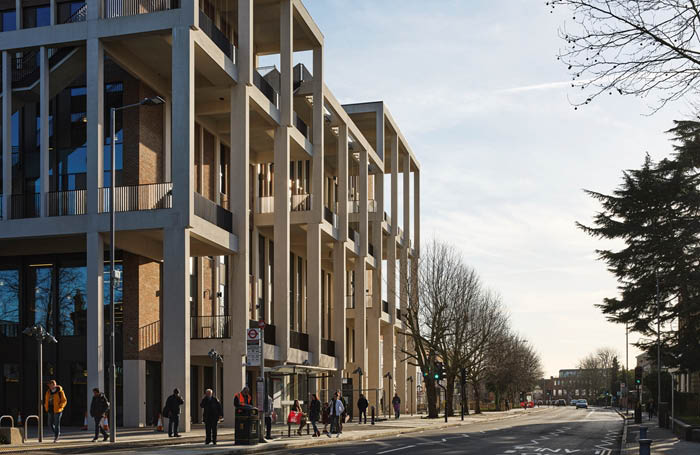 A progressive new model for the design of higher education buildings, the dynamic student 'Town House' expertly captures the spirit of learning and the value of community cohesion.
Grafton Architects have designed a purposefully democratic and open space, as its name suggests: Town – referring to the building's civic dimension, and House – reflecting a sense of home and belonging. Half of the students at Kingston are the first in their family to attend university and this building sends an important message to them, their educators and the local community, that this is a place where everyone is welcome and valued.
Set back from the street, the project extends the public realm, generously blurring its boundary with the pavement and inviting everyone in – students, locals and visitors alike. There are no barriers. A 200m long six-storey, deep colonnade offers shadow and shelter, with terraces and gardens above creating shelves of connected public space. The facades are permeable: open and transparent at the lower levels – revealing views to the passer-by of the engaging activities taking place inside – becoming more shaded at upper levels.
Equally open and spacious inside, users and visitors are greeted by the public forum, leading to an amphitheatre. From the ground floor, eyes are drawn up through the building – through voids and staircases – to complementing social and study spaces. Exemplary acoustic design enables the bustling public forum, quiet library, archive, dance studio and theatre to co-exist, and enrich the experience of the users.
Generous volumes allow people, light and air to flow naturally through the building, which also uses a thermally-activated concrete frame to reduce operational energy use. This highly-adaptable building will stand the test of time and provide for students, residents and visitors for years to come.
Grafton Architects won the 2013 RIBA Competition to design the Town House. It is the Dublin-based practice's first built project in the UK.
Speaking on behalf of the 2021 RIBA Stirling Prize jury, Lord Norman Foster, said:
"Kingston University Town House is theatre for life – a warehouse of ideas. It seamlessly brings together student and town communities, creating a progressive new model for higher education, well deserving of international acclaim and attention.
In this highly original work of architecture, quiet reading, loud performance, research and learning, can delightfully co-exist. That is no mean feat. Education must be our future – and this must be the future of education."
Contract Value £42,460,000
Internal Area 9,056 m²
Contractor Willmott Dixon Construction
Structural Engineers AKT II
Environmental / M&E Engineers ChapmanBDSP
Acoustic Engineers Applied Acoustic Design
Landscape Architects Dermot Foley Landscape Architects
Project Management Turner & Townsend
Quantity Surveyor / Cost Consultant: Turner & Townsend
Lighting Design ChapmanBDSP
Fire Safety ChapmanBDSP
Access MSA
Transport Signage Wayfinding Steer
Planning Lichfields
Facade Billings Design Associates
Security MFD
Archaeology MOLA
BIM Coordinator BIM Technologies
Theatre Consultants Sound Space Vision
Catering Keith Winton Design
AV Consultants PTS
Branding Bond & Coyne
CDM Turner & Townsend