Moore Park Mews
by Stephen Taylor Architects
Client Baylight Properties
Awards RIBA London Award 2021 and RIBA National Award winner 2021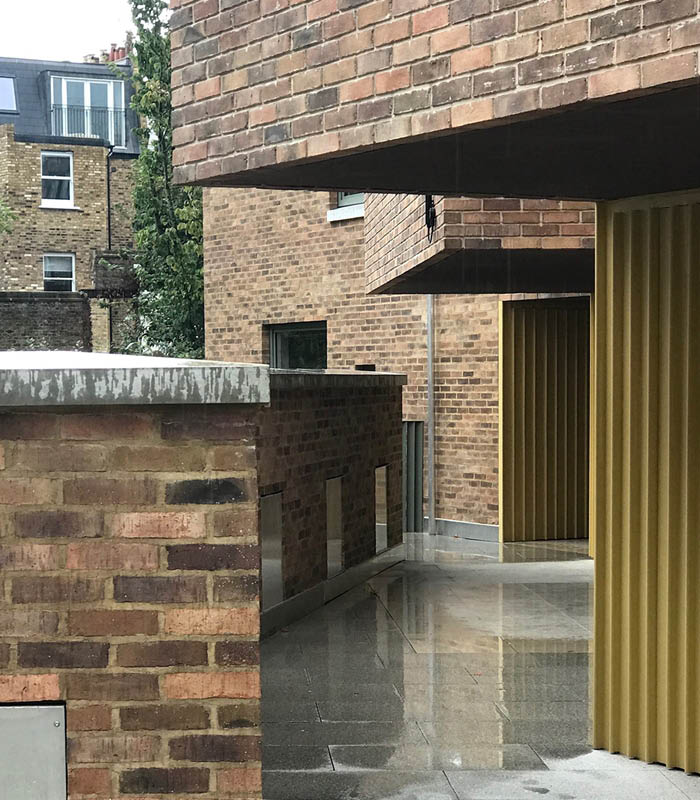 This project created four detached houses on an awkward triangular back-land site overlooked by multiple neighbours. Its realisation is the culmination of a decade of planning challenges to deal not only with the principle but also the detail of this exceptionally tight scheme.
The client's brief required houses rather than flats, each with its own outdoor space. Internally, the buildings had to feel like a series of spaces that could be understood as a house. The architect describes the irregular geometry of the plan as "driftwood washed up on a beach", but the buildings and, more critically, the spaces in between are clearly the product of meticulous calculation and thought.
The result is incredibly successful. Each house has a front door and a garden. Above ground, the geometrically pure, gabled house volumes are legible as they tumble and crease across the site. The simple first and ground floor plans open up playfully into larger lower-ground living spaces, creating opportunities for daylight to penetrate. Light gently washes over these spaces, the mass of brick floating serenely above.
The external material palette is simple and appropriately domestic. Brick, clay tiles, and simple windows are carefully detailed with control, precision, and modesty. Inside, too, the palette is warm and textural, left neutral to allow owners to make their mark and finished to a high standard.
The way the design manages to preserve a sense of privacy in each of the homes is impressive, their orientations and openings carefully positioned to avoid overlooking. These are four well detailed and laid out houses that strike a careful balance between contextual and contemporary, and are loved by their residents. What truly sets this project apart, though, is the exceptionally skilful conception and expertly executed handling of the volumes on such a challenging site.
Contract Value £4,000,000
Internal Area 602 m²
Contractor Uprise Construction
Structural Engineers Engineers HRW
Environmental / M&E Engineers Robinsons Associates
Quantity Surveyor Stature Limited