Mountview
By Turner Works
Client Mountview Academy of Theatre Arts
Awards RIBA London Award 2021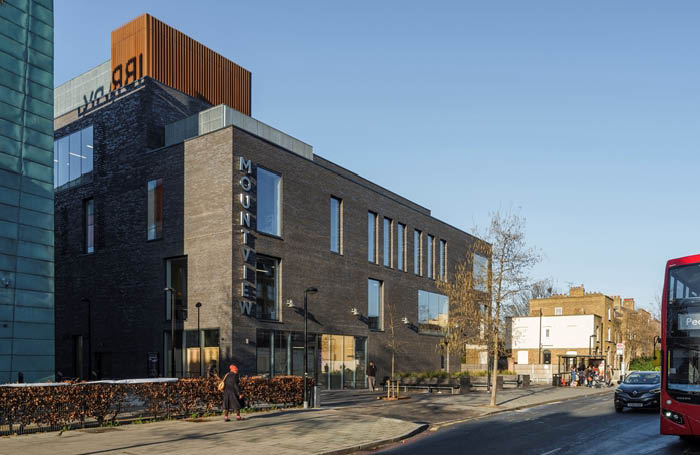 In the architect's words, the newly built Mountview is a 'warehouse for performing arts'. Not only is it a vocational performing arts academy, it also has public theatres which serve the community.
Located in the heart of Peckham next to Alsop's Stirling Prize-winning library and to some extent blighted by low quality air and noise from busy road traffic, the well-articulated building helps to bring more life to an already bustling area. A sizeable piece of land on the Peckham Hill Street side has been given to the public and is used as a gathering space for the young. The glazed façade displays portraits of notable artists printed on mesh, broadcasting a positive, inspiring message to passers-by.
The building is conceived as two interlinked blocks. One is formed of brick-clad block with a 200-seat theatre as its heart, surrounded by workshops, studios and lettable spaces. The other is longer and formed of perforated Corten-clad block. It houses a smaller performing theatre and private educational studios accessed from a linear atrium, which also helps with the natural ventilation strategy.
Much of the ground floor is open to the public, including a café and lettable space. All areas on all floors are accessible and, at the time of the visit, the roof top café and the terrace were being completed, which will offer fantastic views over London.
The challenges of meeting a demanding brief and sticking to an intensive schedule were compounded by changes imposed after the Grenfell Tower fire. The architects were equal to them, designing a great building at a relatively low cost. They are commended for producing a welcoming space for learning that expands the local arts and cultural scene and should help to stimulate the wider growth of creative industries in the area.
Contract Value £22,500,000
Internal Area 10,180 m²
Contractor Gilbert-Ash
Structural Engineers Eckersley O'Callaghan
Environmental / M&E Engineers Skelly & Couch Ltd.
Project Management BAQUS
Acoustic Engineers Charcoalblue
Theatre Consultants Charcoalblue
Planning Consultants Rolfe Judd
Quantity Surveyor / Cost Consultant Rex Procter and Partners
Fire Consultants Astute Fire
Transport Consultants Motion
Ecology Consultants Ramm Sanderson
Daylight/ Sunlight/ Rights of Light consultants Malcolm Hollis
CDM Consultants Focus Consultants
BREEAM Focus Consultants
Building Control London Borough of Southwark
Landscape Architects Turner Works