Phoenix Garden Community Building
By Office Sian Architecture + Design
Client Phoenix Garden Trust
Awards RIBA London Award 2021 and RIBA London Project Architect of the Year 2021 (sponsored by Taylor Maxwell)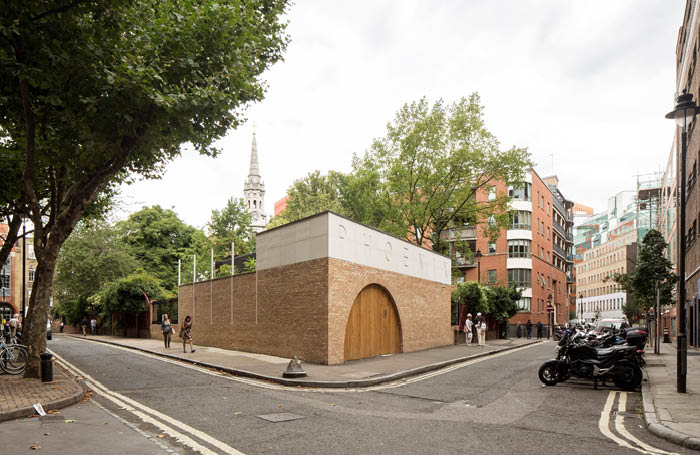 Opened to the public in 1984, Phoenix Garden is the last of the Covent Garden community gardens. Tucked away close to the busy Shaftsbury Avenue on the site of a World War 2 bomb crater, it is surrounded by tall developments.
The brief was to develop a community building that not only facilitates the public enjoyment of the garden but broadcasts the client's ambition to provide 'sustainable, community and free-to-access green spaces to the city'.
In particular, the client wanted a new building to replace storage sheds on an area of hardstanding to accommodate visitors and make it easier to maintain the garden.
On first impressions, the new building is a modest, rather curious construction to the south of the site amid an explosion of greenery tightly contained by low garden walls. Conceived as the portal to a hidden garden, the façade continues the brickwork of the garden wall to form an archway. A proud top dressing of limestone pays homage to the chief material of the nearby St Giles Church and has the word 'Phoenix' carved into it, marking the building out as a landmark.
The design prioritised sustainable techniques, including an air-source heat pump, rainwater harvesting, SIPS construction, and green roofs, which are also used as a plant propagation area.
The elevation facing the garden opens up almost entirely to blur the boundary between inside and out. Since the client encourages muddy boots, the material selection is robust and hard-wearing. Internal brickwork work is laid in intricate patterns to blend in with the garden. The garden itself boasts an impressive selection of plants and insect life not associated with an inner city setting, and there is a welcome and homely feel about being there.
Through the design and build process, it was evident a strong bond had developed over the years between the client and architect. Indeed, the architect volunteers at the garden and was the first to use the completed venue for their wedding breakfast. The site now provides a venue for multiple user community events, parties, school visits, SEN activities, offering a much-needed oasis of wellness away from the hustle and bustle of busy urban life.
Internal area: 92 m²
Contractor: Orsman Construction
Structural Engineers: Wilde Carter Clack
Quantity Surveyor / Cost Consultant: Robert Martell and Partners