Poplar Works
By Adams & Sutherland
Client Poplar Harca
Awards RIBA London Award 2021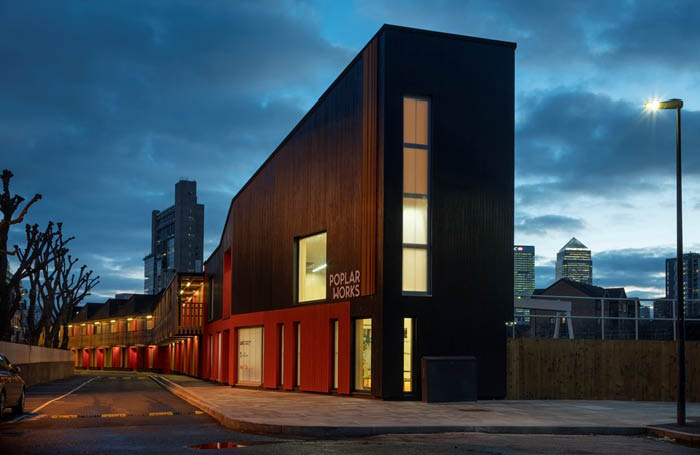 Abutting the busy A12, uniquely sited at the approach to the Blackwall Tunnel, Poplar Works forms a long thin roadside building. The project asserts a clear and distinct building typology. Poetically, the typology is that of a long inhabited wall. Pragmatically, it is a linear bap block infill between a motorway and a residential estate street. In essence, it has formed both the rear and the front of this neighbourhood, cradling the community street from the noisy A12, with exposed rubber cladding to the motorway, and painted timber and two stacked walkways to the street.
The existing line of 100 under-used garages were retrofitted and extended upwards by one storey.
The raw architectonic of exposed CLT for the extension and workshops is a practical choice for a workshop environment, for fixing shelves and pegs for tools and materials. Here, pattern-making, sewing, prototyping for young fashion students and emerging design labels, take place. Intermixed with the large workshops are affordable small studio rentals for the individual designers.
Amplifying the linear typology, the second floor steel walkway and the ground floor raised pavement form further layers. By raising these, and making them generous in widths, they form vibrant places to dwell and socialise. These two 'linear outdoor rooms' express the creative inner life of the building, animating the quiet street further. One can very well imagine a future seasonal street market showcasing the fantastic designs and craftsmanship produced here.
The remit for this creative community building is forward thinking and bold, an ambition of both global and local scales. Here in Poplar, the world renowned London College of Fashion has chosen to place one of its roots. Here, the community of older tailors and dress-makers converge with their successive generation of young fashion upstarts.
This much loved community building creates a new typology that can be implemented elsewhere, to regenerate old practice, disused infrastructure, international brand, and nurture young talent from communities.
Contract Value £4,900,000
Internal Area 1,801 m²
Contractor Niblock (builders) ltd
Structural Engineers Price and Myers
Environmental / M&E Engineers Freeman Beesley Ltd
Landscape Architects Jonathan Cook Landscape Architects Ltd
Lighting Design Studio EG
Planning Consultant Leaside Planning Ltd
Public Engagement Public Works