Royal College of Pathologists
By Bennetts Associates
Client Royal College of Pathologists
Awards RIBA London Award 2021 and RIBA National Award 2021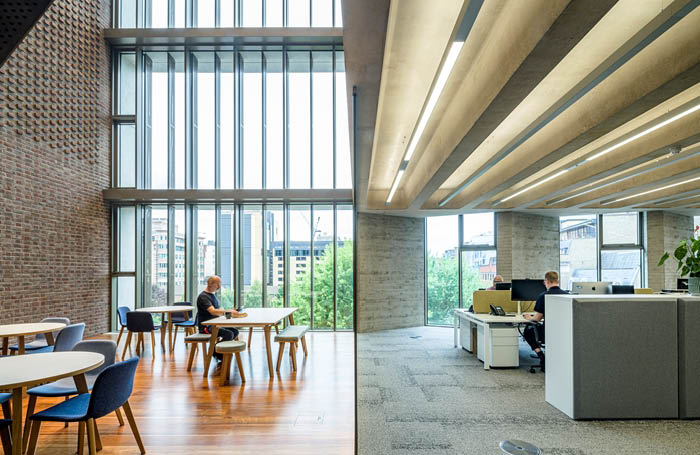 The new headquarters for the Royal College of Pathologists is built on the existing raft foundations of the partially demolished building that occupied the site previously. The new premises serve a variety of functions by providing educational areas, ballrooms, workspaces, social spaces, areas for exhibitions and meetings, and, on the roof, overnight guest suites for the College's use. Its concrete-framed structure allows for large spans, which create flexible, column-free floorplates.
One enters through the modest concrete and brick street frontage to a striking double-height lobby. The lovingly crafted use of materials is controlled and reductive but never stark, bringing the spaces to life. In particular, the concrete of the structure is expressed unadorned, reflecting back the daylight soothingly. A considered use of brick is expressed as load-bearing on the two exposed facades, and inside is used to make clear distinctions in hierarchy as you move through the building. A third set of materials softens the muscular brick and concrete, featuring wood inlays in the windows, ballroom, library, and the mild steel feature stair.
The design retains the style and feel of the college's former headquarters in St James but introduces a ceremonial entrance stair in a new and modern way. As a purpose built-headquarters, the building affords the college a higher degree of flexibility than if they'd stayed put, anticipating their long-term needs with an adaptable, multifunctional building. For example, they have the potential to expand into the uppermost floor should it ever be required. (In the meantime, this space can be sublet to generate a welcome revenue stream.)
As well as reusing the existing foundations, the building dramatically cuts back on embodied carbon with self-finishing structural materials and by reducing the overall volume of concrete with sculptural coffered ceilings – all without compromising concrete's valuable characteristic of thermal mass.
The decision to relocate was bold but ultimately successful. The new headquarters building delivers an impressive new and sustainable home for this venerable institution, paving the way for its long and bright future.
Internal area: 4,436 m²
Contractor: Gilbert Ash
Structural Engineers: Waterman Structures
Environmental / M&E Engineers: Troup, Bywaters and Anders
Quantity Surveyor / Cost Consultant: Equals Consulting
Project Management: CBRE
Acoustic Engineers: Sandy Brown
Lighting Design: Pritchard Themis
Facade Engineering: Arup Facades
Fire Consultancy: The Fire Surgery
Interior Design: Bennetts Associates