The Ray, Farringdon
By Allford Hall Monaghan Morris
Client Viridis Real Estate Services Limited
Awards RIBA London Award 2021 and RIBA National Award 2021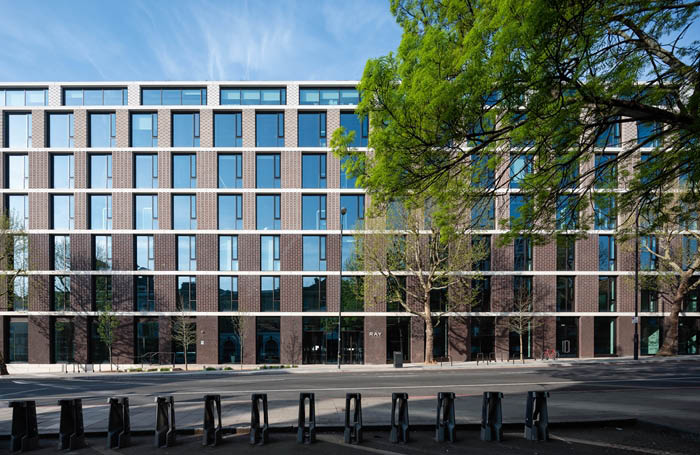 The Ray in Farringdon is a bright and fresh contemporary office building that fits effortlessly into its urban context. Its architecture both inside and out responds successfully to its location at the intersection of the busy, broad Farringdon Road flanked by relatively tall buildings, and the much quieter, narrower Ray Street, where the characterful, heritage architecture includes the Coach pub.
The primary Farringdon Road elevation, which frames the central, proud main entrance, is exquisitely composed. Strong horizontal banding that indicates the scale of the building within is balanced by vertical brick paneling constructed of many different bonds, colours and textures. This playful use of brickwork echoes the variety found on other buildings in the neighbourhood, bringing vitality and plasticity to the long, formal elevation.
The corner to Ray Street is handled with aplomb, featuring a secondary chamfered entrance surmounted by picture windows that, from the inside, offer wonderful views down Farringdon Road as you rise up through the building.
The building really comes to life in response to the contrasting scale and intimacy of Ray Street, its vertical massing gently cut away to form a tumbling ziggurat until it reaches ground level. Here, the architects have left a generous pocket of hard-paved public realm that allows the street room to breathe. Beautifully and robustly furnished with striking handrail metalwork and concrete benches, the attention to detail in this mini-square is evidenced by the little notches in the concrete to prevent skateboard play. Trees and small areas of landscape planting also bring joy to the street.
The stepped-back floors on this elevation allow light to penetrate and create opportunities for planted terraces. The resulting green façade is a delight from the street, a uniquely original place that respects the surrounding architecture and wittily matches their exuberance.
Internally, The Ray is well detailed, the signature brick panelling of its facade making its way into the entrance and other parts of the interior. With its expressive signage, the central core splits the building between workplace at the front and break-out spaces at the back that flow through to the planted terraces.
The Ray's overall parti succeeds as a contemporary workplace with easy access to external space and greenery at all levels. Like all great architecture, its interior speaks directly to its exterior: natural connection to the public realm, access to greenery, and a playful use of bricks that roots the building in this characterful part of London.
Contract Value: £41,000,000
Internal area: 11,777 m²
Contractor: McLaren
Landscape Architects: East and JCLA
Structural & Civil Engineer: AKT-II
Services Consultant: Sweco
Quantity Surveyor / Cost Consultant: Gardiner & Theobald
Facade Engineer: Buro Happold
Fire Engineer: Sweco
Transport Engineer: TPHS
Acoustic Engineers: Cass Allen
Access Consultant: All Clear Designs
Daylight / Sunlight: GIA
Arboriculturalist: ACS Consulting
Archaeology: MOLA
CDM Coordinator: Brian Bulfin Associates
Public Consultation Coordinator: Four Communications
Townscape Consultant: Peter Stewart Consultancy
Planning Consultant: Gerald Eve