The Standard, London
By Orms, Shawn Hausman Design, Archer Humphryes Architects
Client Crosstree Real Estate Partners
Awards RIBA London Award 2021 and RIBA National Award 2021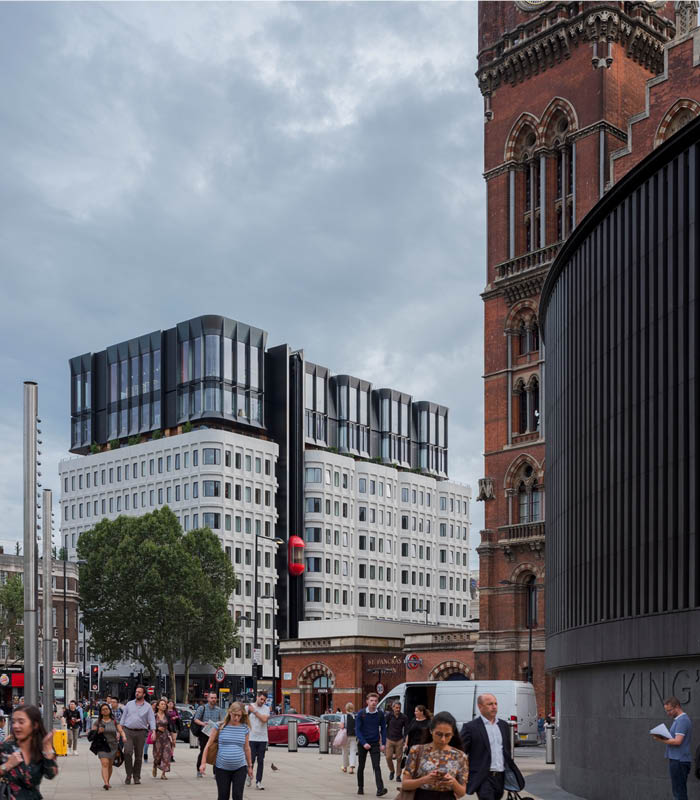 The Standard, a hotel at the junction of Argyle Street and Euston Road opposite the Grade I-listed St Pancras train station, is a beautifully resolved solution to a complex architectural brief.
Responding to the open tender process, the architects proposed refurbishing the former Camden council offices, both because it was more sustainable and in recognition of local positive sentiment of familiarity towards the existing building.
Their bid was successful and so the concrete frame and loadbearing concrete façade of the original building were retained, beating the RIBA Challenge's carbon emissions benchmark by 60% and resulting in substantial capital cost savings.
As well as restoring the existing facades and fenestration, the architects designed a three-storey vertical extension to accommodate the 266 bedrooms required in the brief. Although it draws on the geometry of the existing façade, the architectural expression of this extension stands in contrast to it, appropriately addressing Gilbert-Scott's masterpiece opposite in its materiality and refinement. As a feature that can be seen along the vista of Euston Road, it is an exemplary solution.
The deep floorplate dictates the organization of the rooms, which are deep in plan, with entrances set along one long wall, creating an unusual form where none appears compromised or forced. The logic of this floorplan innovation delivers a very satisfying organisation of rooms which hopefully designs out the necessity for future reorganisation. Intelligent planning can obviate the need for future refitting, allowing the design a longevity which contributes to minimising the buildings carbon footprint over the life of the building.
The Standard's retention and renewal strategy, combined with the inclusion of an extensive range of sustainable technologies such as greywater recycling, waste-water heat recovery, and energy-efficient specification, dispel the myth that hotels are always energy-hungry.
Overall, the judges were impressed by how the architect dealt with the complexity of the brief and degree of difficulty in executing it within the constraints of the existing building. Reconciling the wishes of the local community with the client's requirements, the solution demonstrates architectural ambition and design intelligence.
Internal Area: 16,559 m²
Contractor: McLaren
Structural Engineers: Heyne Tillett Steele
Environmental / M&E Engineers: Arup
Interior Design: Shawn Hausman Design
Interior Architects: Archer Humphryes Architects
Quantity Surveyor / Cost Consultant: Gardiner & Theobald
Project Management: Tower Eight
Design Management: Plan A Consultants
Executive Design Architect (to Planning): Ian Chalk Architects
CDM Co-ordinator: Jackson Coles
Approved Building Inspector: Butler and Young
Façade Consultant: Montressor Partnership