The Student Centre, UCL
By Nicholas Hare Architects
Client University College London
Awards RIBA London Award 2021 and RIBA National Award 2021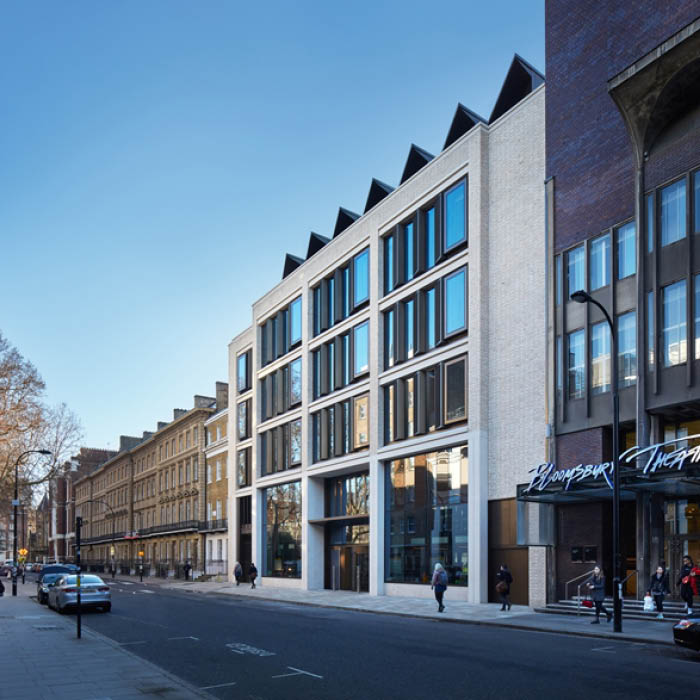 The Student Centre on UCL's main Bloomsbury campus, is a simple idea exceptionally well executed. Conceived as a giant wraparound stair with inhabited landings, it provides a terraced through-route at ground level and a hard-working double basement.
Completing the fourth wall of the Japanese garden courtyard, it links generously and seamlessly through to Gordon Street to help the flow of pedestrians. Its restrained, elegant material palette inside and out generates a calm and inviting atmosphere that belies the volume of student traffic within.
The courtyard elevation is sober and rational, sitting comfortably within its formidable conservation setting. Its ground- and top-floor loggias made of reconstituted stone emphasize the horizontality of the buff brick middle band and deep-set rhythm of windows.
The Gordon Street elevation is entirely different. Modulated framed window bays create depth and interest that holds up firmly next to the adjacent the Georgian terraces on Gordon Square.
Inside, the key move is the meandering, split stair in the atrium that sets the scene for social interaction. The brief called for a thousand seats and so spaces are densely packed with deftly chosen seating areas that include a variety of understated furniture combinations grouped in singular pops of colour. During our visit, the atmosphere was convivial in some places, studious in others, and never too loud or overwhelming, thanks to the success of its acoustical design.
The primary structural concrete, which comprises 50% GGBS (ground granulated blast-furnace slag) to reduce the building's embodied carbon, is extremely well finished and carefully detailed at junctions either with expressed joints or chamfers. The soffits are clean and free of services, which instead are neatly nested behind large floating suspended timber panels. These panels also include linear and indirect light fittings and double up as acoustic baffles. The warmth of the timber continues throughout in panelling balustrades, the tops of which are notably low and glazed to allow views across while seated. There are also ample views out, especially from the superb 'secret' roof terrace overlooking the courtyard and city.
Importantly, the many study spaces in the basement are tall and bright, continuing the quality of finishes and lighting in evidence elsewhere. On the day of the judges' visit, the air quality was fresh and temperature comfortable despite it being a very warm day outside and maximally packed with students. The combination of natural and subtle artificial lighting was also excellent for desk working.
Using CIBSE's TM54 analysis, the building features a number of low-carbon technologies, including natural cooling using ground-source technology, heat pumps, and a two-season natural ventilation strategy, helping it to secure a BREEAM Outstanding rating.
Contract Value: £43,200,000
Internal area: 5,765 m²
Contractor: Mace
Project Management: Arcadis
Environmental / M&E Engineers: BDP
Structural Engineers: Curtins
Quantity Surveyor / Cost Consultant: AECOM
Acoustic Engineers: BDP
Lighting Design: BDP
Landscape Architects: Colour UDL
Sustainability Consultant: Expedition
Planning Consultant: Deloitte
Fire engineering: Arup