Tottenham Hotspur Stadium
By Populous
Client Tottenham Hotspur
Awards RIBA London Award 2021 and RIBA National Award 2021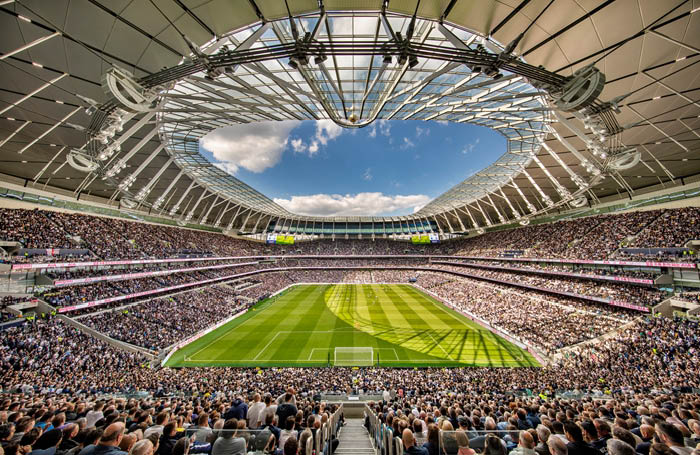 The new Tottenham Hotspur Stadium project is a tour de force in stadium design, delivering an unparalleled experience for the multiple users of this collection of buildings. Uniquely, it is located on a high street, helping to embed it in the local community.
Externally, the cladding impressively disguises the numerous requirements of the façade, including fire access, services, and ventilation. The resulting form catches the light delicately with angled panels. Entrances are indicated by large spans of glazing. High quality materials are used throughout.
To the west facing onto the High Street, the simple curved volume recedes over the roofs of the neighbouring heritage buildings that line the widened pavement. A swooping glazed entrance for hospitality attenuates the building's mass and brings activity and delicacy to the street scene.
To the south, supporters arriving by tube enter the main plaza adjacent to the Tottenham Experience. The stretch of the High Street that links these entrances has been successfully refurbished and new buildings delicately added to improve the stadium's connection to its urban context, all the while setting the scene for activity and moments of delight.
Other functions, including commercial, retail, and educational spaces - with housing and hotel accommodation to come – occupy the perimeter.
Inside, the experience for supporters is exceptional. The perimeter spaces, so often neglected in stadium design, have significant architectural merit. The environment is open, attractive and relaxed. Huge volumes and expressive structure bring light deep into the plan, which accommodates numerous offerings for food and beverage along with seating areas. These concession outlets are attractive, natural and joyful, no doubt helping to control the flow of people in a way that benefits local residents and eases pressure on local transport.
The stands are carefully considered, with a steep rake giving great viewing angles and getting supporters as close to the pitch as possible. The bowl's enclosure strikes a fine balance between letting in light and holding in the wall of sound that is so important for creating that special match-day atmosphere.
The bowl features a collection of delights and built ideas. The grass pitch slides away to reveal an artificial American football pitch beneath, perfect for staging NFL games. A 'Sky Walk' allows people taking the Tottenham Experience to view the stadium from the bowl's rim. An impressively long glazed bridge affords access to accommodation hanging under the roof of the north stand. The roof structure itself is elegant and integrates state-of-the-art lighting and speakers. Wherever one looks, the architects have skilfully exploited the structure's volume to improve the supporter experience.
Internal area: 120,000 m²
Contractor: Mace
Structural Engineers: BuroHappold and Schlaich Bergermann Partner
Planning: DP9
Environmental / M&E Engineers: BuroHappold Engineering
Quantity Surveyor / Cost Consultant: Arcadis
Lighting Design: BuroHappold Engineering
Acoustic Engineers: Vanguardia