York House
By dMFK Architects
Client The Office Group
Awards RIBA London Award 2021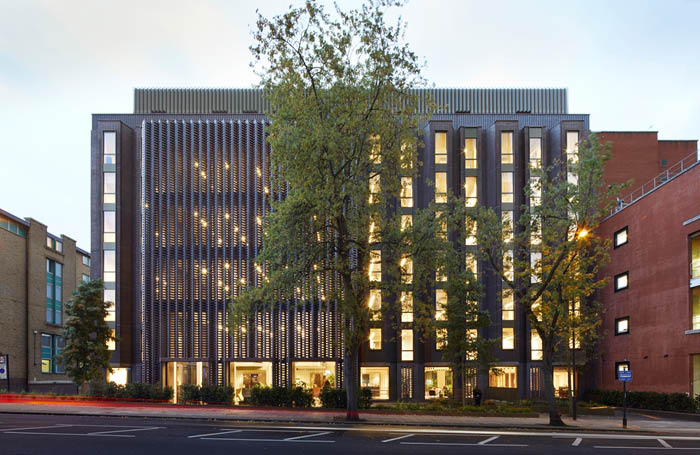 York House, a business centre on Pentonville Road, is an exemplary reinterpretation of an anonymous commercial building through refurbishment and extension.
The architects designed an elegant extension structure that signals the new entrance. Constructed from brick, the interlaced structural facade filters the daylight in and emits a warm glow at night, a feature that is generous to both users and passers-by. Apertures interrupt this lattice structure, encouraging views up and down the street from the new spaces above the entrance. The resulting intervention is delightful at the street level, with welcome pocket parks on either side on the lead up to the entrance.
In the entrance space, the old has been stripped away to the bare structure and the resulting scar left raw, with the exposed floor slabs retained as theatrical balconies at first floor level. The design thus balances the new and the old through the interplay of volume, structure and material, successfully modernizing through respectful intervention.
The ground floor is predominantly given over to break-out space for the users of the building, the interventions echoing the building's existing colour palette and character of its architecture. The resulting atmosphere feels calm, controlled and embedded, testifying to the client's wisdom in using the architect for both the architecture and interior fit-out.
The small, high-silled, pre-existing windows have been replaced with full-length ones, improving levels of natural daylight in the old office spaces. On all floors, these spaces have been laid out efficiently for users and equipped with all the amenities expected in a modern workplace environment.
The opportunity for amenity space and architectural expression around the roof extension has been well handled. The extension is a CLT box clad in perforated aluminium panelling that neither contrasts with nor apes the existing building, instead adding character and giving onto a landscaped terrace open to users. It works well with the host building, creating an ensemble that is greater than the sum of its parts.
Pentonville Road is a busy one-way street between Islington and Kings Cross, a challenging location when it comes to attracting tenants. The architects have more than met this challenge by successfully creating a meticulously detailed and structurally intriguing project that raises the bar for the reuse of unloved buildings.
Contract Value: £15,419,000
Internal area: 6,267 m²
Contractor: Collins Construction
Structural Engineers: Webb Yates Engineers
Quantity Surveyor / Cost Consultant: Quantem Consulting
Environmental / M&E Engineers: Environmental Engineering Partnership
Project Management: Broadfield Project Management
Landscape Architects: Space Hub
Sustainability Consultant: eb7