Zayed Centre for Research into Rare Disease in Children
By Stanton Williams
Client Great Ormond Street Hospital and UCL Great Ormond Street Institute of Child Heal
Awards RIBA London Award 2021 and RIBA National Award 2021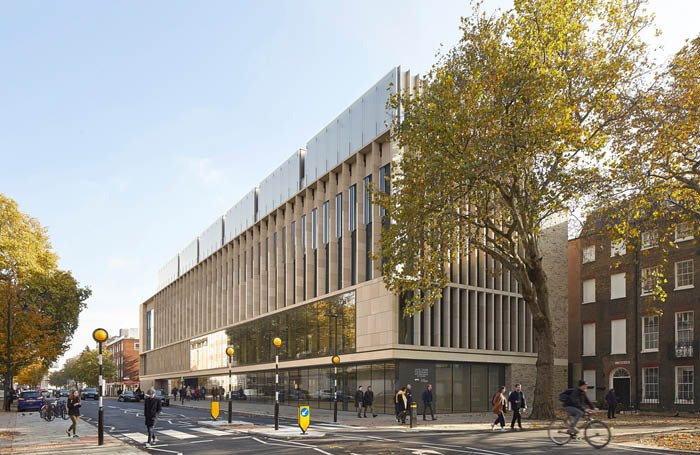 The Zayed Centre for Research into Rare Disease in Children is a delicate and intricate response to a challenging brief.
Located on Guildford Street, the building sits on a busy road in the heart of a conservation area overlooking Coram's Fields. The elevation to the street, with its stone fins at the upper level, creates oblique solidity from the outside while allowing views out to the surrounding green spaces from the inside. The building comes to life at ground floor, offering a fully glazed facade through which passers-by can look down into the primary function of the building, the research laboratories.
Having these research laboratories up front and on show is the building's driving parti. Everyone entering the building has to cross this space on a bridge to a welcoming reception desk. This sequence expresses the critical function of the building to all, reinforcing the idea that treatment and research are one and the same thing.
From here the building is functionally split between the office and research arm and the spaces for the children who have opted in to take part in the research. These two wings of the building are brought together spatially by the initial experience of the views down into the laboratories and a centrally located cavernous atrium.
The office and research wing is light and bright, comprising a series of spaces wrapped around the central atrium, all connected by a communal stair. Throughout, the material finish of the timber, concrete, glass, and stone is exceptional. Primary research is carried out on the lower-ground floor to ensure concentration while a clean room occupies the top floor.
The children's wing has its own atrium and is smaller in scale to suit its users. The treatment rooms themselves are cleverly planned to allow families and children to wait to the front of the building where they have views of Coram's Fields. For privacy, researchers and doctors enter from a central corridor that connects the entrance atrium. The functional adjacencies are well considered, creating a highly legible building.
The architects have successfully translated an incredibly complex brief to produce a disciplined architecture that is at once joyful and delightful, and perfectly modulated to the Zayed Centre's serious purpose.
Internal Area 13,090 m²
Contractor Skanska UK
Structural Engineers Pell Frischmann
Mechanical, Electrical, Public Health, Fire, Lighting and Acoustics Hoare Lea
Sustainability and BREEAM Hoare Lea
Landscape Architects Bradley-Hole Schoenaich Landscape
Facade Consultant Eckersley O'Callaghan
Traffic Engineers Pell Frischmann
Healthcare Planning and ADB Consultant MJ Medical
GMP Validation Consultant Exmoor Pharma
Arts Consultant GOSH Arts
Artists Dana Al Mazrouei, Mark Titchner and Random International
Quantity Surveyor / Cost Consultant Gardiner & Theobald
Project Management Gardiner & Theobald
Planning Consultant DP9
Access Consultant All Clear Designs
Educational and Interactive Installations Designmap
Medical Equipment and Furnishings MTS Health
Rights of Light, Daylight and Sunlight Consultant GVA Schatunowski Brooks
Arboriculturist Simon Jones Associates
Ecology Consultant Ecology Solutions
Principal Designer Turner & Townsend