100 Bishopsgate
by Allies and Morrison with Arney Fender Katsalidis
Client The 100 Bishopsgate Partnership
Awards RIBA London Award 2022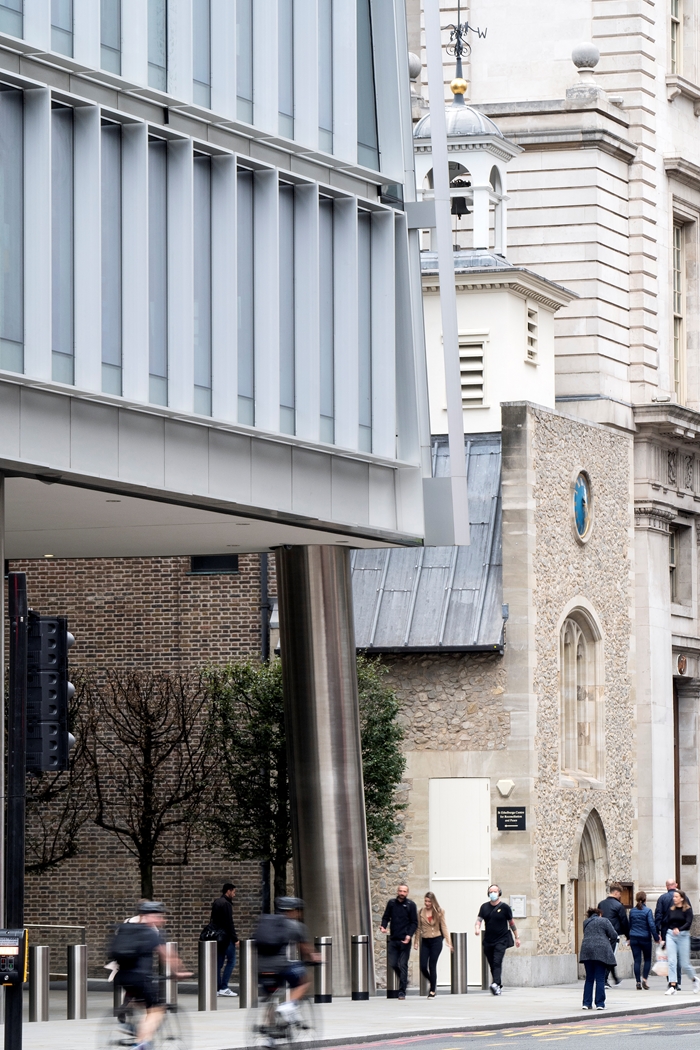 The 100 Bishopsgate development offers three mixed-use office buildings: a 40-storey tower, a lower podium block, and a neighbouring building, with new connecting public realm interspersed with trees, planting, and a green wall.
The buildings' arrangement, form and detail reinstate the medieval street pattern at ground level, creating new pedestrian links across the site. The tower's twisting form is distinctive, its plan flaring downwards from a rectangle at the crown to a wider parallelogram at its base, with planar façades gradually accommodating the change in geometry.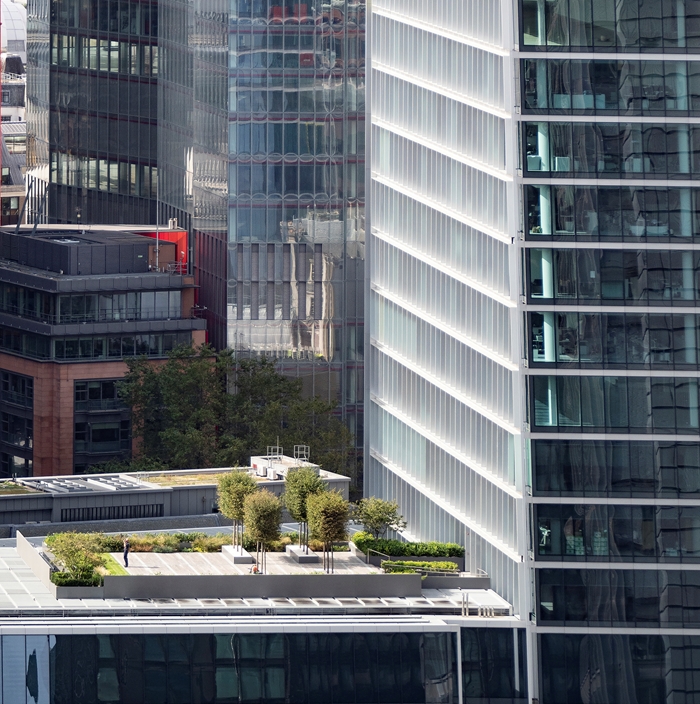 The overall impression of the development is that of clarity, simplicity and legibility. Inside the tower, the layout is immediately understood. The core stands majestically in the entrance lobby, clad in grey-veined white marble with its striations meticulously laid and matched. Its solidity is in stark contrast to the transparency of the glazed perimeter. The surfaces of the marble facing the perimeter have been left rough, whilst those facing inwards towards the lift lobby are polished, thereby distinguishing between inside and out. The magnificently tall lift door openings command attention.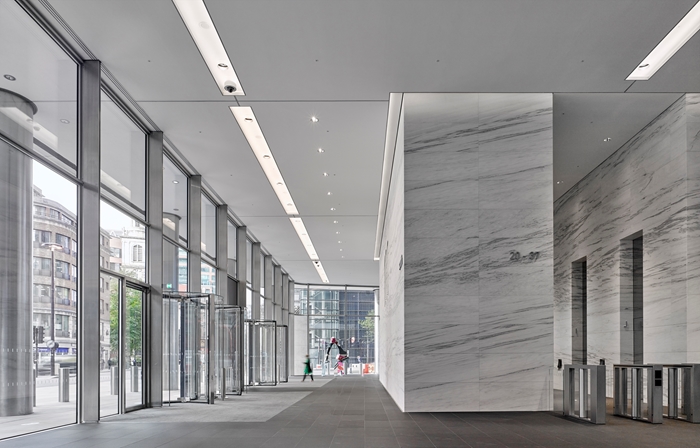 The tower's office floors are the largest column-free floorplates in the City. Albeit highly efficient, these spaces are nonetheless flexible and adaptable enough for their occupants to express personality. The architect said, they can be thought of "as shelves for many different books." There are double-height spaces and staircases between the lettable floors in the tower, and a rooftop garden on the podium building.
Externally the dynamic geometries of the tower's various façades create shadows and distortions which conceal the building's size. The splayed colonnade at ground level pays homage to the adjacent Grade I-listed church of St Ethelburga, the contrasting scales somehow sitting comfortably together.
The glazed façades are defined by their detail, geometrical arrangement and articulation. The double-glazed units have been designed to meet thermal, solar and light performance standards. The building achieves a BREEAM 'Excellent' rating.
The outcome is both dynamic and sensitive, simple, and complex: a tour de force.
Internal area: 133,719.00 m²
Contractor: Multiplex
Environmental / M&E Engineers: Hilson Moran 
Structural Engineers: Robert Bird Group
Security, Façade Engineer, Accessibility, Transport: Arup 
Project Management: Gardiner & Theobald 
Quantity Surveyor / Cost Consultant: Aecom  
Landscape Architects: Hyland Edgar Driver 
Vertical Transport: Vertical Transportation Studio 
Lighting Design: Speirs and Major 
Acoustic Engineers: Acoustic Logic  
Planning Consultants: Avison Young