Peeking House
by Fletcher Crane Architects
Client Private Client
Awards RIBA London Award 2022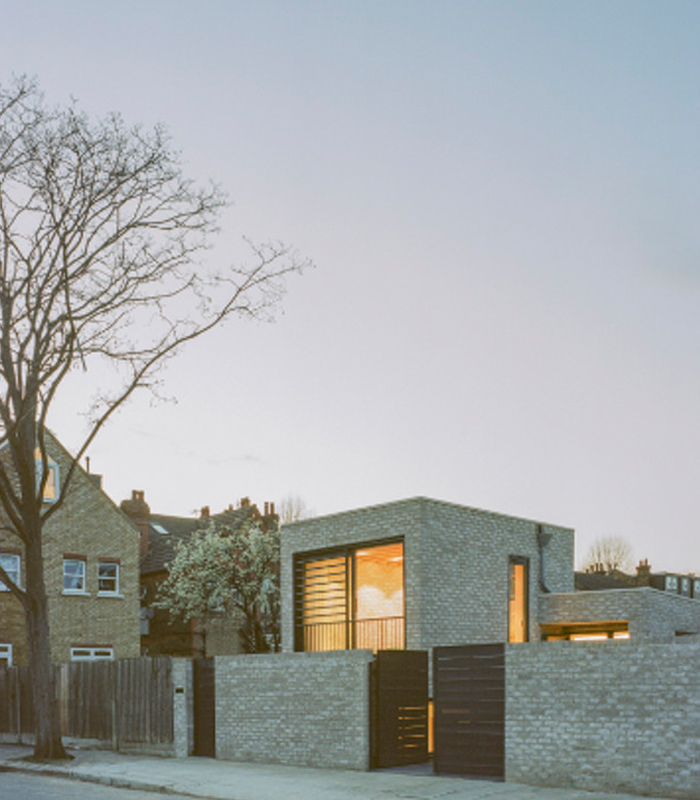 Completed on a relatively modest budget, this new house in a suburban conservation area in West Ealing replaces an unsightly garage and general dumping ground. The client, who lives in a neighbouring property, acquired and developed the site to both improve the amenity and build a place to live in, in the future. Architect and client worked closely together to produce a well-considered, well-lit, comfortable new home over four levels on a tight, somewhat constrained site.

The appearance from the street is of a compact dwelling. The entrance is through a narrow passageway behind a new brick wall that continues the street line. The hallway leads to a kitchen and dining area overlooking a small private ground-level courtyard. Turning back towards the street, the main living space is half a storey up, looking back out over the wall to address the street.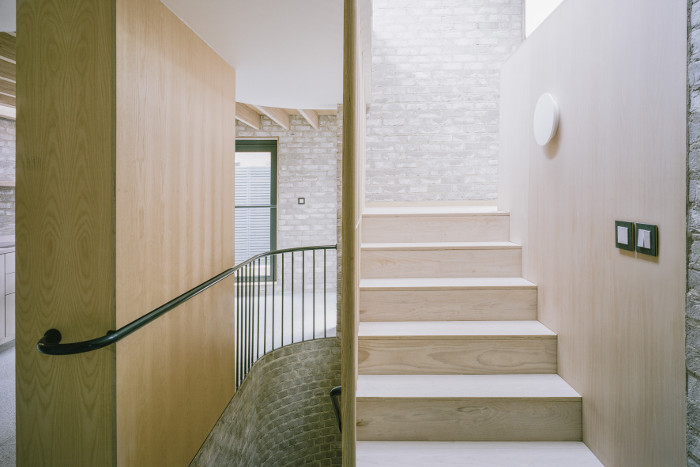 Despite their outward appearance, these two upper levels are well-proportioned, light and airy, taking advantage of views out to the ground-level courtyard, along the adjacent front gardens to the south and also back across the street.
The first of the two lower floors is a half level below ground to fit under the uppermost floor. It contains a bedroom and en suite bathroom. The basement floor is another half level down to fit under the kitchen and dining area. It contains a further bedroom that opens out onto a sunken courtyard, which connects back to the ground level courtyard.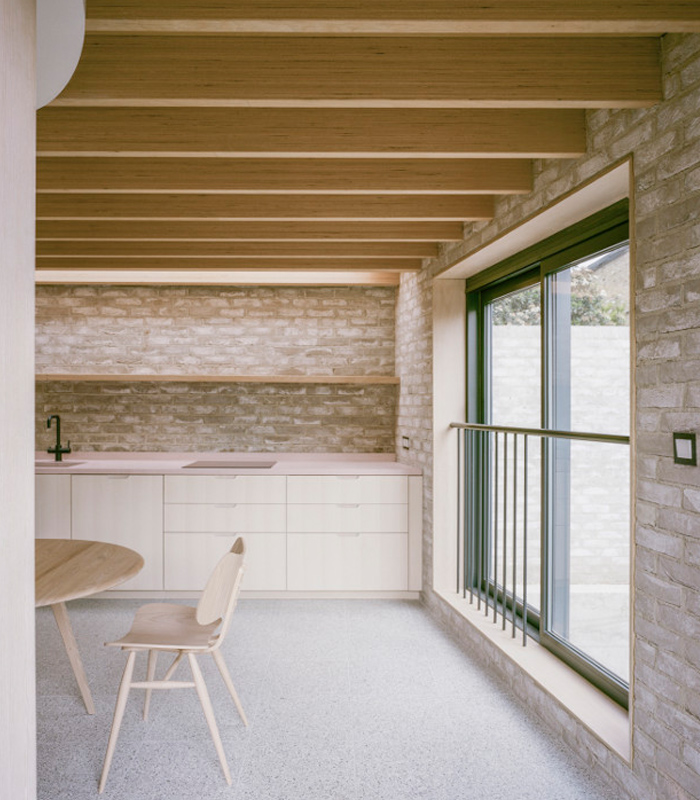 The house is built using cavity wall construction made of load-bearing brick, with parallel laminated veneer timber joists forming the upper-level floors and roof. The lower floors are made of concrete cast insitu, with walls and soffits left exposed.

The whole building is naturally ventilated, with cross-ventilation possible because of the way the floors are interconnected. Heating is powered by a gas boiler (a seemingly strange planning requirement), and there are PVs on the roof that, for the time being, feed the electricity they generate into the grid. Although the client aspired to go beyond building regulation requirements and expressed a willingness to consider low or zero-carbon upgrades in the future, unfortunately, the extra costs of doing so were unaffordable at the time of construction.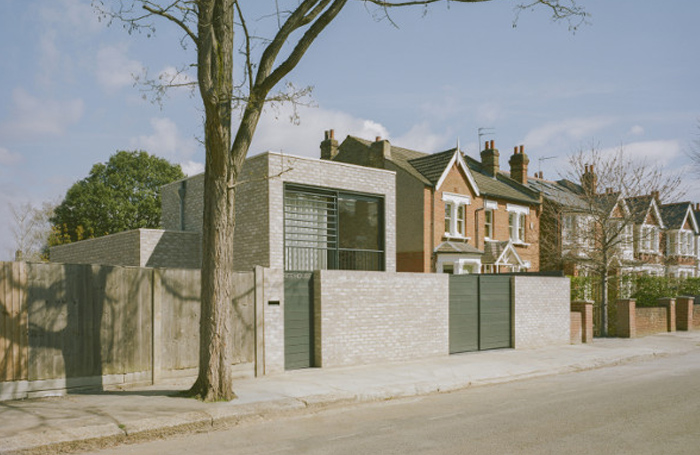 By opting for a restrained palette of materials and exposing brickwork walls, concrete and timber soffits internally, the architects have subtly blended outside and inside spaces and thereby connected them harmoniously. The client is extremely pleased with the architects' work and is more than happy to have been persuaded to opt for the exposed finishes.
Internal area: 85.00 m²
Contractor: Project 1 Design + Build
Structural Engineers: MDA Structures