Surbiton Springs
By Surman Weston
Client Private client
Award RIBA London Award 2022 and RIBA National Award 2022 (sponsored by Forterra)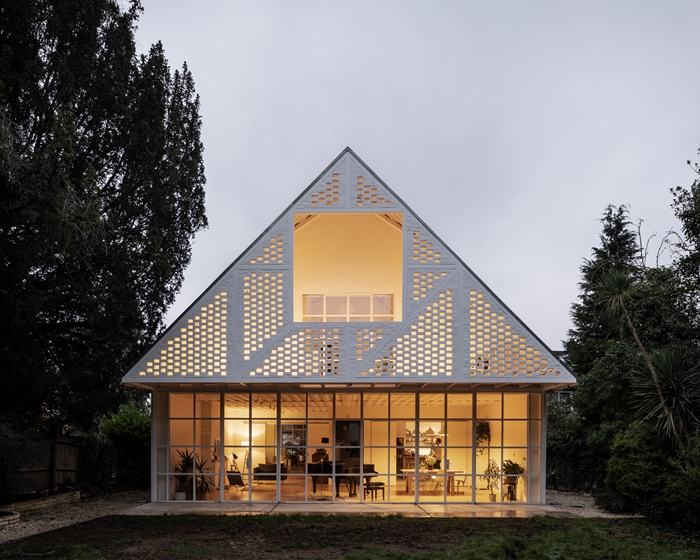 Surbiton Springs is a new-build, two-storey detached house on a suburban street in Surbiton. The client's brief was for a contemporary two-bedroomed home with an industrial aesthetic, but not simply a minimalist open plan box.
Their priority was to create a home with a sense of openness, with generous, flowing living spaces that were able to be subdivided or left open as desired.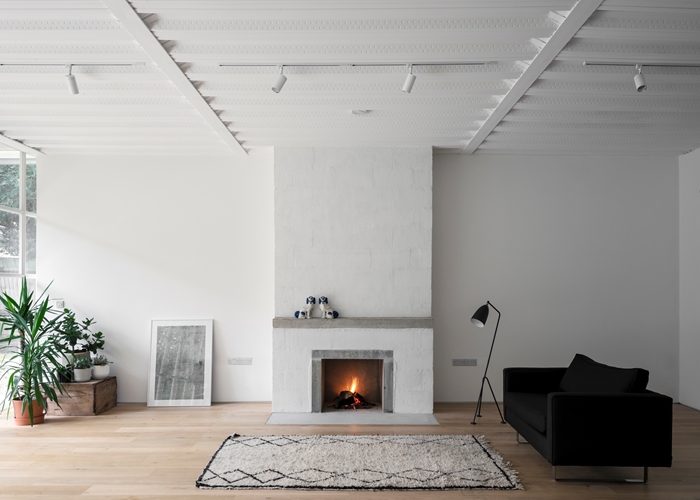 The house successfully blends vernacular mock-Tudor and industrial aesthetics into a unique and appropriate hybrid. With its traditional A-frame elevation the house borrows the language of the suburban mock-Tudor, ubiquitous to its locality, and turns it on its head by expressing it in a steel frame – the materiality of modernity. Unusually, the structure is designed to be exoskeletal, expressing the pitched form diagrammatically, as if it were drawn by a child. 
The frame is combined with slurried brick infill panels, another nod to mock-Tudor building techniques. The garden elevation, Crittall-style glazing, meanwhile, offers a contemporary twist on the leaded windows synonymous with the mock-Tudor style, combined with the freshness of a Palm Springs summer house. The whiteness of the exterior continues a long tradition of modern white villas and civic buildings in the area dating back to the 1930s.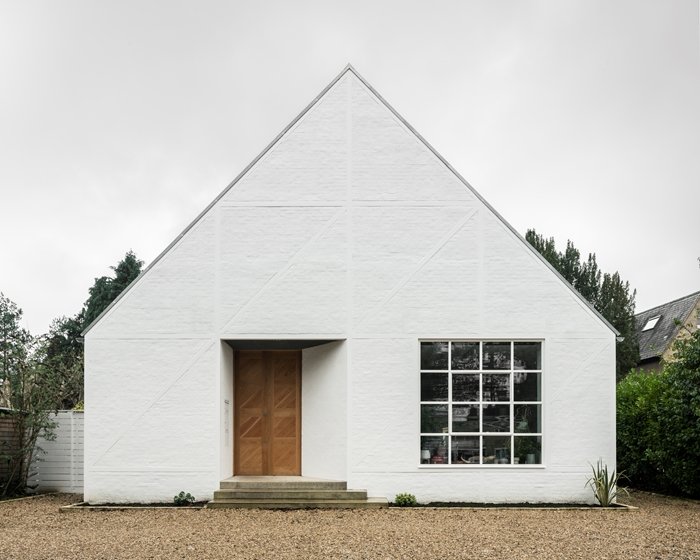 The deep, angled threshold to the front door leads directly through to the triple-height entrance hall. This voluminous entrance hall acts as a further threshold – a sort of internal courtyard – with deliberately raw materials. Passing from the hallway into the living room, there is a dramatic change in spatial quality, from compression to expansiveness, as the ceiling height increases and panoramic rear windows provide an uninterrupted view of the garden. Internally, the plan responds to the client's brief by offering a variety of scales and spatial experiences.
As you move through the house, the material palette becomes increasingly warmer, with timber floors and plaster walls acting as counterpoints to the utilitarian, matter of fact, steel roof and floor decks, which Surman Weston saw as a modern interpretation of exposed Tudor timber beams. Upstairs, bedrooms and bathrooms are housed within the 'loft space', which, at five metres in height and primarily lit from above and has a peaceful, almost ecclesiastical quality. The master bedroom opens onto a south-facing covered balcony – a space to enjoy the best and worst of the British weather. The rear elevation acts as a counter-point to the front and responds to its south orientation: clear glazing at the ground and a hit-and-miss brick pattern within the gable providing a more filigree and visually-permeable relationship between inside and out.

The judges were particularly impressed with the clarity of the conceptual approach. The industrial materials have been handled with restraint to provide a calm and sophisticated set of domestic spaces, all of this achieved within a modest budget.
Internal area: 264.00 m²
Contractor: Wadey Builders
Structural Engineers: Structure Workshop
Environmental / M&E Engineers Synergy
Ecology Consultants Astute Ecology
Approved Inspector MLM group