BFI Riverfront
by Carmody Groarke
Client BFI
Award RIBA London Award 2022 and RIBA National Award 2022 (sponsored by Forterra)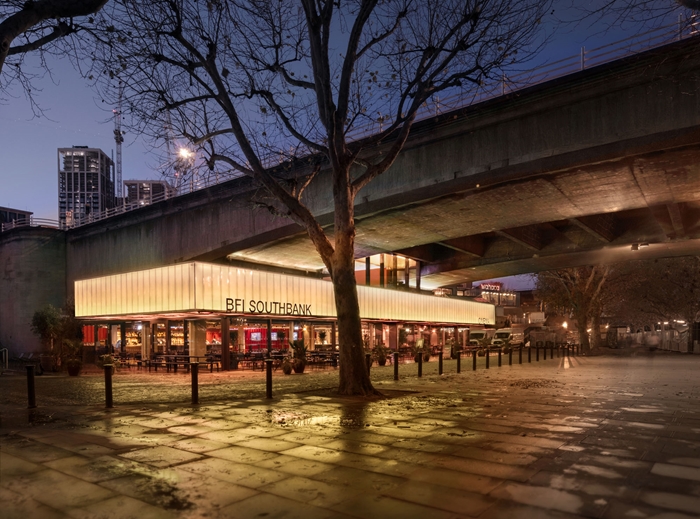 Burrowed beneath the arches of Waterloo Bridge, The British Film Institute (BFI) Southbank was originally built in the 1950s to accommodates the UK's largest independent cinema house and National Film Archive.
Prominently facing the River Thames, the BFI benefits from a steady stream of pedestrians enjoying the Southbank; however, its entrance had become outdated and poorly equipped to entice and welcome visitors. Carmody Groake has delivered a new identity and landmark entrance to the BFI, blurring the territory between the Southbank promenade and the BFI, welcoming and alluring the public to step inside.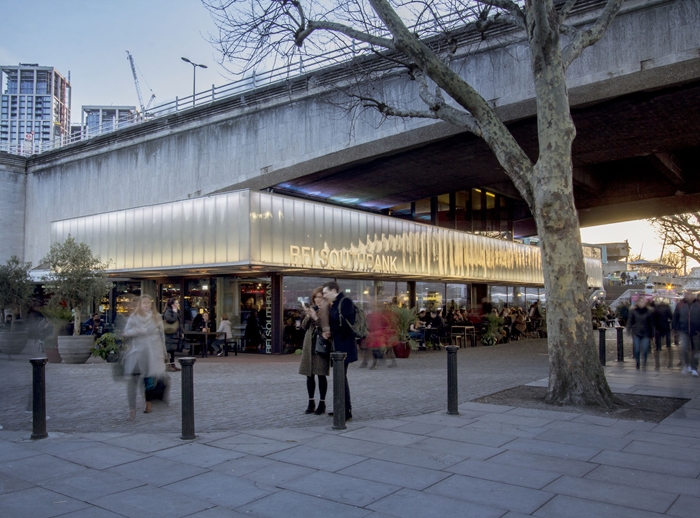 A grand canopy of cast fibreglass now glows boldly like a cinema screen, announcing the building's cultural presence among other civic event architecture on the Southbank. This new architectural intervention provides a contrast to the aged Brutalism of Waterloo Bridge, which arches over the BFI. 
Carmody Groake's design has exposed the gigantic concrete rib structure of the underside of Waterloo Bridge, making it visible from the ground and first floors. Their new layout modernises the hospitality spaces at pavement level as well as providing a new bar and first-floor terrace where visitors can sit and marvel at the imposing bridge structure above and enjoy a new vantage point from which to appreciate the neighbouring listed National Theatre and elevated vista across the Thames.
Contrasting to the exterior, the interior of the new rooms is deliberately dark and brooding, heightening the atmospheric qualities of a visit to the cinema and acknowledging the arts institution's engagement with both subculture as well as high culture.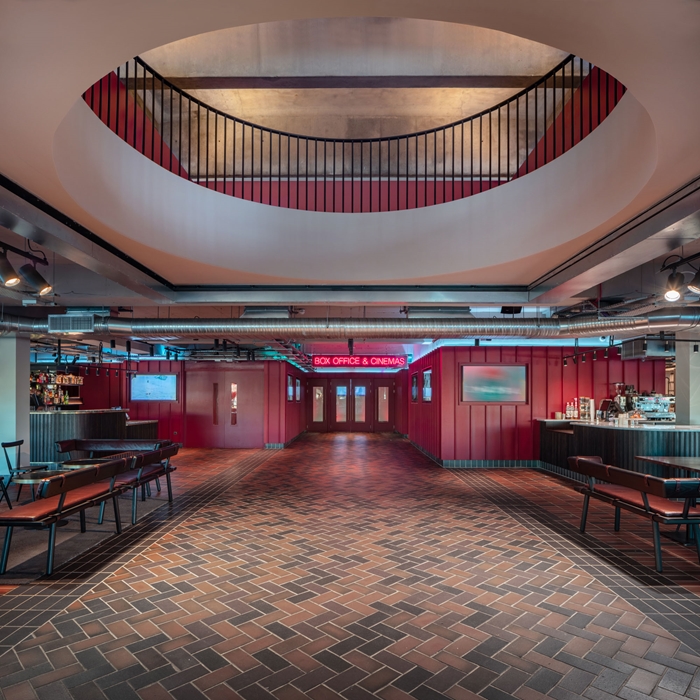 The site presented Carmody Groake with a series of considerable technical challenges. Despite the difficulties of building on made ground, under an aging concrete structure that moves from season to season, the architects have deftly integrated complex servicing and acoustic requirements with exemplary detailing.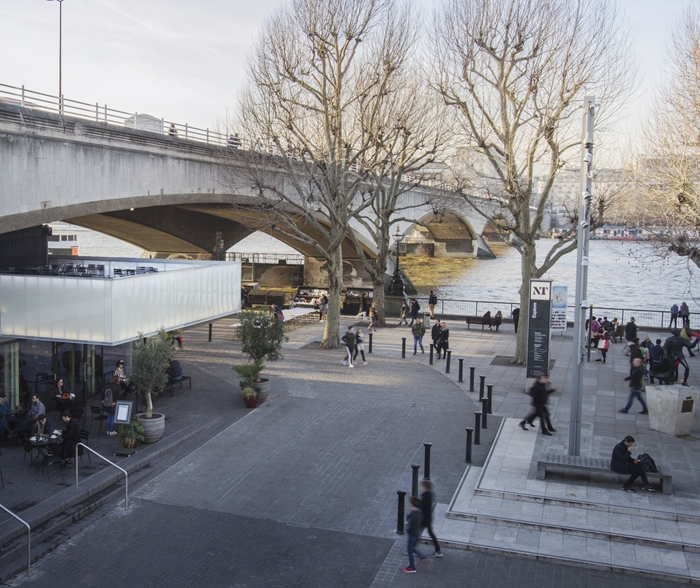 The judges were particularly impressed with how the architects have created a project that genuinely enhances a complex heritage setting, celebrating the Grade-II listed Waterloo Bridge and complementing the Grade-II* listed National Theatre. The project is an exemplar of a modern intervention that subtly but genuinely enhances the appreciation, experience and understanding of a complex and layered heritage setting.  
Internal area: 940.00 m²
Contractor: Area
Structural Engineers: Price & Myers (Up to Stage 2)
Environmental / M&E Engineers:  AECOM  (Up to Stage 2) 
Project Management:  AECOM  (Up to Stage 2) 
Planning Consultant: GL Hern  (Up to Stage 2) 
Quantity Surveyor / Cost Consultant: AECOM  (Up to Stage 2) 
Structural Engineers: Peter Brett (Stage 3 onwards)