Breakers Place, Nottingdale
by Allford Hall Monaghan Morris
Client Adena Property Investments Inc.
Awards RIBA London Award 2022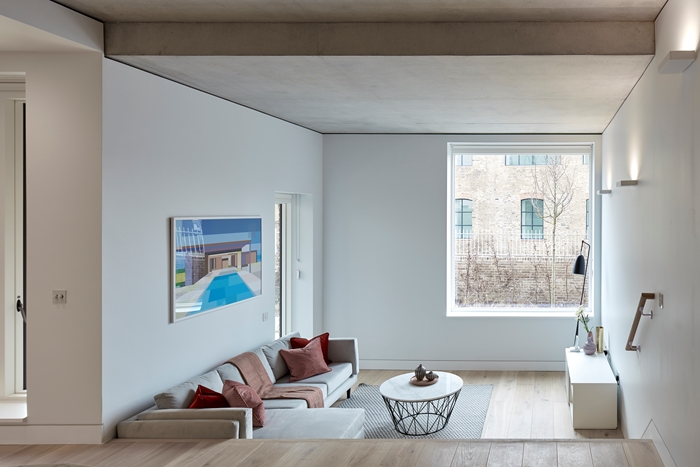 Located east of White City and the Westfield Shopping Centre monolith, Breakers Place forms part of the mixed use, 'Nottingdale Campus'. On a site that was once occupied by low quality industrial units, car parking, and goods yards, Breakers Place, Nottingdale now provides 60,000sqft of commercial office and retail space in its 'George Building' along with a separate nine-unit residential building.  
 
Allford Hall Monaghan Morris have been working with client, Adena Property Investments, for more than 10 years and over this time the master plan has been subtly reworked to respond to changing market conditions. This most recent phase responds to its predecessors which were completed between 2008 and 2014 - the bold, tall 'warehouse scaled' workspace buildings known as the Yellow, White, and Studio Buildings located around a public open space known as Breakers Place.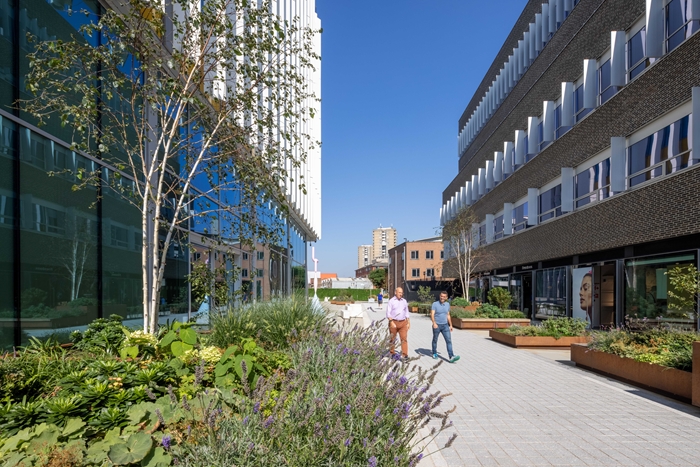 The new buildings of Breakers Place drop in scale to mediate between the earlier phases of the master plan and existing housing further to the east. The George Building is split into two wings, running from north to south on the site. The main entrance is located directly off Breakers Place, where a striking red metalwork staircase and reception desk welcome visitors, whilst upper-level offices are accessed via a bright, top-lit core with robust, tactile, and elegantly detailed exposed concrete and brick surfaces. The upper levels offer flexible, subdividable workspaces with openable windows and access to landscaped roof terraces for office staff wellbeing. The exposed concrete frame and soffits have been constructed with 40% GGBS cement replacement and contribute to the regulation of internal temperatures alongside a displacement ventilation system. Basement parking, with cycle storage, showering, and changing facilities support the office and residential building.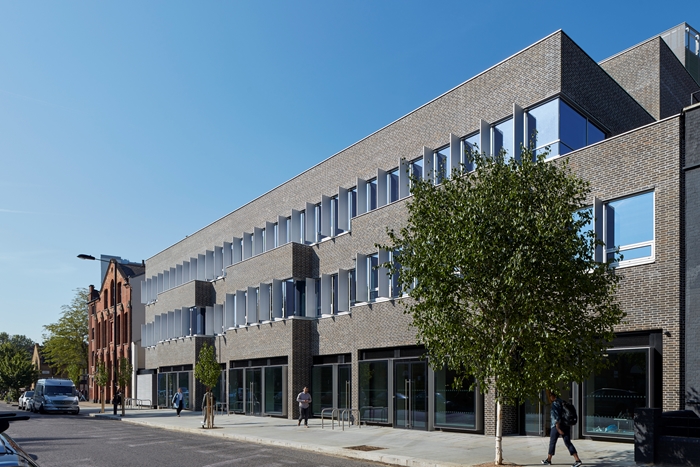 The four-storey Freston Road office block continues the street line, already established by neighbouring former warehouses and provides activity at street level through a series of elegantly detailed retail and office units. Double height, cantilevered windows successfully contribute to the streetscape, with the language of brick recalling the site's industrial heritage and embedding the new buildings into their locale. Horizontally banded windows with projecting vertical aluminium fins deflect the sun, further enlivening these new well-proportioned brick façades.  
The residential block bookends the development at its southern end, sitting comfortably next to the Victorian redbrick Peoples' Hall (now the Frestonian Gallery) and other former industrial buildings. The three/four-storey block contains three dual-aspect flats per level and abuts the southern gable of the office building, shifting in brick colour to a softer, lighter tone. The themes of exposed, robust and tactile materials are continued in the communal areas. Ground floor apartments have inset balconies and access to a shared garden, while upper-level apartments benefit from protected balconies and sheltered roof terraces.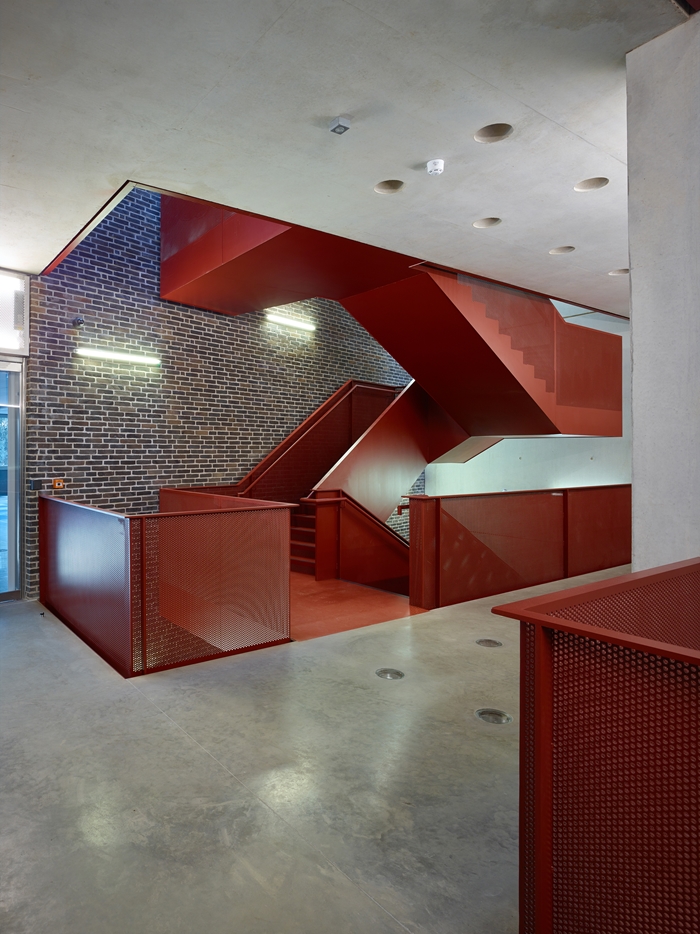 The completion of this phase included demolition of a pavilion that served as a café in Breakers Place. The café culture has been reintroduced with a ground floor retail unit facing onto the newly pedestrianised route which cuts through the master plan. Outdoor seating and street planters activate the route, which will be further enlivened by a changing programme of artworks and sculpture. These interventions all add to the sense of community at Breakers Place, enriching the public realm. The judges felt the development contributes positively to the ongoing rejuvenation of this former industrial area, bringing life through provision of high-quality workspaces, retail units, and housing.  
Internal area: 8,320.00 m² 
Contractor: Kier Construction
Project Management: Gardiner & Theobald 
Structural Engineers: Heyne Tillet Steel 
Acoustic Engineers: Sandy Brown 
Transport: Caneparo Associates
Planning: Savills 
MEP Engineer & BREEAM: Norman Disney & Young 
Main Contractor (Landscaping): Princebuild 
Quantity Surveyor: Exigere