Hackney School of Food
by Surman Weston
Client LEAP Federation & Chefs in Schools
Awards RIBA London Award 2022, RIBA London Small Project Award 2022, Stephen Lawrence Prize 2022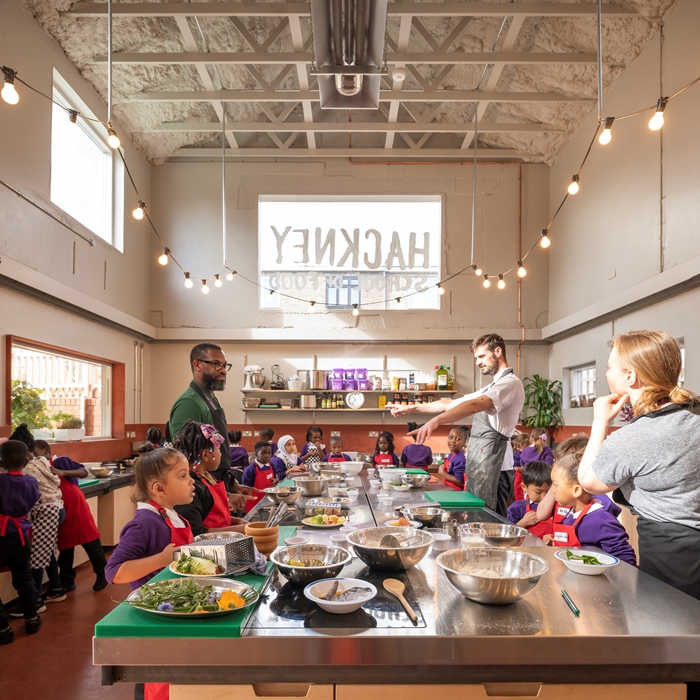 Stephen Lawrence Prize citation:
The ambition of a determined and courageous client has been fulfilled by the vision and skill of the architects to bring about a spectacular and important transformation.
An unloved and neglected building made irrelevant through no fault of its own, that cowered behind an impregnable barrier has been reshaped and reoriented to engage with its milieu, inviting participation to the immediate community and beyond. It is a building that now makes human connections, inspires curiosity, and eschews isolation.
Occasionally, an architectural project emphatically transcends its physical constraints, enriches the simplicity of its brief, and delivers far more than its modest budget might conventionally suggest. Experiencing the building in use – full of life, abundant with learning, joy, and creativity – elevates the prosaic vernacular of the old caretaker's house. Little fanfare is made of the fabric-first approach retaining traces of its previous incarnation, the retrofit is deep, the interventions bold and clearly articulated, and the design expresses wholehearted honesty.
Space, light, adaptability, and functionality are given primacy, which combines to stimulate a rare aesthetic – a full sensory experience of joy, hope, and contentment. The arrangement of landscaping and gardens gives a structural space for growing and nurturing not only the fruit, vegetables, plants, and animals, but also the people who use them. Bold graphic murals now enliven the streetscape whilst the boundary is now gentle yet secure; elegantly remodelled and softened to delight, welcome and intrigue visitors and those passing by.
The Hackney School of Food teaches us that humility and integrity are the catalysts for collaborative and community energy. Materials and interventions are limited to what is necessary and useful, creating a place of freedom, accessibility, and equality, inspiring the visitor to participate openly in a comforting place of safety. The wider community has been invited to join in a heuristic experiment and its success is obvious. So much so, that neighbouring communities will soon be benefitting from similar regeneration projects by the clients.
Through their project, the client and architect have expressed Charles Moore's insistence that we must believe buildings "…can receive investments of energy and care from their inhabitants, and can store those investments, and return them augmented, bread cast on water come back as club sandwiches."
The success of the project is not limited to this one site. The architect and client have developed a toolkit to inspire and teach others to regenerate and enliven their own communities in a similar way.
Their bold and energetic investment in a community facility exemplifies how architecture has the power to transform not only the building it touches but the community it serves – delivering club sandwiches day after day.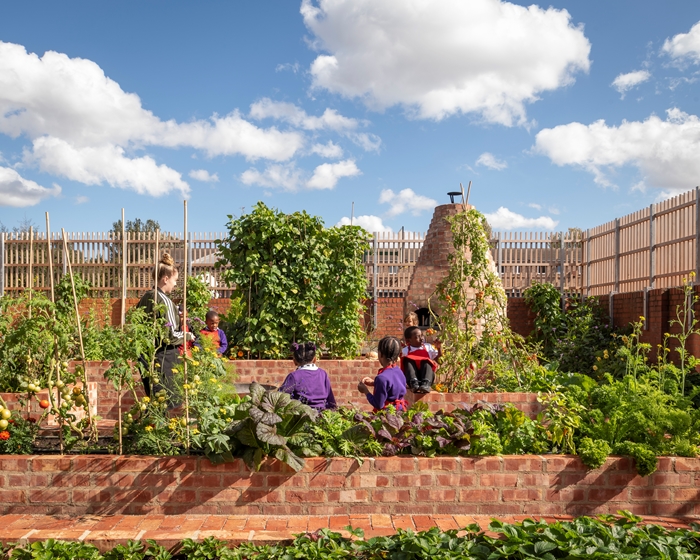 RIBA Awards citation:
What would you do with a derelict school keepers house on a small plot of land? 
 
The Hackney School of Food, a joint venture project between a charity and a federation of schools met this challenge on just such a site, in one of London's more economically deprived neighbourhoods. 
 
This truly noteworthy scheme provides a service unlike any other to the community: a much-needed kitchen school for all pupils in Hackney, an inspiring place to teach children how to grow, cook and eat food, while also serving as an important community hub.  All built on a strong business model where corporate events help finance the operation.  
The architectural response to the client's brief is underpinned by a strong and distinctive design philosophy, driven by an ethos of maximising educational impact.  
 
The school keeper's house and garage have been transformed incredibly imaginatively, adapting the existing building fabric distinctly and honestly, with a carefully considered and controlled set of unifying materials. The value for money of each and every move has been fully interrogated. This is no small feat on the architect's part, who has shown dexterity and risen to the challenge by retaining and removing key elements on site and then stitching everything back together in thoughtful and economic ways.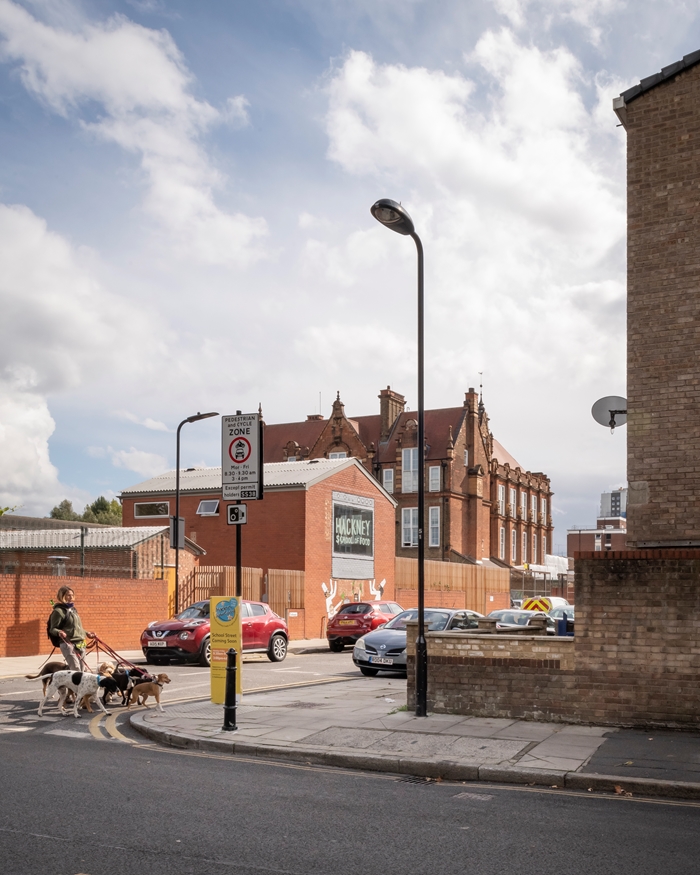 Externally, brick, timber, cement board, and zinc rainwater goods are the materials of choice for building and landscape. The harsh weldmesh fencing previously atop the existing boundary wall has been replaced with a more inviting and softer open timber fence. A large high-level window to the street gable not only allows north light in but advertises the school's presence. The street scene is set with murals by Jean Jullien.  Building interventions mean the paving, planters, and pizza oven use the same unifying brick, distinct in every way from the small, engineering brick of the 1980s. Rainwater is collected in a pleasingly large, low slung tank, ready for use in the ground's kitchen garden. 
 
Internally, the space has been cleared of all divisions from floor to ceiling, forming a cathedral of food complete with a 'cauliflower ceiling', which is in fact unfettered spray foam and thankfully fire-treated. Old finishes and scars are left exposed on walls as a reminder of the building's former use. Timber cement board has been used across floors, lower walls, and window surrounds as a robust and hygienic finish that holds the space together. Adjustable worktops and flush hobs maximise flexibility and safety.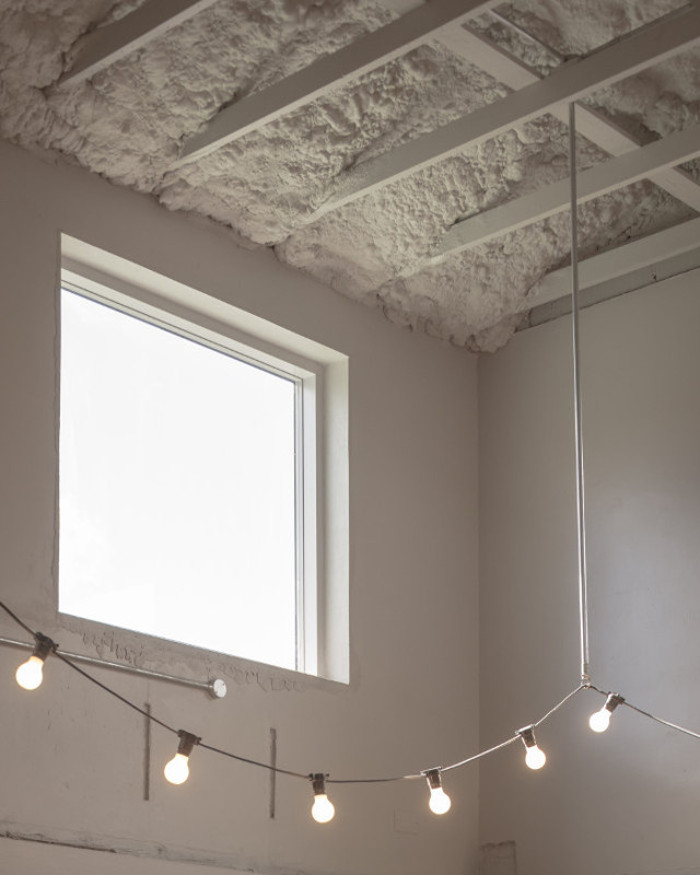 Everywhere one looks, the details are considered, thoughtfully designed, and set out in a natural, unselfconscious way. This is designed to support utility rather than design for design's sake and creates many moments of delight. It has turned the ordinary into the extraordinary with the budget largely spent up to child height. 
 
The architecture allows for a praiseworthy amount of community outreach. The jury couldn't fault the intention and apparent impact. The architects' subsequent extended brief to create a toolkit for application on other unused buildings across the borough is evidence of this.  
 
The project is accessible, safe, biodiverse, rich in social nourishment, and worthy of a visit if you are in the area - if for nothing else, some chicken-hugging wellness.  
Internal area: 59.00 m² 
Contractor name: Modernarc 
Structural Engineers: Structure Workshop 
Environmental / M&E Engineers: Peter Deer and Associates 
Graphic Design: Jean Jullien 
Landscape Consultancy: Lidia d'Agostino