Ibstock Place School Refectory
By Maccreanor Lavington
Client Ibstock Place School
Award winning RIBA London Award 2022 and RIBA National Award 2022 (sponsored by Forterra)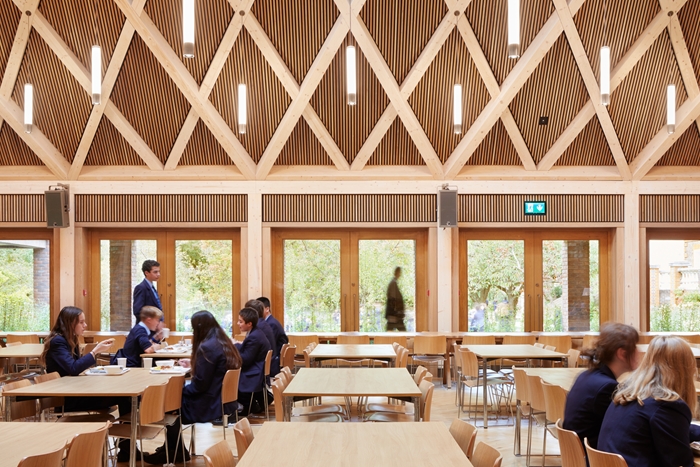 The brief for the new refectory asked to replace existing piecemeal facilities - a small single-storey brick building, uPVC conservatory and two wooden cabins – into a single purpose-built building, whilst maintaining an ancient orchard.
What has been created by Maccreanor Lavington is a grand, carefully crafted refectory, that has become the heart of the campus. The building achieves a balanced composition with the original schoolhouse and gardens.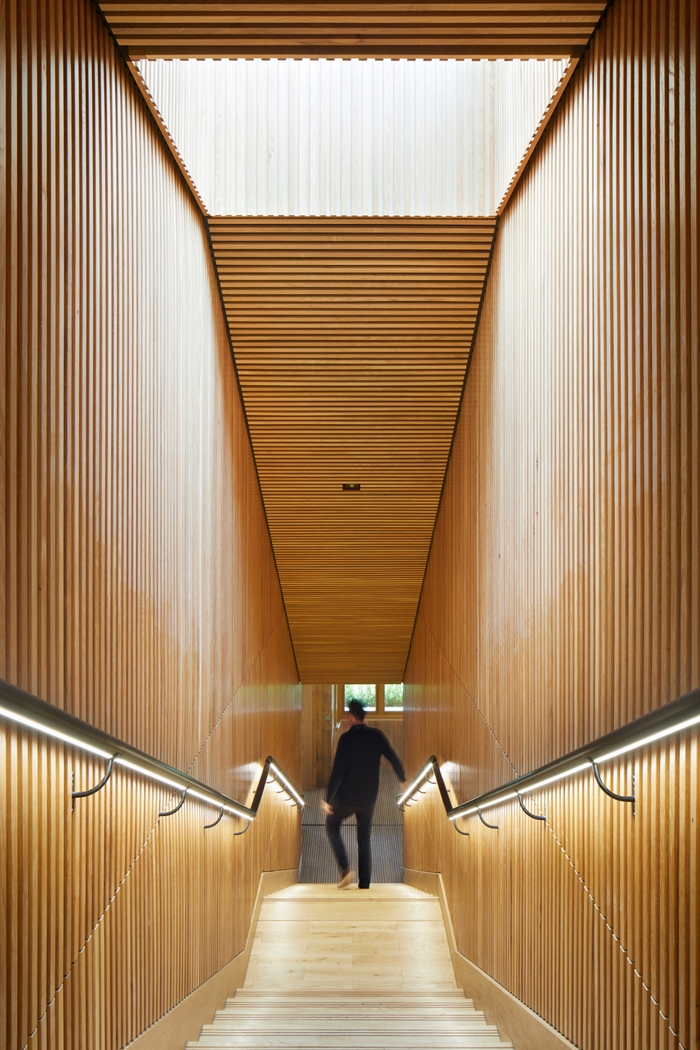 Under a criss-cross glulam structure, crowned with glazed lanterns, the canteen can seat up to 500 pupils and staff at a time. The ceiling is supported by cross laminated timber panels to the outside and inset oak linings to the inside that produces the feeling of awesome grandeur that one might expect of a banqueting hall. Despite its grandeur, the building has been thoughtfully detailed and achieves a comfortable and acoustically controlled space.
Maccreanor Lavington have trebled the floorspace on the footprint of the former buildings by adding basement and mezzanine levels and maximising usable, column-free space. The building provides three linked volumes that house a hall, servery and kitchen. Low eaves maximise internal volume whilst helping to reduce the scale of the building in its setting. A colonnade along the orchard connects the refectory and main house providing shelter, shading and an overall collegiate quality. Soft stock brick and plain clay roof tiles reference the old founding schoolhouse, conferring longevity and an established presence within the grounds.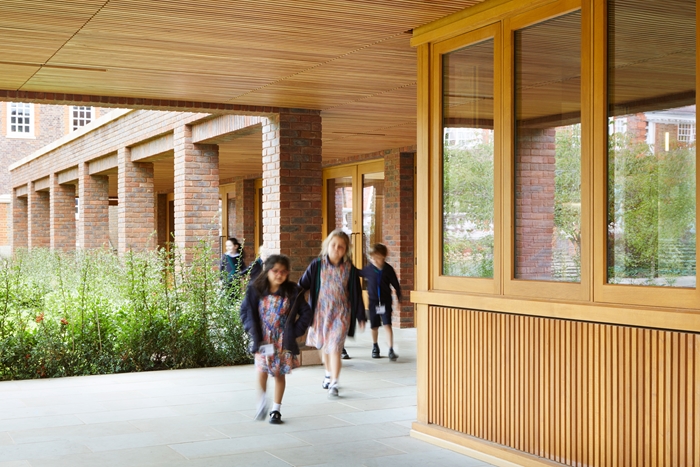 Overall, the whitewood glulam, profiled oak wall and ceiling linings, timber and terrazzo flooring and simple glazed tiles provide for a consistent architectural language which the judges felt was architecturally synthesised, exquisitely detailed and well-co-ordinated with M&E requirements.
The judges also felt the ventilation strategy worked impeccably. The fabric-first design minimises energy demand through natural ventilation, night-time cooling and shading, supplemented by mixed-mode mechanical ventilation with heat recovery for winter months. Three glazed lanterns sitting atop of the roof support the simple natural ventilation strategy and daylighting. The glazed west elevation provides tranquil garden views. The plant serving the commercial kitchen is in the basement, avoiding impact on dining spaces or neighbours.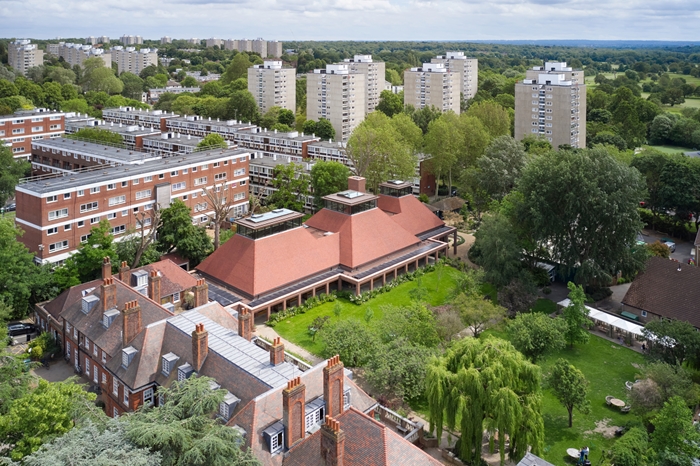 The Maccreanor Lavington project team should also be commended for the extensive work undertaken to protect the existing natural heritage of the site, including mature London Plane trees, as well as adding to the ecological value through additional habitat creation.
Internal area 1,924.00 m²
Client Ibstock Place School
Contractor Feltham Construction Limited
Structural Engineers engineersHRW
Environmental / M&E Engineers Max Fordham LLP
Quantity Surveyor /Cost Consultant McBains
Planning Consultant NTR Planning Ltd
Acoustic Engineers Max Fordham LLP
Landscape Architects Wynne-Williams Associates
Arboricultural and Ecology Consultant Wharton Natural Infrastructure Consultants
BREEAM Assessor Ingleton Wood
Principal Designer McBains