Mountain View
by CAN
Client Private client
Award RIBA London Award 2022
Materials, colours and filmic references intersect throughout this refurbishment and extension of an Edwardian semi-detached house in South London. Mountain View is a radical transformation of a family home that weaves highly personal motifs and themes together.
Ruined walls and columns that mark the transition between the old house and new extension are taken from a scene in the film Trainspotting, the mountain from images of the Matterhorn Bobsleds Ride at Disneyland under construction, while the exposed laser-cut trusses in the extension are a nod to high-tech architecture. Ranging pole columns, survey marker tiles and 'waste not want not' steps add to a sense of the surreal.   
As you move through the ground floor, the house opens up, from the dark monochromatic front room through to the light-filled extension. The site slopes towards the garden, which allowed the floor level of the back of the house to be lowered by a metre, connecting the new open-plan kitchen/diner to the garden.  
 
A simple reconfiguration of the first floor provides an additional bedroom. Upstairs, the hallway ceiling has been removed, opening it up to a new skylight above with the bones of the old house retained. There was a focus on opening up the space and using the exposed textures and structure as the final finish.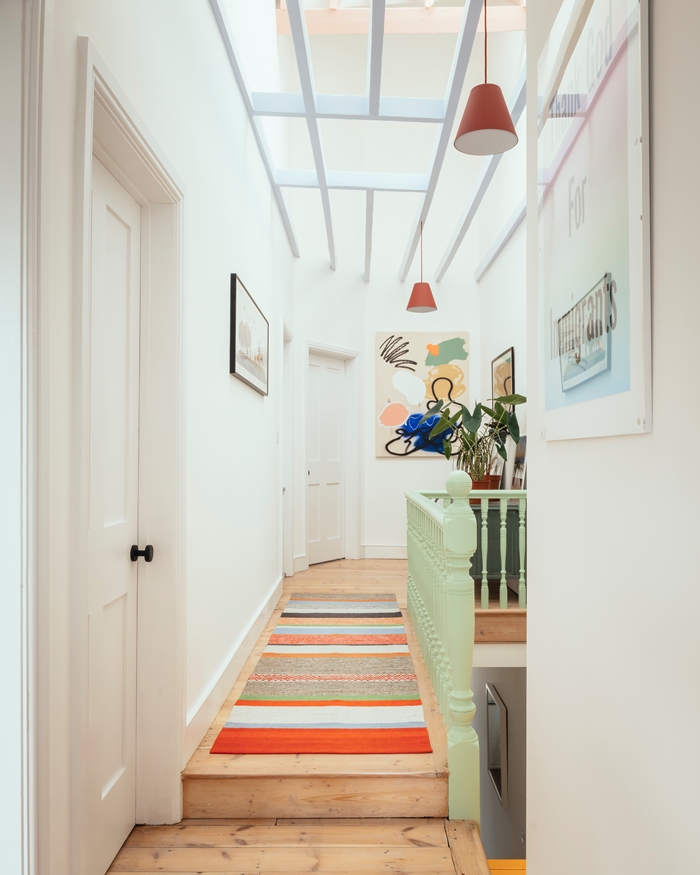 The existing fabric of the building has been thermally upgraded throughout with a newly insulated ground floor, internally insulated exterior walls and roof-level insulation all added. The heating and electrics have been fully renewed with high performance windows installed throughout. The kitchen and exterior lintel facings are made from recycled chopping boards and plastic. The architect reused much of the waste material on the project.  
 
Externally, the 'mountain' was waterjet cut from rectangular sheets of aluminium foam and the offcuts used on the side elevation of the roof, forming the inverse range to the rear elevation. The offcuts from the kitchen cabinetry are used as facings for the new concrete lintels above the windows to the existing house. All the architectural fragments on the blue living room wall are offcuts and seconds from the local plasterworks and all the bricks from the demolished walls were saved to create a patio area at the rear of the garden.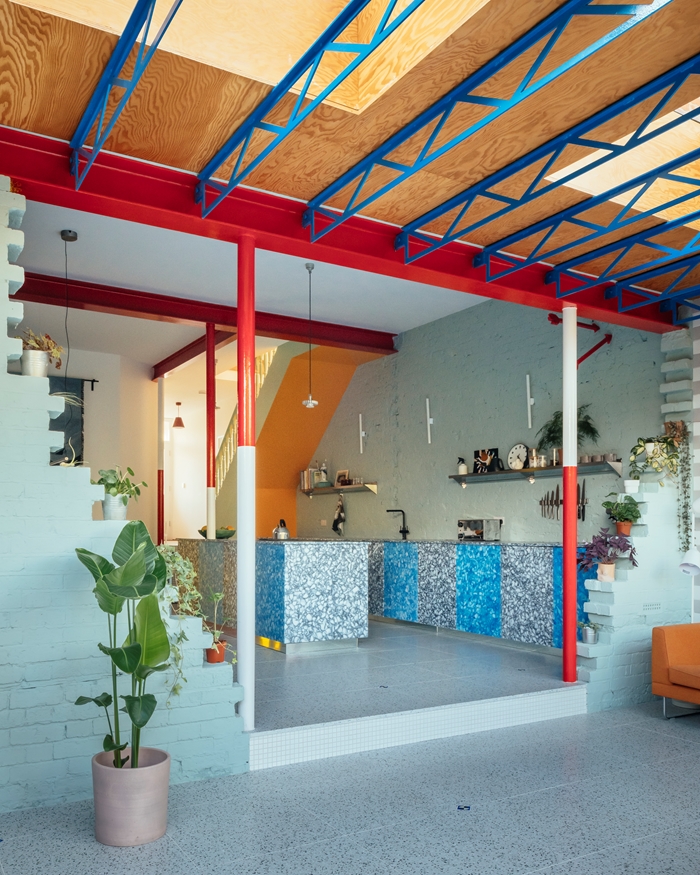 The judges were impressed at how the project has given a new lease of life to this semi-derelict house and fully upgraded it, spatially and thermally, transforming it into a highly personal, bold, colourful and unique family home: an architecture that promotes individuality, expression and experimentation at a time when many projects of this type are an exercise in 'good taste' and maximising financial value. The house feels coherent, liveable and ultimately quite flexible should a different user ever choose to alter the visual expression to their own taste. 
Internal area 150.00 m²
Contract value £220,000.00 
Contractor Catalin London Ltd
Structural Engineers Hardman Structural Engineers