Orchard Gardens, Elephant Park
By Panter Hudspith Architects
Client Lendlease
Award RIBA London Award 2022 and RIBA National Award 2022 (sponsored by Forterra)
View our video of Orchard Gardens below.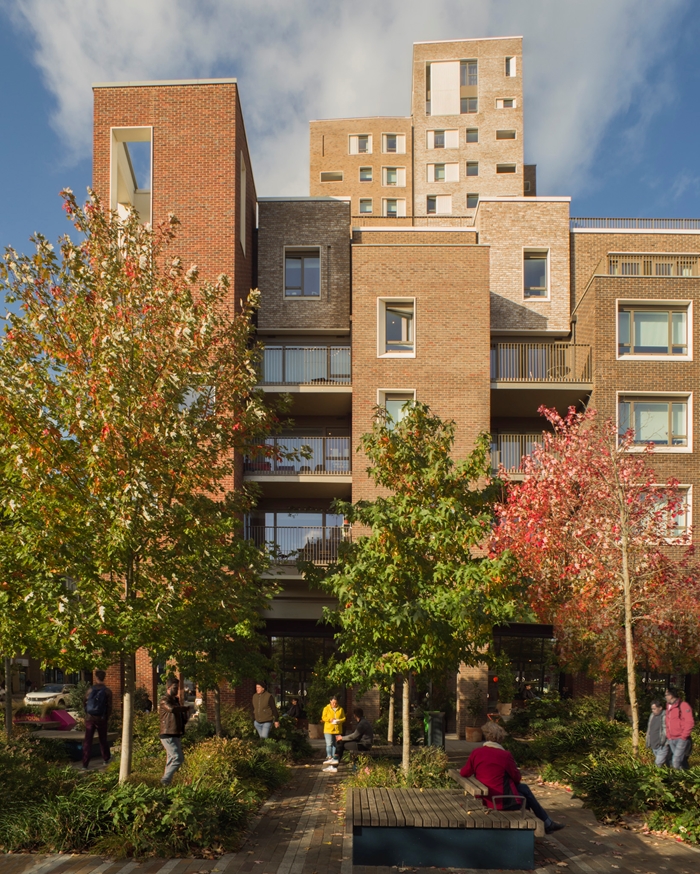 Comprising 228 homes and 2,500sqm of retail and cultural spaces, Orchard Gardens is an entire city block and major component of Elephant & Castle's regeneration. Designed to be viewed as a cluster of buildings, it wraps around a sunny communal garden with sophisticated and playful contrasting scales and heights, ranging from five to 19 storeys.
The composition of these varying elevations enhances the quality of place-making around the site, creating an approachable neighbourhood, resonant of historic groups of buildings that have developed over time, without appearing contrived.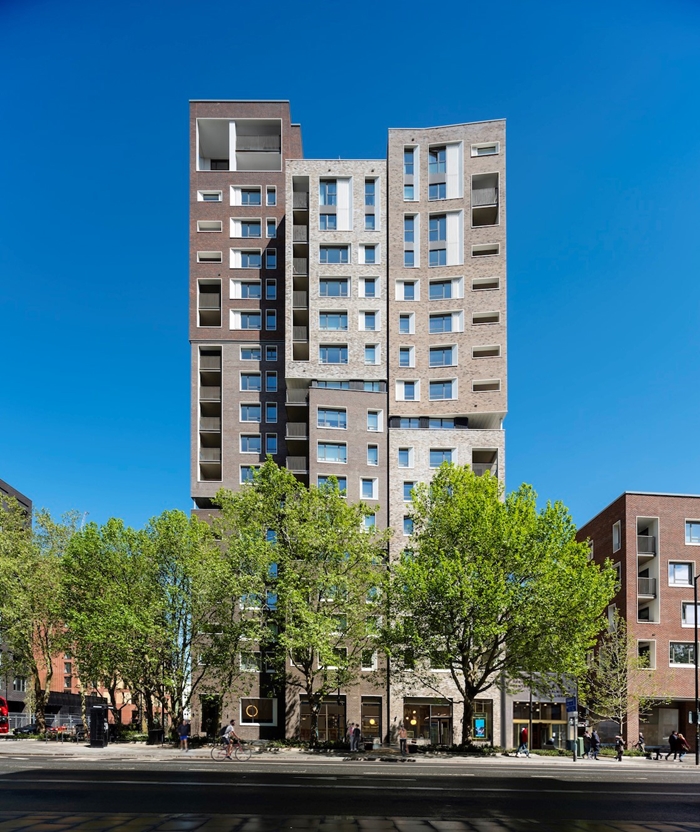 The tallest element is located to north of the scheme, reducing in height to the south where Orchard Gardens borders the Grade-II listed Southwark Town Hall. A colonnade cleverly protrudes, both providing an entrance to the library and heritage centre and partially concealing the highest part of the building.
Gentle angles on the south elevation and incremental steps in the eastern façade help frame street scenes and views of the city. Externally accessed, roof-top maisonettes help to add variety to the range of apartment homes provided as part of the scheme, offering a workable option for families to live at density.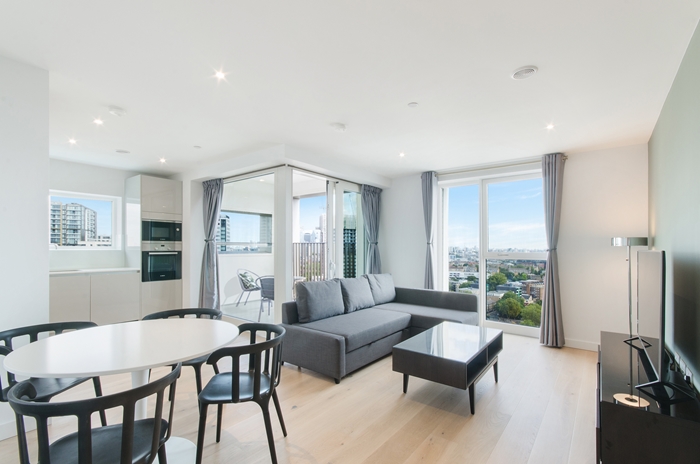 This careful manipulation of building form continues to the design of the individual homes and how they relate to one another. Corner recessed balconies are located off living rooms resulting in genuinely liveable extensions of amenity space, irrespective of height.
Despite the development's scale, façades provide character and identity to clusters of homes, with vibrancy and variety, mirroring the rhythm of nearby Georgian and Victorian terraces. Chamfered window linings in brick façades also embed the scheme in its historic neighbourhood and maximise daylight within homes. Duplex homes articulate tower forms, benefiting from large private roof terraces whilst shared communal garden spaces enhance the wellbeing of residents.
Below, irreplaceable mature plane trees on the site have determined the footprint of the development, whilst careful analysis of servicing strategies has enabled the public realm to be defined by a variety of retail tenants. Active shop and restaurant frontages throughout almost the whole of the ground floor offer a vibrancy, aiding the development's new sense of community.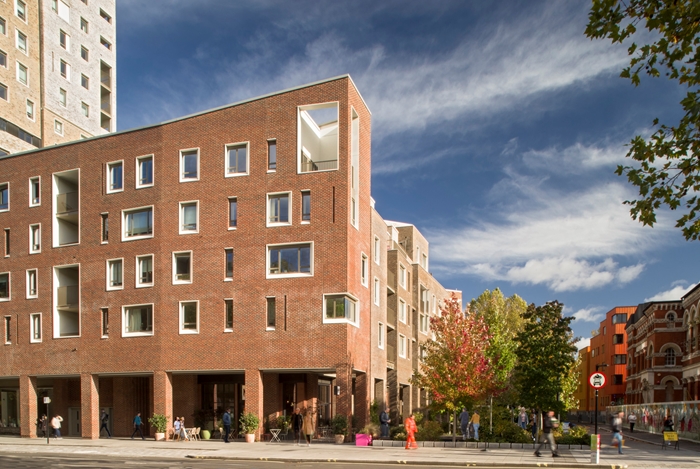 The judges felt that this was an exceptional exemplar of a dense residential-led, mixed-use scheme: a project that provides high quality-homes, well scaled outside spaces that positively respond to their setting and enhances place-making. An excellent scheme in what is one of the profession's most challenging sectors.  
Internal Area 23,700.00 m²
Contract value £80,000,000.00
Structural Engineers Walsh Group 
Landscape Architects Gillespies 
Environmental / M&E Engineers Wallace Whittle 
Quantity Surveyor / Cost Consultant  Lendlease 
Acoustic Engineers Sandy Brown
Town Planning DP9
Daylight Sunlight Gordon Ingram Associates 
Community Engagement Soundings 
Fire  Buro Happold 
Facades  Buro Happold 
Townscape  Tavernor Consultancy