Plumstead Centre
by Hawkins\Brown
Client Royal Borough of Greenwich
Awards RIBA London Award 2022 and RIBA London Conservation Award 2022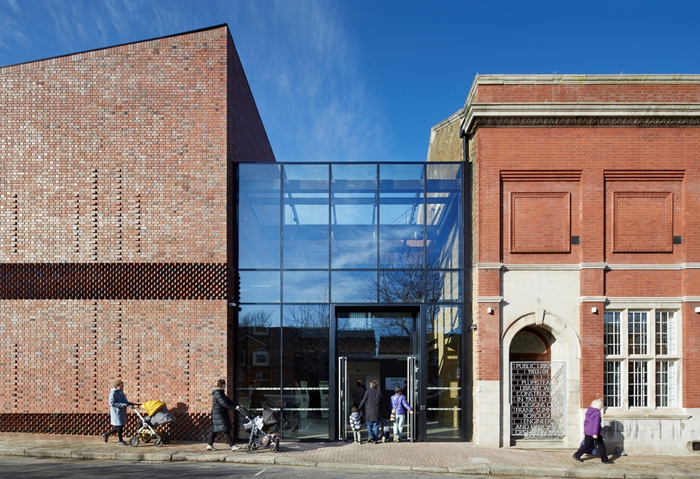 This project refurbishes a Grade II-listed early 1900s library building and significantly extends it with new facilities for sport, fitness and the performing arts. In the process, the previously underused asset has been transformed into a vibrant and successful community amenity.
The brief evolved through engagement with the local community and stakeholders as activities and functions that would best serve a diverse community were explored. Indeed, the design acknowledged from the outset that needs might change over time and so the spaces have been kept flexible and adaptable.

While the original building has been remodelled to accommodate a range of library spaces, a soft-play room, meeting rooms and multi-functional spaces, the new extension offers gym facilities, a dance studio, badminton courts, and various rooms available for hire.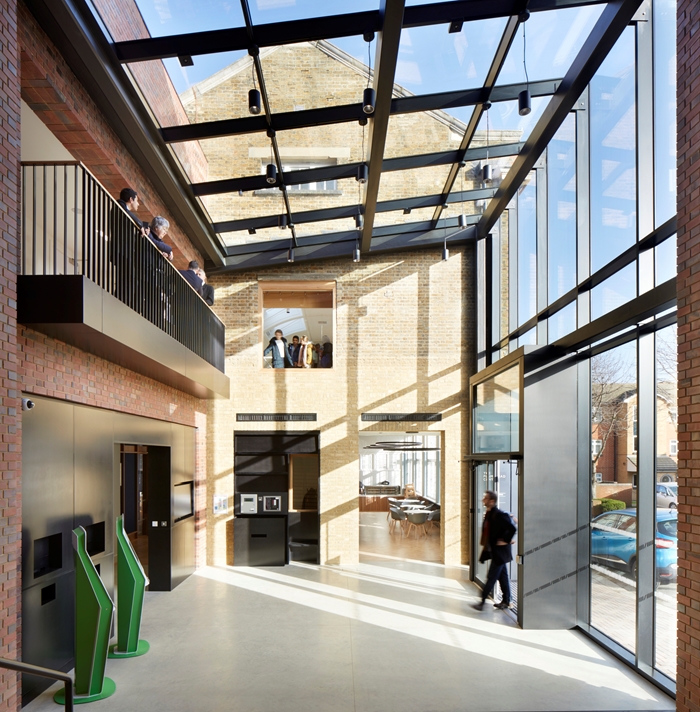 New and old have been cleverly combined in terms of both the building's use and its design details. Outside, the corbelled and quoined brickwork on the new building respectfully reflects the stone feature banding on the original library. Inside, the new main entrance juxtaposes the sturdy existing structure with the lighter contemporary additions. In particular, this highly glazed threshold links a café in the former library by level access to a new social space, which in turn blends with a "book mountain" staircase in the new building.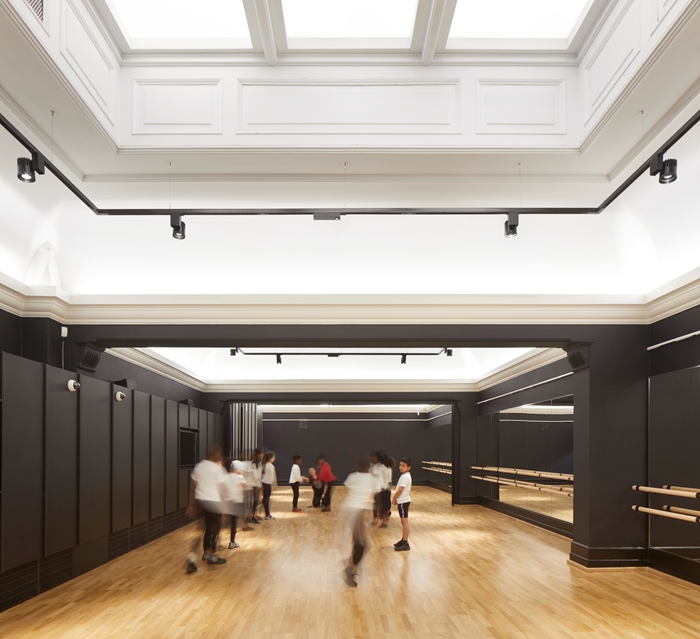 There are delightful touches throughout. For example, the street-facing glazed walls to the exercise spaces are covered in bands of text reproducing stories written by the pupils from the local primary school, and the manifestation on the glazed doors graphically depicts shelves of library books.

The restoration has revealed and reinstated many of the library's original features, including barrel vaulted skylights, original parquet flooring, mosaic tiling, and Edwardian ironmongery. New services have been discreetly accommodated.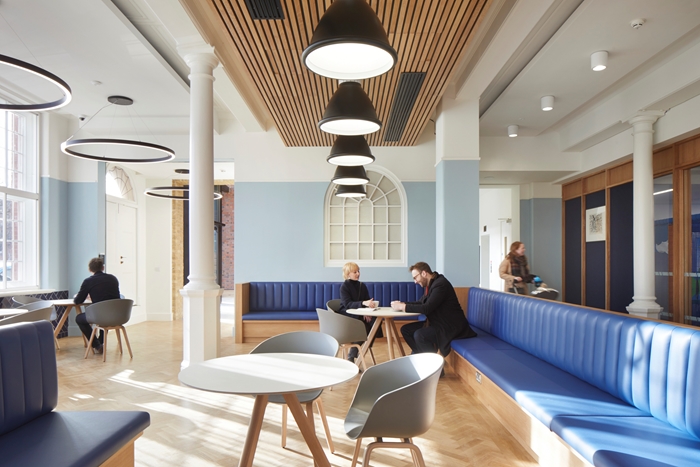 The overall result is a welcoming and inspiring hub for this community, a building buzzing with activity. The ever-increasing membership numbers are a testament to the project's success.
Internal Area: 2,329.00 m²
Contractor: Osborne
Structural Engineers: Stantec (formerly Peter Brett Associates) 
Quantity Surveyor / Cost Consultant:  Faithful+Gould 
Project Management: Faithful +Gould
Planning Consultant: BPTW 
Conservation Consultancy: Peter Steward Consultancy 
Lighting Design: Lumineer Studio 
Landscape Architects: BD Landscape Architects 
M&E Consultant: Stantect (fka Pete Brett Associates)  
CDM Coordinator: Faithful + Gould