Sir Michael Uren Hub
by Allies and Morrison
Client Imperial College London
Awards RIBA London Award 2022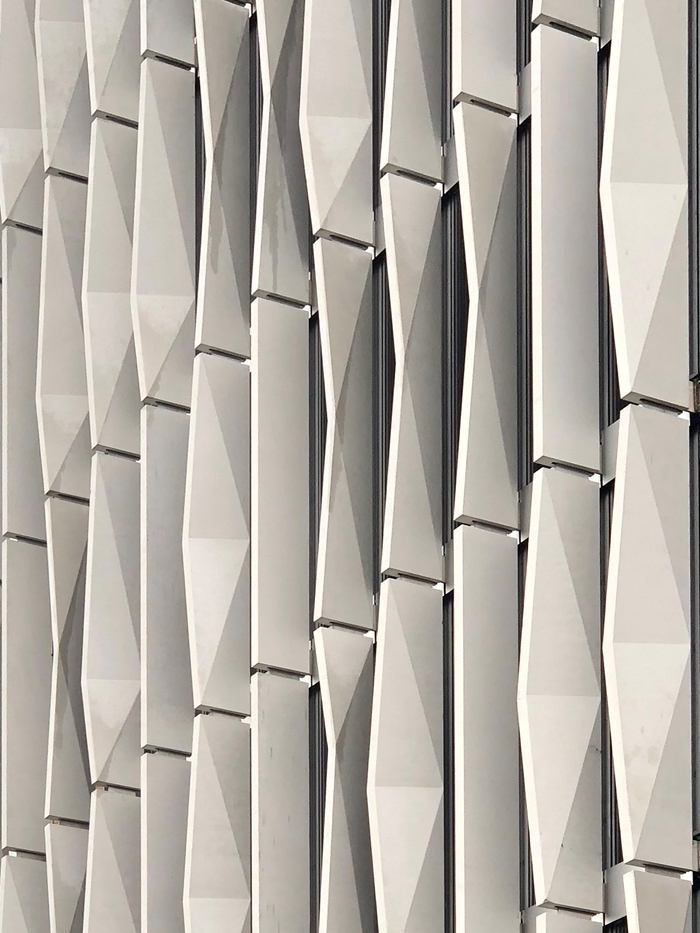 Part of Imperial College, London, this state-of-the-art laboratory for biomedical science and engineering research was made possible by a generous donation from the late Sir Michael Uren. Not only was Sir Michael Uren one of the university's alumni, he also founded a manufacturing company that developed high-quality cement from ground granulated blast furnace slag, a waste product of the steel industry. Therefore, it seems entirely appropriate that the architects incorporated the material, using it for the elegant veil of fins on the façades of this striking new tower.

Located on Imperial College's White City Campus adjacent to the Westway, the challenging triangular plot was part of the university's masterplan. The initial brief was to provide laboratories and office space for "inter-disciplinary collaboration to accelerate translational research". The space requirements were demanding, however: the end users were not all known at the start of the project and so the designs had to allow for flexibility in how the building could be fitted out.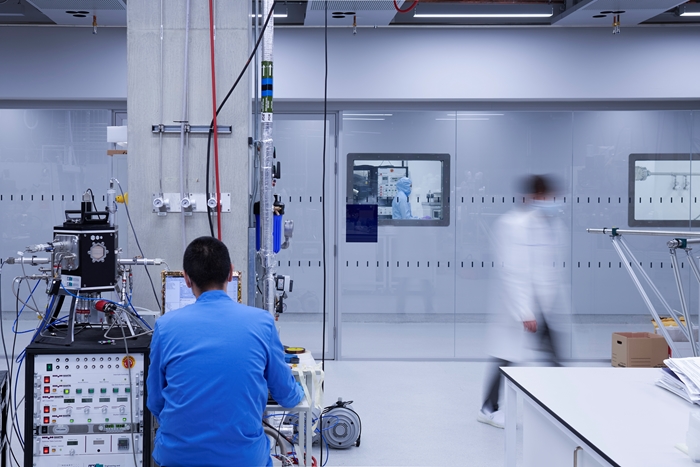 The architects' response is a prominent 13-storey tower screened on its two long sides by the distinctive white precast-concrete fins. The building fills the site, maximising the use of available land and presenting a strong frontage to the Westway.

The floor plan is beautifully clear, delivering efficiency in servicing and flexibility. A vertical plant tower is located at the thin end of the triangular plot, providing each floor with its own plant space. Laboratory spaces are located closest to the plant tower, with less heavily serviced offices and social spaces located furthest from the plant space at the widest end of the triangle. Floor-to-ceiling heights are generous, and full-height windows in the relatively shallow plan mean all spaces are well lit, with fantastic views.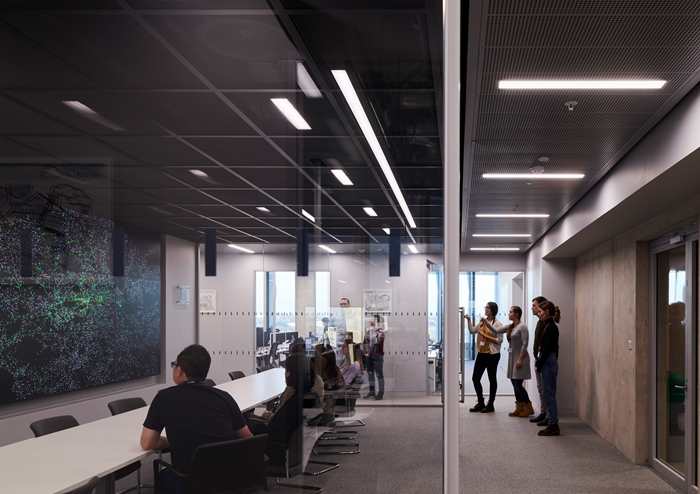 Because laboratories typically require a lot of energy, this strategy has several advantages: with future energy demands unknown, it helps to reduce energy consumption; the ability to tailor each plant space to their floor's specialist needs builds in flexibility and it makes future additions or replacement of equipment much more straightforward. Indeed, the strategy has already proven its worth, with additional laboratory equipment (e.g., fume cupboards) accommodated with ease.

The building's various uses are stratified vertically, too. The mid-level offices and laboratory spaces are sandwiched between the top-level auditorium and break-out spaces, the ground-level reception and shared facilities (and, eventually, a public café and exhibition).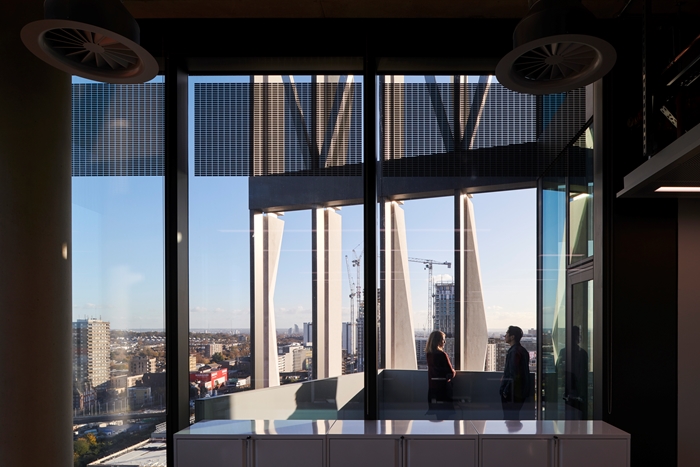 The building's orientation, compact and efficient form and signature vertical fins minimise solar gain, reducing energy requirements. A flat, exposed, reinforced concrete structural frame satisfies the requirement to minimise vibration and material usage and incorporates GGBS, a recycled material.

The brief expanded throughout the project and continues to do so in use as the building is already intensively occupied. This project illustrates a rare and successful synchronicity, with the triumvirate of architect, client and benefactor each having contributed significantly to this beautifully designed and executed building.
Internal area: 18,150.00 m²
Contractor: ISG 
Project Management: Turner & Townsend
Quantity Surveyor / Cost Consultant: Faithful + Gould  
Environmental / M&E Engineers: Buro Happold 
Structural Engineers: Curtins 
Laboratory Planning: Abell Nepp 
Acoustic Engineer: Sandy Brown Associates