The Post Building
by Allford Hall Monaghan Morris
Client Brockton Everlast & Oxford Properties
Awards RIBA London Award 2022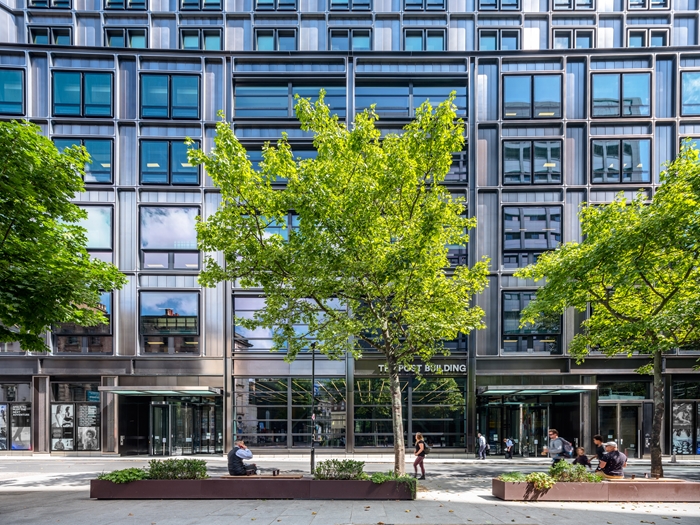 The Post Building remodels the former Royal Mail West Central District Office, a colossal, factory-like mail sorting office with magnificent internal volumes that had lain derelict for over 20 years.

Located near the junction between historic Holborn and Tottenham Court Road, the area is currently undergoing significant change thanks to Crossrail's arrival. The brief called for re-imagining a redundant city block into a landmark mixed-use scheme comprising retail offices and residential space.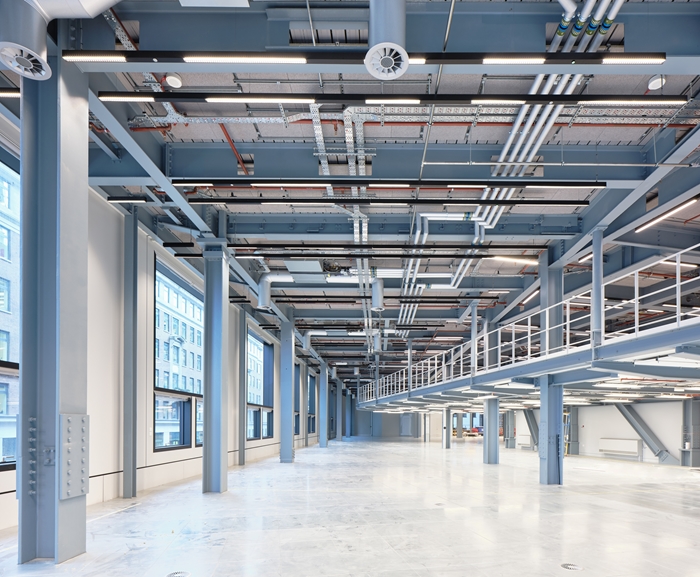 The architects' solution has delivered the brief and much more, carefully adapting the building's existing structure to express and celebrate its industrial heritage at every opportunity.
Constrained by the building sitting on top of former 'mail rail' tunnels, the design retains as much of the slab and lower structure as possible, with new upper storeys. The vast pre-existing floor-to-ceiling heights have had additional mezzanine floors stitched into them. Column-free hanging decks curve through new office spaces like conveyor belts. Everywhere, the language is of 'inserted structures', providing echoes of the machinery that used to inhabit the spaces.

Outside, a new façade of glass and stainless-steel panels in a machined patinated stainless steel frame reflects these internal volumes, reinterpreting the building's industrial aesthetic for the contemporary market. Higher up, the façade is set back to create terraces, with clever steps back to give occupants uninterrupted views of the surrounding area.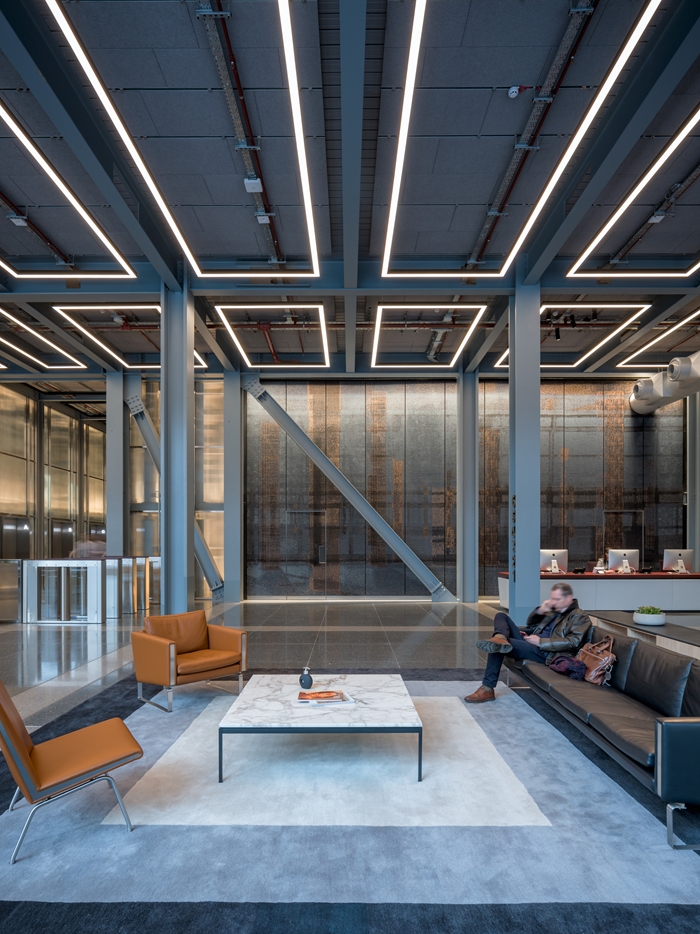 Internally, the industrial aesthetic continues, through the core, to toilets to signage. At each opportunity, the history of the building is expressed and celebrated.

The scheme significantly enhances the public realm in various ways. The new double-height office entrance on Museum Street adds activity to this secondary thoroughfare. New double-height retail units in keeping with the local urban fabric re-energise the New Oxford Street and High Holborn frontages. A closed-off passageway has been reinstated. One of the roof terraces is open to the public, displaying retained elements from the building's past and providing panoramic views over the city.
The residential offer includes 21 affordable homes - a rarity in the city centre. They have their own winter gardens and access to a communal terrace. Their elevational treatment is modified to reflect a different scale and use.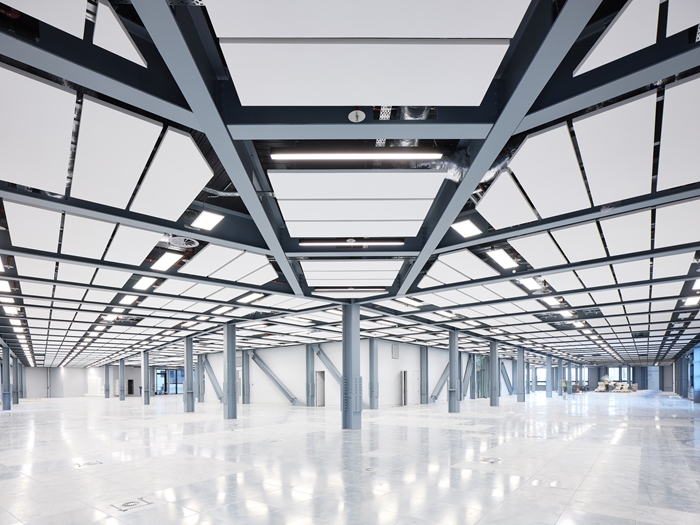 Retaining the existing structure has significantly reduced the project's embodied carbon. Solar gain is controlled by optimising the proportion of solid to glass in the façade. There are roof-mounted PVs and beyond-best-practice cycle storage and changing facilities. Rooftop terraces are planted to support biodiversity.

In embracing and celebrating this building's past and carefully considering its urban context, the architects have successfully reinvigorated a redundant city block, enriching part of the cityscape with a strong sense of place.
Internal area: 44,000.00 m² 
Contractor: Laing O'Rourke
Project Management: Gardiner & Theobald 
CDM Coordinator: Gardiner & Theobald 
Structural / Civil Engineer: Arup 
Cost Consultant: Arcadis 
MEP/Lift Engineer: Arup 
Planning Consultant: Gerald Eve LLP 
Fire Engineer: Arup 
Landscape Architects: Gillespies LLP
Landscape Architect: BBUK
Transport Consultant: Arup 
Daylighting Consultant: Brooke Vincent & Partners 
Acoustic Consultant: Arup 
Environmental Consultant: Arup 
Access Consultant: Arup