Woods Quay
by Architecturall Ltd with Bere Architects
Client Private
Awards RIBA London Award 2022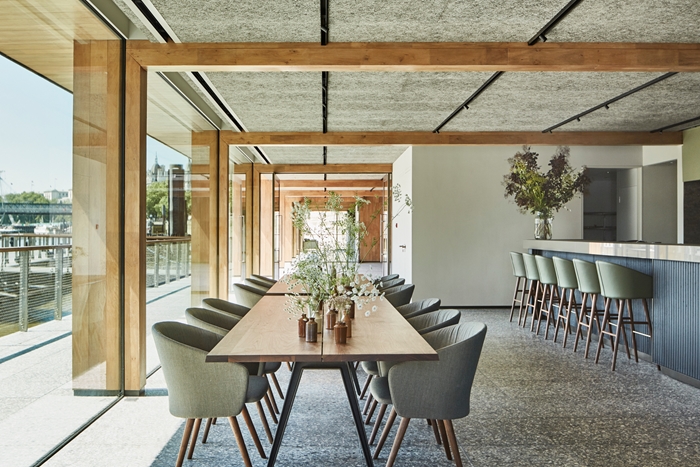 Woods Quay is a new riverside dining and entertainment venue located on the north bank of the Thames between Cleopatra's Needle and Waterloo Bridge. Comprising a floating pontoon, the project embodies a successful collaboration between the architects (who in this case were also the main contractor) and the client – a family-run, luxury river-cruise company that has been working on the Thames since 1866.   
Unlike many major cities with rivers running through them, London has until now lacked a pleasant embarkation point for leisure cruises. Visitors have had to congregate on basic piers exposed to all weathers and car fumes from nearby traffic – in stark contrast to the luxury experience awaiting them.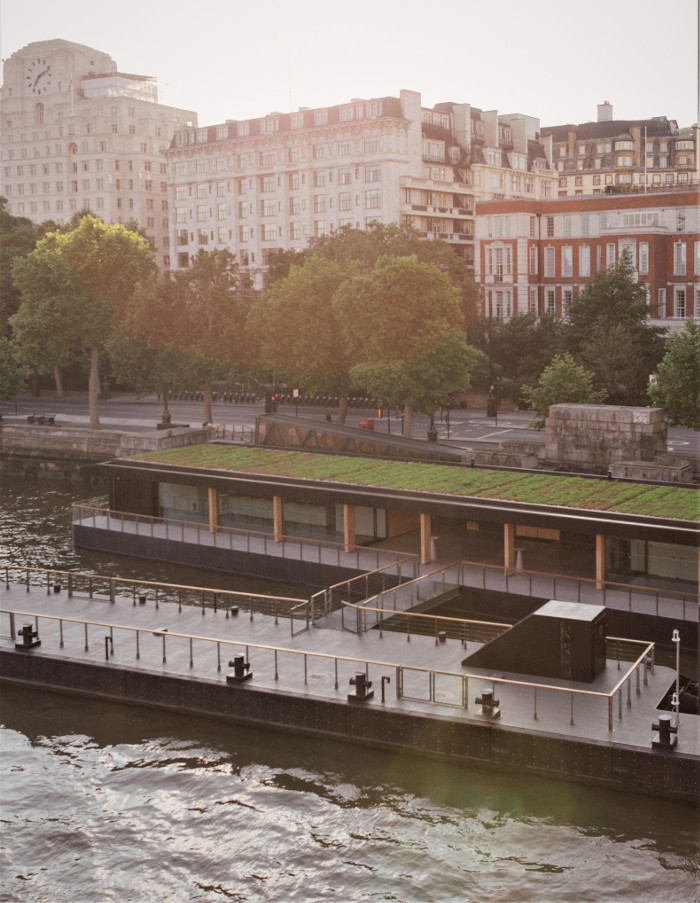 Woods Quay resolves this anomaly, providing elegant new hospitality facilities catering to corporate and leisure parties and a permanent home for the company's fleet.   
Located on the site of a former Victorian pier and pub boat, the development responds respectfully to its surroundings, keeping the Thames as the star attraction. The unassuming but quietly confident building is a hidden oasis in the middle of central London, leading visitors southwards to the water's edge and inviting them to pause, relax and take in the views towards the London Eye, the Houses of Parliament, and the South Bank.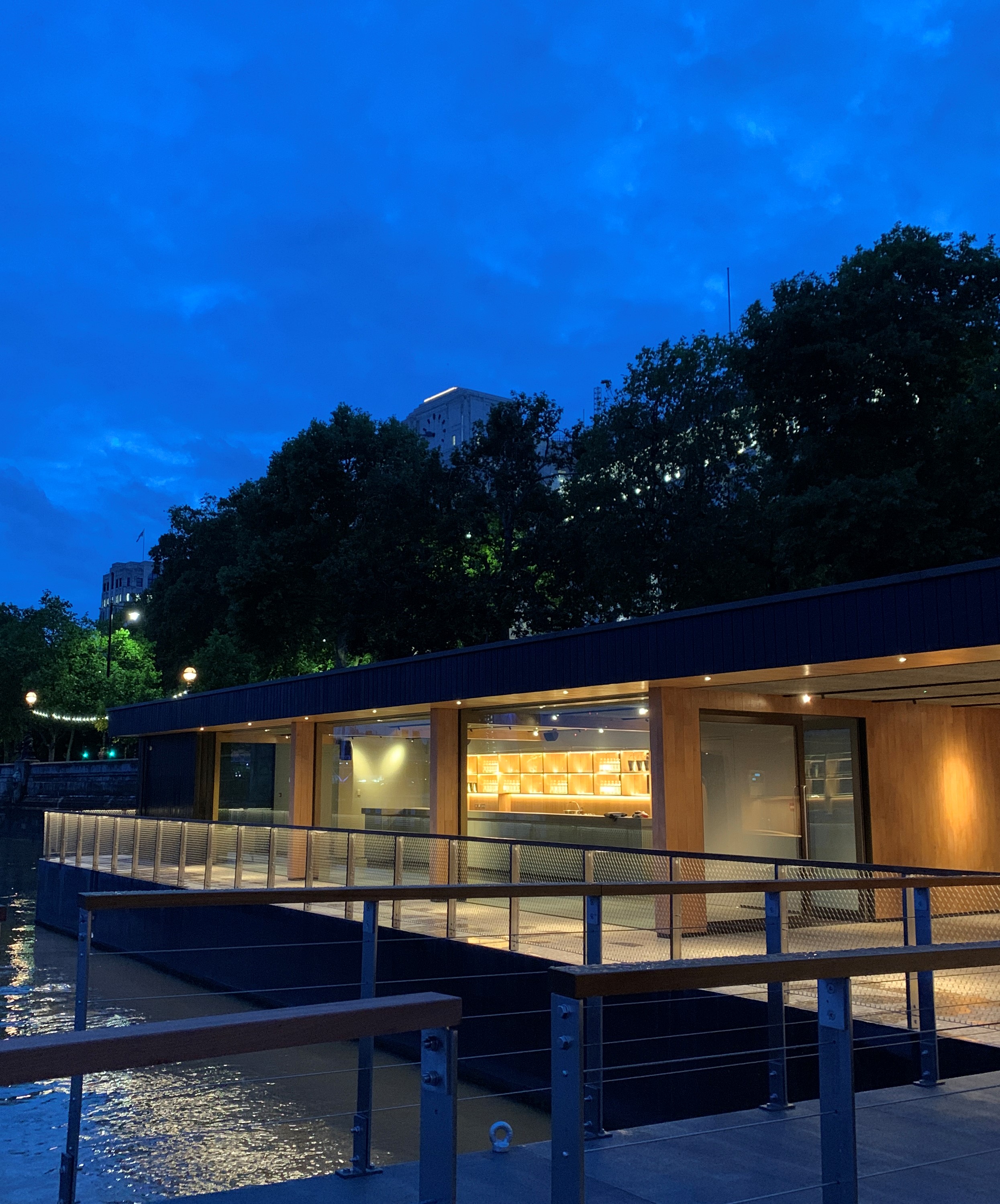 The north-facing Embankment elevation is clad in charred timber, only revealing the space beyond when the doors are open. The sedum roof, visible from the shore when the tide is low, supports biodiversity. The other three elevations are fully glazed, offering immediate connections to the river.  
The building plan is clear and simple: the open public spaces give onto the river while service spaces are clustered closer to the shore. An open-fronted deck welcomes cruise visitors. The comfortable entertainment areas are split into two wings: dining in the east, drinking in the west.
Although the fact that the building floats presented technical challenges, most of the solutions appear well-considered and robust, with appropriate responses to the riverscape setting. However, the variable gradient of the boarding ramp as the structure rises and falls with the tides means that accessibility is somewhat compromised.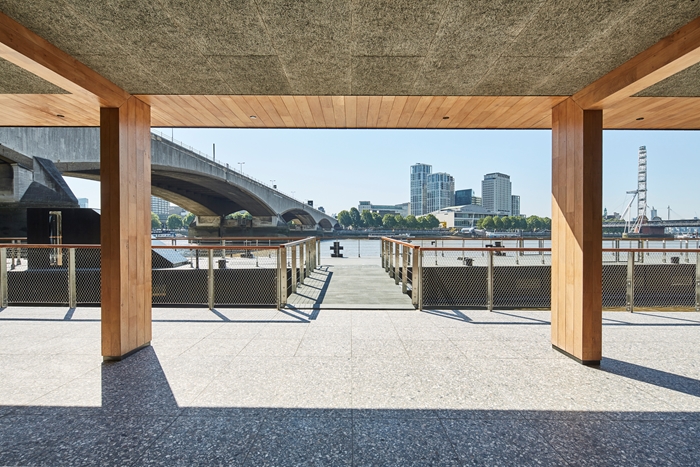 Materials are low maintenance and durable. Pebble terrazzo floors take their cue from the shingle banks of the river, while the oak structure, wood-wool board ceiling and timber linings are warm and tactile.    
The building is passively ventilated through the summer months, with large openable windows providing a cooling breeze. Air-source heat pumps installed to the north of the structure provide heat in the colder months.   
 
Delivered on time and on a relatively modest budget, this project secures the future of this river-cruise business and heralds a renaissance on London's Victoria Embankment.  
Internal area: 385.00 m² 
Contractor: Architecturall Ltd 
Structural Engineers: Techniker Limited
Project Management: Marmus Ltd
Lighting Design: LDI
Environmental / M&E Engineers: Promode