​Live Works
by Flanagan Lawrence
Client Live Theatre
Awards RIBA North East Award 2017, RIBA North East Conservation Award 2017 and RIBA North East Client of the Year Award 2017 - sponsored by Tobermore and RIBA National Award 2017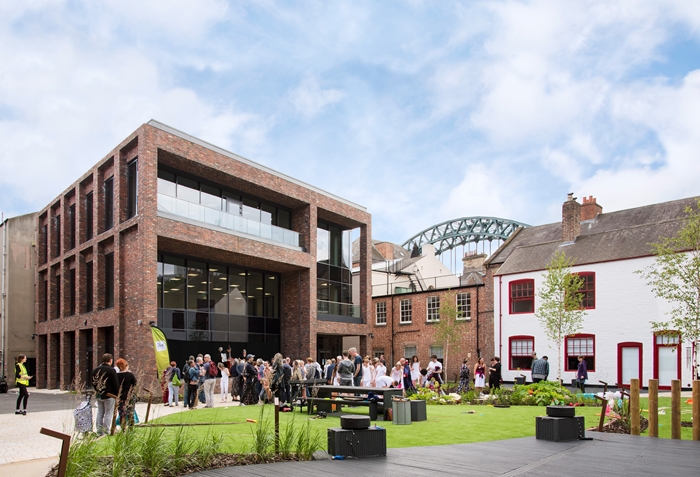 Not only does Live Works secure the commercial future of a national significant charitable theatre company, it delivers an impressively controlled and coherent city intervention, the result of which is a mixed use city centre development that preserves the historic quayside grain whilst, providing for Newcastle a new type of engaging, informal and inhabited public space.

In times of relentless cuts to public funding for arts projects, it takes passion desire and a great deal of bravery to secure funding to keep dreams alive. In coming up with the concept for Live Works, the client the Live Theatre company have excelled themselves in preparing a brief that create a development to provide spaces and buildings to extend their impact in the local community, deliver a new space for the city and built assets from which rental income will protect the future financial status of the charity. The result is a development that ensures the 'funded' future for this charity, and is all made possible by the vision and beliefs of a special client.
The development is made up of three key elements, new commercial office space, the refurbished and repurposed Grade 2 listed alms-houses and the delivery of a new public space that focuses on an outdoor stage. The proposals have been delivered with a high level of sensitivity. The urban intervention has been shaped to express and enhance the historic quayside grain of burgher and medieval plots whilst engaging and reinstating the historic chares a unique characteristic of Newcastle Quayside.
Unlike some of its historic neighbours the built intervention does not settle to simply deliver a modern, well-crafted, well-proportioned street façade but it turns both ways to successfully address the spaces at its rear. The rear courtyard space, has been transformed from a dingy car park into a vibrant, intimate public venue that encourages you to dwell and read, enjoy conversation or if you are lucky enough, enjoy a performance from the companies' outdoor stage.
The repurposing of the listed alms houses as an educational resource for literacy is both charming and inspiring. During our visit a group of local school children were engaged in a workshop encouraging them to express themselves through the written word.
A sensitive conservation and repurposing of a modest but beautiful building that will surely have a powerful impact on all that visit for years to come.


Additional Architect Practice Technical Delivery - Tench Maddison Ash Architects LLP
Structural Engineers CK21
Environmental / M&E Engineers Avoca
Quantity Surveyor / Cost Consultant Turner Townsend
Project Management Turner Townsend
Landscape Architects Oobe
Historic Buildings Advisor Sarah Dyer
Planning Advisor Hedley Planning
Lighting Design Michael Grubb Studio
Projects / Development / Regeneration Buckley Burnett

Internal Area 1,900.00 m²