​Ogden Centre for Fundamental Physics, Durham University
by Studio Libeskind
Client Durham University
Award RIBA North East Award 2017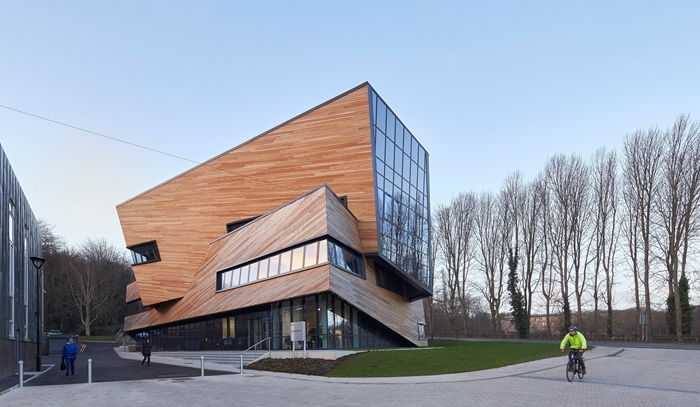 In a universe that we struggle to comprehend, the Ogden centre brings together some of Europe's finest minds to collaborate to further our knowledge in the world beyond ours.

An inspiring visit enabled us to take a step into an academic world of complex code, algorithms and calculations. It was rather refreshing however to realise that the shaping of the architecture has led to a change in mood, a palpable change in habit and most importantly the promotion of collaboration and conversation between researchers. The triple height multi - layered atrium space is perfectly scaled for ad-hoc conversations, formal meetings or the daily departmental 1115 ritual where staff and students gather for informal coffee and idea exchange. The real success of the space, beyond the fact that it functions comfortably for the individual, group or whole department, is that the configuration of rooms allows visibility to multiple other office 'front doors' from within any one office removing the visual constraints of the traditional academic corridor.

The careful synthesis between day to day desire to leave office doors open and the functionality of the ventilation system, delivers a space that functions as intended thus enabling the creation of a more open coherent egalitarian academic community.

The internal spaces are joyful, whilst the outside are striking but difficult to piece together as a response to context or internal functionality. This aside the buildings form creates an identity for the faculty that catches the attention of visitors and often makes passers by simply smile.

The buildings long term value could be judged on the academic success of its faculty, however by creating a building that has lifted moral and changed working habits for the better, the building is a great success today.

In summary it is clear that the simple things are now in place as a foundation from which great minds can come together and move humanities understanding to the next level.

Additional Architect Practice Garbers & James
Landscape Architects Fira Landscape Architecture and Urban Design
Quantity Surveyor / Cost Consultant Summers Inman
MEP/Structural Engineers ARUP Newcastle

Internal Area 2,350.00 m²