​Durham Cathedral Open Treasure
by Purcell
Client Durham Cathedral
Awards RIBA North East Award 2018, RIBA North East Conservation Award 2018, RIBA North East Building of the Year 2018 - sponsored by Artifice Press and RIBA National Award 2018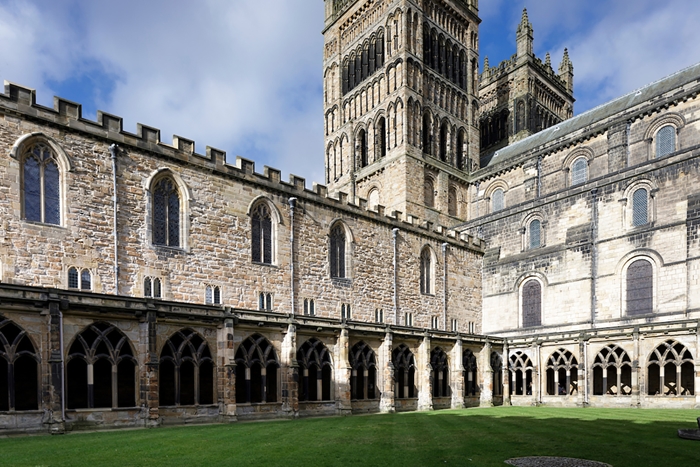 The works to Durham Cathedral are a subtle and elegant addition to the medieval, Grade I listed structure. Working with the Cathedral staff for over seven years the architects have created an inspiring visitor experience that celebrates the architecture of the building and showcases its historic collections by remodelling previously hidden spaces.
The sequence of spaces have been carefully adapted to create a range of environmental conditions that respond to the differing needs of the collection from medieval stonework and book collections through to Anglo-Saxon artefacts.

Bronze stainless steel and glass lift shafts have been carefully inserted into the existing structure to provide accessible routes throughout while new timber doors separate and secure the zones. This restricted palette of materials has been used against existing stone structures to provide a timeless, high quality finish based on traditional craftmanship. This attention to detail reflects the stature and significance of the Cathedral.

The design seamlessly integrates historic features and modern interventions that include creative repair and conservation and adaptive re-use of the historic buildings.

The judges were particularly impressed by the quality of the workmanship and detailing including delicate inclusion of lead framed secondary glazing to enhance the performance of the structure without affecting its appearance. The joinery throughout and the subtle integration of new lighting and ventilation systems without visually impacting the historic structure reinforces an overall sense of accomplishment and skill.

Architect Purcell
Client Durham Cathedral
Contractor Simpson York Ltd
Structural Engineer Patrick Parsons
Services Engineer TGA Consulting Engineers
Environmental / M&E Engineers Tobit Curteis Associates LLP
Conservation Consultant Odgers Conservation
Quantity Surveyor / Cost Consultant Thornton Firkin
Access Consultant Burdus Access Management
Exhibition Designers Studio MB
Archaeology Norman Emery
Lighting Design Sutton Vane Associates