Architecture & Built Environment Department, Northumbria University
by Page \ Park Architects
Client Northumbria University
Awards RIBA North East Award 2019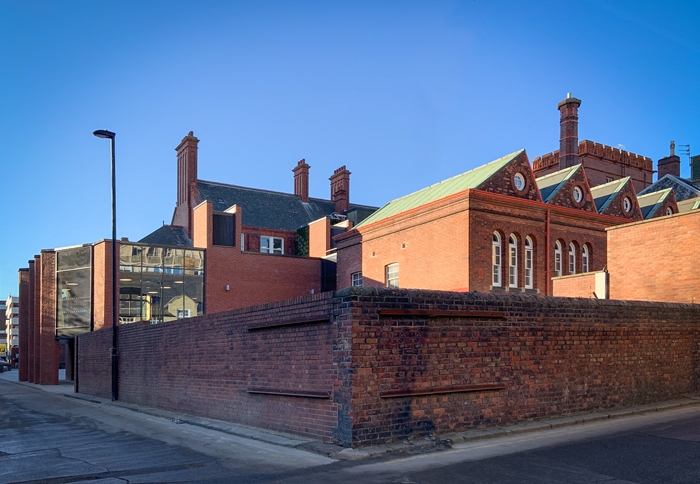 The project comprises a new studio and teaching spaces in a new building over two levels in a courtyard extension for the Architecture and Built Environment Department at Northumbria University. The building provides a new home for the School of Architecture within the Grade II listed Sutherland Building, establishing a 'collegiate home' for the department, encouraging interaction, peer learning and a sense of community.
The main entrance to the School is on the north façade at the centre of the existing building. The service courtyard faces south, the enclosing wings to east and west built of red brick at different periods. The former school of dentistry to the east has north-lights and a saw-tooth roof.
The design confronts the complexity and difference of the existing building not with a new building that strongly differentiates itself from its host in terms of materials and form, but more subtly with a building that seeks to belong, whilst concentrating on the architectural potential of its internal connections.
The two storey courtyard building keeps a low profile, protecting views from the staircase and upper levels of the existing building across its new green roof. The south façade faces an access road running east west, its brick piers built close to the kerb line, with an over-sailing first floor. A second entrance is situated here, with access directly into the studios. The strong vertical rhythm of the brick piers reads well against the bulk of the existing buildings and its redbrick chimneys. The potential exists to make further spatial and landscape connections to the gardens of the University buildings to the south, knitting the redefined rear of the Sutherland Building into the city block.
The studio building is separated from the eastern wing of the existing building by corridors and staircase, developed into a two storey atrium or chare, local dialect for a narrow medieval street. This allows not only a fluid sense of space and connection between the levels and studios but provides a loosely defined social and teaching space. Materials comprise exposed brick, steel, and plywood, with exposed services. The studios are capable of reconfiguration via movable panels for tutorial, critique and exhibition. The studios are naturally ventilated via openable windows and natural ventilation chimneys, expressed along the east side of the building. The ambition to make the building work as a teaching facility in every sense is clear.
The jury were impressed with the character and depth of the design solution, executed in response to a difficult site context and a demanding brief. The architectural additions to the group of the buildings on the site has a high degree of subtlety and refinement, provides a strong sense of identity, and expresses clearly the sense of a new home for the School of Architecture.
Internal area 2,225.00 m²
Contractor ESH Build
Structural Engineers WSP
Environmental / M&E Engineers Desco
Project Management Turner & Townsend
Quantity Surveyor / Cost Consultant Turner & Townsend
Landscape Architects Colour UDL